A community in the US state of Oregon is mourning a hospital security guard who was shot to death while protecting a maternity ward from an intruder over the weekend.
The slain guard, 44-year-old Bobby Smallwood, started out handling administrative and computer-related tasks when he first joined Portland's Legacy Health network last year, according to a profile of him published by the news website oregonlive.com. But staffers at the hospital network often called Smallwood to help out with security because he was 6ft, 5in tall and weighed 270lbs.
Eventually, he was persuaded to work full-time as a guard rather than in administration, said his parents, Walter and Tammy Smallwood.
Though Smallwood usually worked at another of the network's hospitals, he was covering a shift at the Legacy Good Samaritan Medical Center when a gun-wielding man arrived at about 11am on Saturday. Smallwood – who was unarmed – died after being shot in the chest as he stood between the intruder and staff and patients in the hallway of a maternity ward, his parents were reportedly told.
No one else at the hospital was killed, but another staffer was wounded. Police later shot the intruder to death after he purportedly fled from the hospital, was found in the nearby city of Gresham and was about to be arrested, authorities said.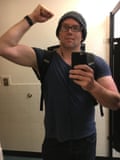 "Everybody looked up to him," Walter Smallwood told oregonlive.com of his late son. "It hasn't sunk in yet."
Smallwood's killing plunged those who knew him into somber reflection over how a man described as being high functioning on the autism spectrum and loath to get into confrontations ended up sacrificing his life to protect others.
Having grown up in Tampa, Florida, Smallwood moved to Oregon about a dozen years earlier in pursuit of a relationship with a woman whom he met on Facebook. He dated her for a few years, studied mathematics at Portland State University, and had a hand in running the food bank at the college, from which he graduated in 2020, oregonlive.com reported.
Smallwood lost his food bank job during the coronavirus pandemic and later gained employment at Legacy Emanuel.
A former math instructor of Smallwood at Portland State told oregonlive.com that she was "really surprised he went into security".
"Although he was big, he was very sweet," oregonlive.com reported being told by the instructor, Rachel Webb.
Smallwood's usual assignment was at a children's hospital, and – despite the dangers that are inherent to unarmed security work – he was committed to his work there, his father said.
"He loved children," Walter Smallwood said of his son to oregonlive.com. "Adults he tolerated."
In a statement, Legacy Health's president, Kathryn Correia, called Bobby Smallwood's slaying "devastating".
"Words cannot express the profound grief we are experiencing," Correia's statement read. "We offer our unwavering support to Bobby's loved ones, to our patients in our care, to the staff at Legacy Good Samaritan and to all of our employees and providers suffering."
Webb, in her remarks to oregonlive.com, added that "it was great … he stood up for those who couldn't stand up for themselves".
But, Webb reportedly said, "it's just awful that he had to lose his life."
( Information from politico.com was used in this report. Also if you have any problem of this article or if you need to remove this articles, please email here and we will delete this immediately. [email protected] )