---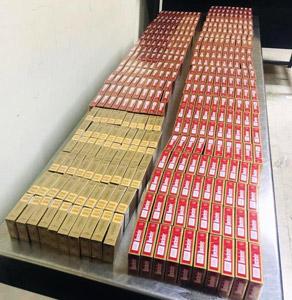 PinTwo local businessmen who had arrived at the Bandaranaike International Airport (BIA) from the Middle East and India during the weekend were arrested for attempting to smuggle in counterfeit cigarettes worth over Rs.2.1 million.
A 24-year-old trader, who was a resident of Negombo had come from Sharjah whilst the second suspect a 30-year-old resident from Kadawatha had come from Chennai.
The Police Narcotic Bureau (PNB) officials took the suspects into custody and searched their bags to find 17, 400 sticks of cigarettes in 87 cartons of the brands Manchester and Benson and Hedges. The contraband had been valued at Rs.2, 175, 000.
The suspects were released on bail and had been asked to appear before the Negombo Magistrate on Wednesday (26). The PNB is to produce the contraband before courts. (Kurulu Koojana Kariyakarawana)
( Information from dailymirror.lk was used in this report. ALL RESPECT GOES TO ORIGINAL WRITER OF THIS ARTICLE. | Also if you have any problem of this article or if you need to remove this articles, please email here and we will delete this immediately. [email protected] )