---
At a time when Sri Lanka is looking to restructure its state-owned enterprises (SOE), which continue to be a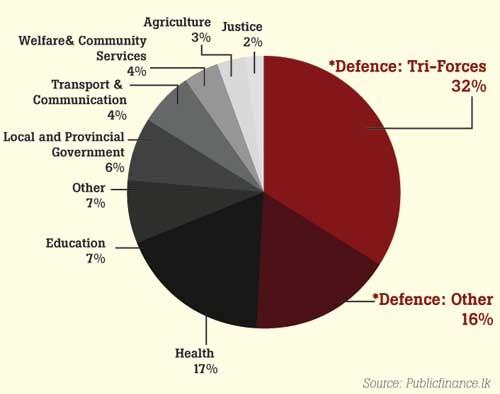 Pin massive burden to the economy, the government needs to step up efforts to tackle the bloated public sector, for which active steps are yet to be taken.
The latest update by Publicfinance.lk showed that according to the 2023 budget estimates, 15 percent of the total recurrent expenditure of the government will be spent on salaries of government employees.
Of the total state salaries, the defense sector claims 48 percent. 
The tri-forces take up 32 percent of the total payroll expenditure and 16 percent goes for other defense services.
According to World Bank (WB) data, the size of Sri Lanka's armed forces was at its highest between 2017 and 2019 with 317,000 personnel. This was several fold more than the number of personnel recruited during the civil war which ended in 2009.
In January, the Ministry of Defense announced it will slash its army to 135,000 personnel (by a third), and to 100,000 by 2030.
According to a publication by the Institute of South Asian Studies (ISAS), 2021, Sri Lanka's military force is the 17th highest in the world, exceeding even that of the United Kingdom.
( Information from dailymirror.lk was used in this report. ALL RESPECT GOES TO ORIGINAL WRITER OF THIS ARTICLE. | Also if you have any problem of this article or if you need to remove this articles, please email here and we will delete this immediately. [email protected] )