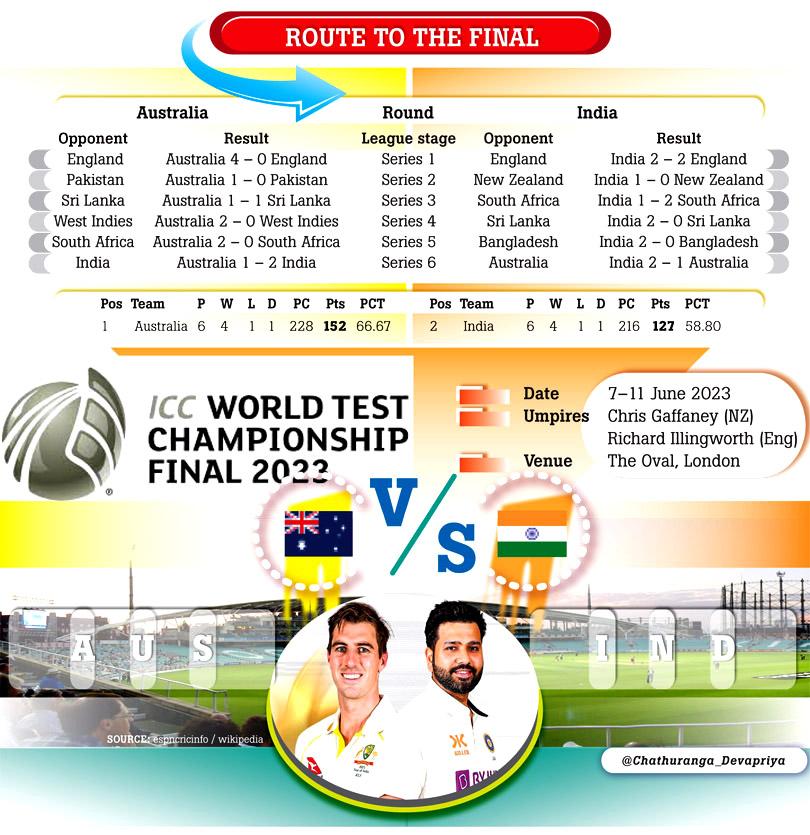 ---
While the sounds of the hustle and bustle of London drift across the ground, an air of calm relaxation settles over The Oval.
The peace won't last for long, with the ICC World Test Championship Final set to bring the noise inside the gates of the famous south London ground, but The Oval's calmness is in harmony with the two squads' attitudes ahead of their title-deciding clash.
India and Australia's relaxed nature in the build-up to such a huge fixture has been noteworthy, with both groups of players taking the sort of light-handed approach to preparation that has become increasingly commonplace in the Test game of late.
Gone are the weeks of acclimatisation and warm-up matches, with both groups instead opting for low-stress training camps the week before heading to London for a scattering of net sessions out on The Oval's square.
And in this age of near-constant cricket for the world's top players, Australia captain Pat Cummins believes the laid-back strategy has still allowed the players enough preparation to be ready come game-day.
"We've been really happy with our prep in terms of centre wicket practice.
"I think we've all played kind of warm-up games before that have been awesome and we've also played warm-up games before where the quality might have been sub-par or certain players didn't get as much out of it as others.
"So to have this kind of individual tailored prep – we've been really happy. We feel like we're ready to go."
Cummins' opposing captain, Rohit Sharma, agrees, saying that managing workloads is crucial to ensuring maximum performance come match-day.
"Honestly, all the guys are used to playing a lot of cricket now. That is why we talk about this workload management.
"We try and rest players wherever we can to make sure that they are fresh for this upcoming series and things like that. This is part of the job now."
One player who didn't appear to have received the relaxation memo was Australia's perpetually-moving Steve Smith.
The fidgety run-machine remained out in the middle in Australia's final net session on Tuesday long after all other players had departed The Oval, leaving the rather amusing sight of around a dozen coaches all throwing down or watching one of the modern-day greats hone his game.
Smith will start at number four all being well for a settled Australian side that will contain 'no surprises' in selection, at least according to Cummins. That means David Warner will continue to partner Usman Khawaja at the top of the order, with Scott Boland the replacement for the injured Josh Hazlewood as the third quick.
In contrast, India have remained tight-lipped on the make-up of their side for the WTC Final, with a number of selection decisions to be made.
The first and most prominent will be whether both Ravichandran Ashwin and Ravindra Jadeja should start, leaving three rather than four spots available for the quicker bowlers.
With the forecast suggesting a largely sunny run of days in London and The Oval's pitch typically offering slightly more for spinners than the average English Test ground, it is possible that India will opt for the spin twins.
If India do opt for both spinners then that would leave Shardul Thakur, Umesh Yadav and Jaydev Unadkat competing for the third seamer spot, with Mohammed Shami and Mohammed Siraj expected to open the bowling.
And the final selection question mark hanging over the Indian XI is who will line up behind the stumps.
KS Bharat is the man in possession and is the player expected to get the nod, but the match-winning potential of Ishan Kishan is an option.
Play will start slightly earlier each day than the typical start time for Tests in England, with the first ball set to be bowled at 10:30 local time.
And the Dukes ball will be used, potentially giving the bowlers a greater chance of finding movement should there be overhead cloud conditions.
But Sharma isn't concerned about either factor.
"In England, I mean, half an hour difference doesn't make too much of a difference. Honestly, we played a lot of cricket in England in the last two years. So I don't think it's going to make too much of a difference whether it starts at 11:00 or 10:30. As long as we are focused on what we want to do and things that we want to do, I think it's all good.
"Talking about the pitch, I saw it yesterday but I didn't have a chance to see it today yet," Sharma added. "09.15 was the time of the press conference, I never thought it will be so early!
"I'll go and have a look at the pitch, bit it looks [like it will offer] a bit of help for the seamers definitely. With the overhead conditions as well, it's going to assist seamers a fair bit.
But when we played the last Test match here in Oval, it looked very similar to this. And then as the game went on, as the day went on, it got better and better, slower and slower. And the reverse swing came into play as well on day five. So, yeah, we're going to consider all of those factors."
That relaxation will soon make way for first-morning nerves when the players head out for the anthems. After all, the World Test Championship mace is at stake. (ICC)
( Information from dailymirror.lk was used in this report. ALL RESPECT GOES TO ORIGINAL WRITER OF THIS ARTICLE. | Also if you have any problem of this article or if you need to remove this articles, please email here and we will delete this immediately. [email protected] )