Good morning.
The House passed a bill yesterday to raise the debt ceiling until January 2025, clearing a major legislative hurdle with just days left before the US was expected to default.
Joe Biden, who brokered the deal with the Republican House speaker, Kevin McCarthy, called the budget agreement a "bipartisan compromise" – 149 Republicans and 165 Democrats supported the measure – but in a potentially worrisome sign for McCarthy, 71 members of his conference voted against the bill.
Though more Democrats than Republicans voted for the deal, key Democratic programs and priorities will feel the effects.

An estimated 750,000 could lose food stamp benefits due to the new work requirements, according to the Center on Budget and Policy Priorities, a progressive thinktank.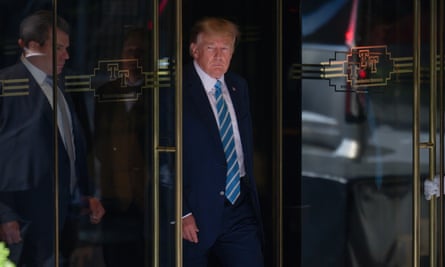 Donald Trump leaves Trump Tower on Wednesday.

Photograph: James Devaney/GC Images
Federal prosecutors have obtained audio in which Donald Trump acknowledged that he retained a classified paper on Iran and suggested that he should have declassified it.
In the latest development into the criminal investigation into the former president's retention of national security papers, the document in question is purportedly classified as "secret" – which is significant as the justice department typically prefers to charge espionage cases involving retention of materials at that level, rather than "top secret" papers that might be too sensitive or "confidential" papers that are too low.
The recording was made at Trump's Bedminster golf club in July 2021, when he met with people helping his former chief of staff Mark Meadows write a book. Trump's aide Margo Martin regularly taped conversations with authors to ensure they accurately recounted his remarks.

The suggestion that he should have declassified the document indicates Trump knew that he had retained material which remained sensitive to national security.
"Leaks from radical partisans behind this political persecution are designed to inflame tensions and continue the media's harassment of President Trump and his supporters," a Trump spokesperson said. "It's just more proof that when it comes to President Trump, there are absolutely no depths to which they will not sink as they pursue their witch-hunts."
Sudan: 19 killed in shelling of market as 60 children die trapped in an orphanage in Khartoum
Shelling at a market in a poor area south of Khartoum left 19 people dead and 106 more injured, the Sudanese Doctors Trade Union has said.
The six tank shells that residents said were fired from al-Shajara, one of the few areas the army controls in Khartoum, targeted Mayo, a neighbourhood populated mostly by people who have not been able to afford to leave the capital city since the beginning of the war between the Sudanese army and their paramilitary rival the Rapid Support Forces (RSF) on 15 April. That area is not known to be near any military targets.
Elsewhere in Khartoum, at least 60 infants, toddlers and older children have perished over the past six weeks while trapped in harrowing conditions in an orphanage. Most died from either fever or a lack of food, with 26 dying in two days over the weekend.
In other news …
The actor Danny Masterson was found guilty yesterday of two counts of rape in a Los Angeles retrial in which the Church of Scientology played a central role.

A former employee of Amazon's Ring doorbell camera unit used the camera to spy on female customers in their bedrooms and bathrooms for months, the Federal Trade Commission said in a court filing. The FTC announced yesterday a $5.8m settlement with the company over privacy violations.

Australian researchers have made a world-first breakthrough that could change the treatment of endometriosis, a painful and debilitating disease in which tissue similar to the lining of the uterus grows outside the uterus.

Aras Amiri, a British Council employee who was held in an Iran's notorious Evin prison for three years, is calling for the release of seven members of the Persian Wildlife Heritage Foundation. Amiri, who had been jailed with two of the environmentalists, said their only crime had been to try to save nature from extinction.
Stat of the day: 20.4% of 16- to 24-year-old jobseekers in China are unable to find work
With youth unemployment in China hitting a record high in April, the nearly 11.6 million students due to graduate in June are facing a labour market that looks increasingly hostile. A commentary in state media accused youths of being "unwilling to engage in jobs that are lower than their expectations", but China's economy has long suffered from a mismatch between the jobs available and the qualifications of jobseekers. The number of graduates majoring in sports and education increased by more than 20% between 2018 and 2021, but in 2021 the government banned for-profit tutoring, decimating an industry that had previously been worth $150bn.
Don't miss this: slavery research under fire
Despite more institutions commissioning investigations into their historical links to slavery, slavery research has come under fire, with one Cambridge University historian pilloried in the national press as "a 'woke activist' with an agenda". Read the latest in the Guardian series Cotton Capital about how the backlash at Cambridge sheds some light on why it has proven so difficult to reappraise Britain's past.
Climate check: a foggy future for Arctic shipping
While the climate crisis in the Arctic has helped open up faster shipping channels through the Northwest Passage, with rapid warming leading to a reduction of ice, a study has revealed that the melting ice is likely to lead to increased levels of fog that are already slowing shipping along these routes.
Last Thing: 'You poor bastards'
"To the graduating class of 2023, I say three words: you poor bastards," said the actor and comedian Patton Oswalt in his address to William and Mary College. With commencement season in the US kicking off, luminaries from the worlds of journalism, Hollywood and politics have been offering students the wisdom of their experience as they step in as speakers for graduating classes across the country. Here are some of the year's best bits.
Sign up
First Thing is delivered to thousands of inboxes every weekday. If you're not already signed up, subscribe now.
Get in touch
If you have any questions or comments about any of our newsletters please email [email protected]