---
Popular British comedian Ricky Gervais and Former Minister Navin Dissanayake had an interesting Twitter interaction over a tweet posted by the latter on standup comedy.
On Monday, a series of tweets by Dissanayake on freedom of expression stating "Free speech doesn't mean you can insult, damage the reputation and cause hurt to others through your actions and speech…" caught the Brit's attention. 
Gervais replied to the tweet saying "I can't tell you how much hurt your tweet has caused me. I'm really upset by it to be honest. Can you delete it please and apologise immediately?"
Dissanayake responded with "sorry I hurt you @rickygervais but I am not going to delete my tweet cos that's my freedom of expression mate"
The comedian replied with a "Bingo!" but his sarcasm appeared to be lost on Dissanayake.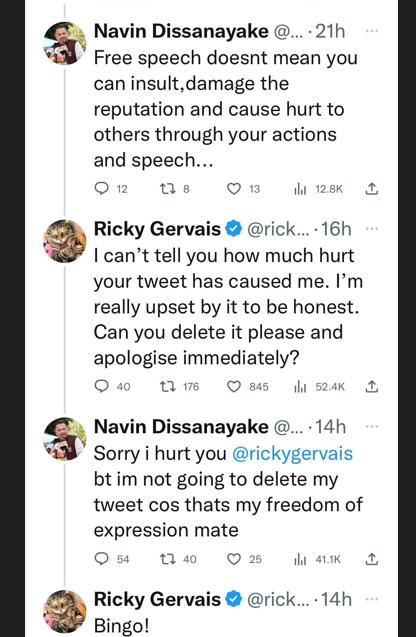 Pin
( Information from dailymirror.lk was used in this report. ALL RESPECT GOES TO ORIGINAL WRITER OF THIS ARTICLE. | Also if you have any problem of this article or if you need to remove this articles, please email here and we will delete this immediately. [email protected] )