I meet Bridget Archer just after the federal Liberal MP lobbed another mini-grenade at her own party. It's the Monday following the April Aston byelection and debate is running hot: what does the seat's loss mean for the conservative side of politics? Archer believes she knows exactly what it means and spells it out in the morning papers: "I think the party needs to stop ideological dog-whistling and return to centrist Liberal values." And there, alongside her quote, are the words now unshakeably paired with her name: "outspoken Tasmanian MP".
Outspoken. We discuss this over lunch at Tatler Lane, a restaurant close to her Launceston electorate office, in the state's north. It's the kind of eatery – coffee roastery, slick design, Instagram-worthy breakfasts – that didn't exist in the insular Launceston we knew as teenagers. We're the same age – 48 – but never met back then. She lived in a low-income suburb but went to Launceston Grammar. I lived out of town and went to a public school. She was expelled during year 12 for sneaking into the boys' boarding house. On Saturday nights, in grunty Ford Falcons, I'd be doing laps of the CBD's one-way streets, a Launceston cultural experience known as "doing blockies". She never did a blockie.
Archer, who is surprisingly tall and wearing her electorate work outfit of black jeans and low-heeled boots, wonders aloud about the next level on the MP "strife scale", as she calls it. Maverick? Rogue? She might want to avoid "disgruntled", I say, as that one tends to stick. "Disgruntled," she says, mulling the word. And then, eyeing my recorder: "Oh, I am disgruntled, dear reader."
There's an edge to Archer today. The loss of the heartland Liberal seat of Aston after 33 years –emphatically won by Labor's Mary Doyle after Alan Tudge's retirement – has emboldened her and, she believes, proved her point that the Liberal Party is unelectable in its current form. We're joined by Archer's key staffer Lucy Mercier, who, one suspects, is in a state of high alert: she knows her boss says exactly what she thinks. Yet Mercier also knows Bridget Archer is, well, authentically Bridget Archer. And therein lies her superpower. (In a later interview I ask Archer how she relaxes. "I drink," comes her half-joking answer. "I think I've come out in hives," Mercier responds, slightly horrified.)
Archer, a mother of five and former local mayor who worked mostly as a waitress pre-politics, entered parliament in 2019 after winning the marginal seat of Bass from Labor's Ross Hart by 563 votes. The first indication of her rebel spirit came in December 2020, when she abstained from the Coalition's legislation to extend trials of a cashless debit card, under which welfare recipients could not buy alcohol, gamble or withdraw cash. Archer, who holds a bachelor of arts in political science and English and a graduate certificate in international politics, felt that quarantining payments was "punitive" and contravened Liberal Party values.
"In what universe is spending a f— tonne of government money on telling other people how to spend their money in any way Liberal?" she says after ordering the omelette of the day. The bill narrowly made it to the Senate, which voted to extend the trials for two years.
In March 2021, Archer created a stir again, as the first Liberal woman to publicly confirm her attendance at the Women's March 4 Justice at Parliament House. In November that year, blindsiding the party, she backed independent MP Helen Haines' motion to discuss a federal integrity commission. "Today you saw, I think, the absolute lioness of the 46th parliament," Haines told the media afterwards. "And that woman is the member for Bass, Bridget Archer." In February last year, Archer crossed the floor with fellow Liberal moderates Trent Zimmerman, Fiona Martin, Katie Allen and Dave Sharma to successfully back amendments to the Sex Discrimination Act to abolish the right of religious schools to discriminate against gay and transgender students (in the end, Morrison shelved the legislation).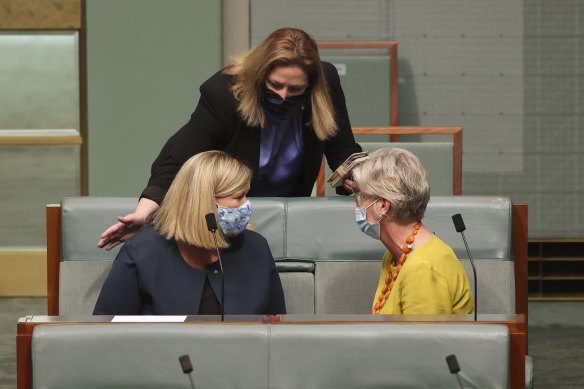 Since the May 2022 election, when Archer became the first person in 21 years to be re-elected to Bass – the so-called "ejector seat of Australian politics" – she has cut a particularly lonely figure in parliament. Last year she was the only Coalition member to cross the floor to support the Albanese government's carbon emissions target and to censure former prime minister Scott Morrison for his multiple ministries, and to back the national housing fund in February. Last month, Archer declared she would campaign for an Indigenous Voice, putting her at odds with the party room. Her floor-crossing tally now stands at 27, almost pipping Nationals senator Barnaby Joyce's record of 28.
All of which leads naturally to the question: is Bridget Archer in the wrong party?
"No," she says firmly. She describes herself as a small-c conservative who believes in individual aspiration and reward for effort. "I'm not really a natural fit with the Labor collective. I'm not a socialist." But the Liberal Party has gone "sideways", she continues, a process she believes began with former prime minister John Howard.
"We've seen an infiltration – and I think it's been as insidious as that – of right-wing religious conservatism that's infected the Liberal Party and turned it into something it was never conceived to be." She stops for a moment. "I don't think [party founder Robert] Menzies would be particularly disappointed with my efforts."
The party cannot stand by while moderate Liberal voters and potential candidates turn to independent movements like the teals, she says. This is not a sustainable path back to government. "We've got to have a revolution, really, to take the party back," she says. When I suggest this puts her on a collision course with Opposition Leader Peter Dutton, she agrees. But it's not a personal fight, she says. "The fight I am spoiling for is over the future of the Liberal Party."
'We've seen an infiltration of right-wing religious conservatism that's infected the Liberal Party and turned it into something it was never conceived to be.'

Bridget Archer
---
As a teenager, Bridget Archer repeatedly borrowed an anatomy book from the library. Each night, for six months, she copied it out. Even now, her knowledge of body bits and systems is, she says, "ridiculous". But Archer studied the book not because it was her dream to be a doctor – which it was – but as an excuse to stay in her room. This way she could avoid saying goodnight to her late stepfather, a man she describes as an aggressive, emotionally abusive and controlling alcoholic who scared her. When Archer had no excuse to stay in her room, she was expected to wish her stepfather goodnight in his workshop under the house, where he could secretly kiss and touch her inappropriately. "He never raped me," says Archer now. "But I think that was only because of a lack of opportunity, in the end."
The abuse of power, the inappropriate sexual attention and grooming – pressure not to tell her mother; treats when he'd gone too far – began when Archer was eight, during a vulnerable time. Born to a teenage mother in Hobart, Archer was adopted as a six-week-old baby to bank workers Barry Whelan and his wife Marian, who also had a son and daughter. "You know, I loved her straight away," says Marian. "She was a stunning-looking baby." (In 2014, Archer found her biological mother on Facebook. They regularly messaged and played the online game Words with Friends, but her birth mother died in 2018 while they were still weighing up meeting in person. Archer's biological father remains a mystery, as his identifying information was blacked out in her files.)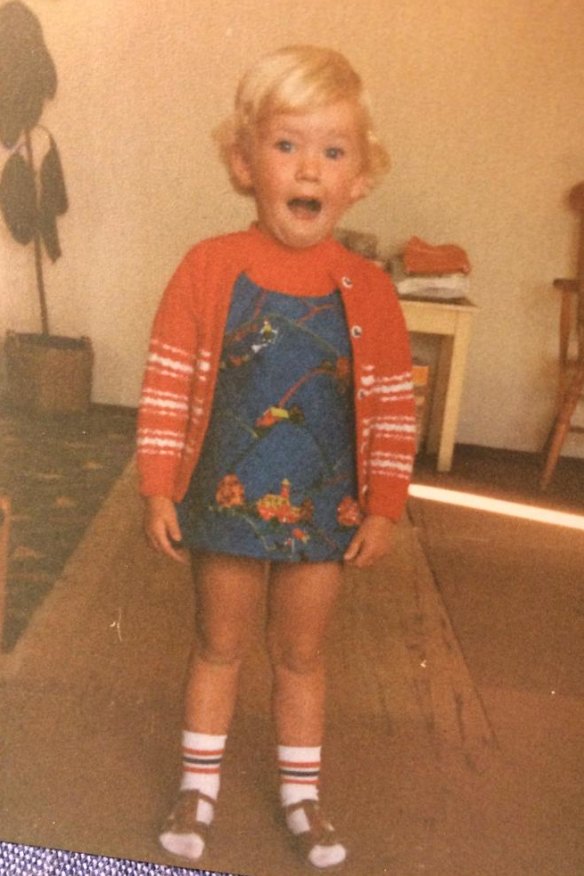 The Whelans bitterly separated when Archer was eight and her mother moved to Launceston. Barry got custody of the kids, but soon after was told he had cancer and six months to live. He died in eight weeks. The children moved to Launceston to live with Marian and her new stepfather but, says Archer, things went from "turbulent to more turbulent to more turbulent".
In year 6, funded by her father and grandfather's wills, Archer was sent to Launceston Grammar. Harbouring the awful secret of her home life, she existed in multiple worlds: her privileged schoolmates would tease her for living in the poorer suburb of Ravenswood, while the neighbourhood kids were scornful of her fancy school.
Her schoolmate and best friend, Sarah Lillywhite, describes Archer as a warm, funny and resilient person who was grateful to be at a good school. "We just worked bloody hard. There was nothing handed to either of us," says Lillywhite, who was a scholarship student. But things changed when Archer was 15. When the anatomy study didn't give her enough "cover", she stopped talking to her stepfather for a year, prompting an ultimatum from him to Marian: either she goes, or I do. Marian, knowing nothing of the abuse, chose her husband, and for year 12 Archer was sent to Grammar's boarding house, 10 minutes from home.
Lillywhite remembers Archer going through a "mini-self-destruction" at this point. When Archer was expelled for sneaking into the boys' boarding house, she had to do her exams at Launceston College (where I was doing them the same year) and flunked year 12. But she got into a law and science degree at the University of Tasmania, thanks to her excellent year 11 results (and that anatomy book). "Unsurprisingly, any prospects of doing well enough to get into a medicine degree had evaporated," says Archer. "I was in bits."
Archer tells me this as we drink lattes from the coffee cart in Launceston's quiet Civic Square. From her first speech to parliament, Archer made the decision to acknowledge her history of childhood trauma – although she reveals the details here for the first time – because she wants to move the conversation forward and chip away at stigma. But her survival of trauma also informs her political views in ways she's only beginning to understand. For a long time, she was puzzled why she felt "white-hot anger" about the conversation around transgender rights. "There's a moral panic around that issue – which is really about people living their own lives in peace – yet a complete lack of outrage that one in four kids are sexually abused. And that's happening in their own homes. where people are unsafe."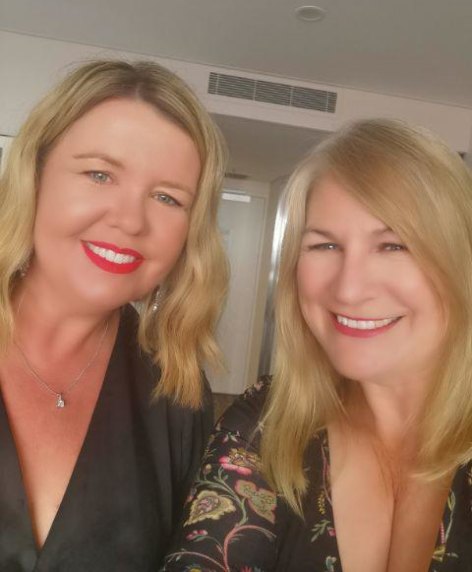 But there's a broader aspect, too. She often thinks about the impact of childhood sexual abuse, and how it fundamentally changes you and is deeply connected to mental health problems such as depression and anxiety. (Archer has also spoken openly about her ongoing struggles with panic attacks and anxiety: "I've had a lot of therapy".) She now believes that many Liberal policies – in juvenile justice, Robodebt or cashless welfare payments – fail to take into account that people with early trauma don't cope in uniform ways. "It's like trying to make a fish ride a bicycle – we're not understanding that people's capacity to do what you are asking them to do might be constrained by their trauma."
'Bridget is prepared to die on the cross. If she has something she believes in, basically that's it, mate, you're done.'

A Bass Liberal branch member
Also, she adds, the party can tend to marginalise already marginalised people. "It makes us feel better about ourselves. But it's not Liberal. It's sort of othering, you know, the way we see ourselves and who our base is, compared to people or people or people. All of those people, in my view, who are just people, they should be the base. Why shouldn't they be? If you go back to your Liberal values about aspiration, all sorts of people have aspiration, now more than ever."
In retrospect, Archer was always on a collision course with Liberal conservatives; it's just that no one saw it coming. "If the party just did a nominal amount of homework when they went through candidate selection, they would have realised that Bridget is about values, end of story," says a Bass Liberal branch member who knows Archer well. "Bridget is prepared to die on the cross. If she has something she believes in, basically that's it, mate, you're done."
---
The first time Archer crossed the floor, it was an ambush. Determined to achieve maximum impact, and not to have a repeat of the cashless-welfare debate – when she says she felt bullied and intimidated for weeks by Morrison's staff – she secretly conspired with Haines, who had her own federal integrity commission bill when Morrison was dragging his heels on the issue. In the parliamentary footage of that day – November 25, 2021 – you can see former Liberal MP Tim Wilson do a surprise swivel in his chair at the chamber's central table. He turns to see the stealth bomber, dressed in a forest-green suit jacket and shoulder-length blonde bob, rise to second Haines' motion and, speaking in measured tones with no notes – her pulse beating in her ears, a sick feeling in her stomach – plead with her colleagues to restore trust in elected officials.
Even though the Liberal Party trumpets its proud tradition of allowing MPs to cross the floor, Archer knew it was career suicide: "You have to pick the hill you are prepared to die on because instinctively you know you are dying." She also knew independent-minded party MPs never really get anywhere in politics, the exception, perhaps, being Barnaby Joyce.
Afterwards, the ramifications came, as Archer expected, and she was called to Morrison's office to explain herself. What few people realised that day was that Bridget Archer had thought about an integrity commission more than most of her colleagues – because she'd been investigated by one.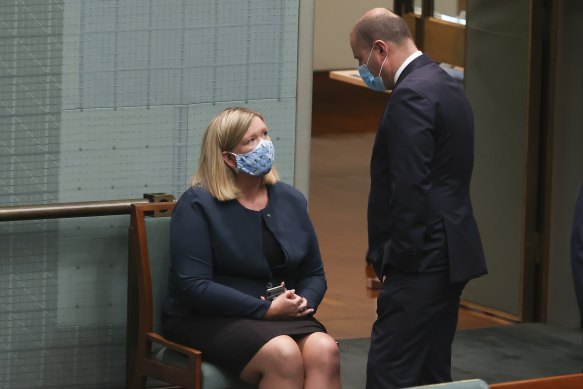 ---
"Steptoe," says Bridget Archer. "He's like ." We're walking on a farm road in the autumn afternoon sun and Archer is describing her husband Winston Archer, a farmer, and the scene around us. It's a junkyard: old ploughs, abandoned cement mixers, paint tins, concrete pipes, a dumped trailer and a tractor cabin that looks like it's been leaning on a tree since 1963. (Winston tells me later that, sentimentally, he also keeps in a shed samples of posters from every one of Archer's election campaigns, including her runs for mayor and council.) There's also a preponderance of dogs: her own three poodles, Roxy, Bobby and Domino, farm dogs, a fresh batch of shut-eyed border collie-kelpie puppies, and ones that she has never seen before. "I don't even know who you are," she says to a beagle-like mutt chasing our heels.
A 45-minute drive north of Launceston, the 2000-hectare cattle and sheep farm Effingham is just outside George Town, a blue-collar town at the mouth of the Tamar River, home to the Bell Bay aluminium smelter. The Archers are one of the early-colonial landed gentry families of northern Tasmania, descendants of four brothers who set up large homesteads. My mum, whose Pilates teacher is an Archer, is keen to know which Archers Bridget married into – the ones who recently sold a single Angus bull for a record price of $240,000? "No, they are Winston's third cousins," Bridget Archer says. Nevertheless, the farm has been in Winston's family for five generations and stretches all the way to Bass Strait. But instead of walking that far, we perch on a bit of concrete slab to chat.
When Archer came here after marrying Winston in 2008, she felt, for the first time, some sense of being settled. Until then, she says her life was like something out of (her staff joke that her biography will read "Chapter 73: enters federal politics".) In 1993, aged 17, she fled her stepfather and went to Hobart, where she dropped out of her degree in the first year and "went absolutely off the rails". In the midst of heavy partying she worked as a curation assistant at the Tasmanian Herbarium for four years. But also, during this time, in 1998, Archer married her first husband, who was 15 years older. It lasted 51 weeks. Then in 1999, Archer followed a boyfriend to Sydney, where she briefly studied communications at the University of Technology Sydney. She landed a waitressing job at the famous Doyles seafood restaurant on Watsons Bay, which she adored, and worked there during the Sydney Olympics. While at work one day, she slipped some discs in her back and nearly died from a golden staph infection, contracted in hospital after a lumbar laminectomy operation.
After that, Archer felt alone in Sydney and realised she couldn't keep partying with such reckless abandon. In 2003, she returned to Launceston but the recklessness had caught up with her: she came home pregnant. The father, a European backpacker, had left the country. Archer hired a private investigator and found his parents, but they refused to put her in contact with their son. "I made a decision pretty quickly that it was just going to be the two of us." Being a single mother was hard, she says, but her childhood had left her with a troubling inner world and she needed something bigger to pull her out of the mental mire. "I think having Luke probably saved my life."
Archer had her mother and Sarah Lillywhite for support, but also bumped into Evelyn Archer, an old boarding-house buddy, at antenatal classes. The pair reignited their friendship and had their sons within a month of each other in 2003. Archer, who finished her degree in 2004 and graduate certificate in 2005, dreamed of a foreign affairs job – but drily observes that being a single parent with a young baby "was a bit limiting as far as diplomatic postings go".
In 2007, Evelyn introduced Archer to her brother Winston. They married the next year. "She's a beautifully rounded person and a decent person," Winston says. "The success of our relationship is that we've never told each other what to do. I still love her as much as I ever have."
With affection, Lillywhite describes the Archers' relationship as "no-frills". "He's grounded and humble, he's such a fantastic foil for the world of high-stakes politics." Evelyn and Winston's father, Lawrence Archer, remembers meeting his future daughter-in-law for the first time at her house in Invermay, one of Launceston's poorer suburbs. "My first impression was that she was a very nice young lady," he tells me on the phone. "The little house was immaculate, wasn't it, Gail?" Archer's mother-in-law Gail murmurs assent from somewhere in the background.
Later in the call I ask Lawrence about Archer's strengths and weaknesses. The 73-year-old is extremely proud of his daughter-in-law's floor-crossings but nominates housework as her weakness. The conversation goes like this. Me: I thought you said her cottage was very neat? Lawrence: But now she's got five kids and she's a politician. Me: Why isn't Winston doing the housework? Lawrence: Well, poor Winston, he does a fair bit … It's not a criticism, it's just a fact of life.
In the early years at the farm, Winston suggested to Archer – who was looking after the books – that getting on the local council was a good way to meet people (the Archers had a long tradition of serving on the George Town council). Archer took up Winston's suggestion and was elected in 2009, when her first daughter, Lauren, was 10 months old. (She would go on to have two more daughters, Edith in 2011 and Molly in 2013, and a son, James, in 2014, a birth that almost claimed her life and afterwards saw her suffer a fortnight of acute postnatal depression. Her first child, Luke, is now 19.)
After joining the council, Archer was invited to a Liberal Party social function and served as the secretary and treasurer of the party's local branch between 2012 and 2013. At first, she says, her involvement with the party was a social thing, but her commitment deepened as she became impressed with Will Hodgman's state Liberal government, first elected in 2014. (Hodgman and successor Peter Gutwein would become her political mentors, along with the current premier, Jeremy Rockliff.)
Archer's time on the council was eventful, to say the least. She became deputy mayor in 2011 and endured an awkward period when the police were called twice to remove Winston from council meetings for being disruptive. "It was tricky," she says. "I couldn't really get involved … but at the same time, it doesn't sort of endear you to your colleagues." (Current councillor Tim Harris describes Winston as "an angry ant"; Winston counters that he's simply committed to transparency and fiscal responsibility. "I didn't raise my voice, I just stood my ground at public question time." Recently Winston was elected a councillor, bringing, quite remarkably, the number of Winstons on the council to two.)
Archer was voted mayor in October 2014 and inherited a council that was a mess: a revolving door of general managers, controversial development issues, unsustainable finances. In 2017, her response was to employ an approach she would later use in federal parliament: deliberate ambush. She appeared in Launceston's with the West Tamar council mayor announcing a feasibility study into amalgamation. But she'd not breathed a word to her fellow councillors about it.
'There was a lack of will to do anything that was going to turn the ship around without that bit of a push.'

Bridget Archer
Councillors went on to vote overwhelmingly against amalgamation but – faced with the prospect of losing themselves in a merger – backed a restructure that found more than $1 million in savings. This, Archer says, was the result she was looking for. "There was a lack of will to do anything that was going to turn the ship around without that bit of a push," she says.
Despite the lack of consultation over amalgamation, most current and former councillors who speak to back Archer's leadership skills. "She's knowledgeable and got a good head on her. And quite a good leader," says former councillor John Glisson.
But not everyone was happy with Archer's time as mayor. Under its policy for paying councillors' costs, the council had paid Archer's childcare fees since 2014. At first she claimed for three days a week, but then, for a seven-month period in 2017, when she was busy with the restructure and replacing general managers, the council covered five days a week, which included two children in long day care and two children in after-school care. In the financial year 2016-17, the council paid $22,000 for Archer's childcare. In late 2017, an anonymous complaint was made to Tasmanian's Integrity Commission – and later printed on flyers and delivered to letterboxes around George Town – that Archer was using some council-paid childcare for non-mayoral purposes. It also alleged double-dipping: that she was pocketing the federal Child Care Subsidy, when she should have paid it back to the council to offset its costs.
The Integrity Commission investigated. In its March 2018 report – which Archer passed on to – she admitted to using council-paid childcare for private purposes, but said due to the inflexibility of childcare options in George Town and the at-call nature of being mayor, she had no other option than to book her children into long day care in advance. The commission accepted Archer's evidence and cleared her of this allegation.
In assessing the second allegation of double-dipping, the investigator acknowledged the argument that Archer should have passed on the federal rebate to the council (which would have halved the council's bill, as the rebate covered 50 per cent of out-of-pocket costs). But he decided this "should not be required" because Archer had been "open and transparent" about the council's payment of her childcare; that this arrangement was accepted and approved by council staff since 2014; that it was "impossible" to calculate the proportion of the rebate applicable to mayoral work and private requirements; and that Archer had not claimed childcare when she was just a councillor, and "to some extent" offset costs by not using a council car or phone (she was paid a fuel and communications allowance instead). "There is thus no evidence of misconduct in relation to this allegation," the report found.
The council never got to assess the investigator's reasoning for itself because it was never given the report. Five years later, serving and retired councillors are still perplexed as to why, leading to all sorts of speculation. George Town's longest-serving councillor, Heather Barwick, is an Archer admirer and mentor – "She has matured so much and she's capable of standing up to all of them people because she has Tasmania at heart" – but still believes there was something odd about a report never surfacing.
"It was a Liberal [state] government at the time. They kept it shut so that they could put her up for election." (Archer calls this a "wild conspiracy theory" and points out that the commission's report was finalised just after the March 2018 state election, in which she stood in an unwinnable spot as a Liberal candidate in the state seat of Bass.)
Will Hodgman, the then premier, did not respond when puts this allegation to him. Archer says the report found that "I worked with the policy that was in place and did not claim anything inappropriately." She says she bears no ill will to whoever complained and is glad that, in the aftermath, the council rewrote the policy on childcare allowances to make it clear that "all claims are net of subsidy". The stressful experience made her mindful that anti-corruption bodies need to be careful with reputations, but it did not, she says, diminish her support for such commissions.
Meanwhile, on the farm, Winston and Luke arrive in an ATV. Winston is wearing a narrow-brimmed khaki hat, a torn green fleece and grease-smeared jeans. He squints against the sun and Archer breaks the news that she has to return to Canberra for a party-room meeting on the Voice. He is disappointed. "Geez, can't you Zoom in?"
The juggle of parliament and family life – the kids are aged between eight and 19 and all live at home – is not easy. Winston has, says Archer, employed a farmhand to free up time. Archer does the week's cooking and shopping before leaving for Canberra, and hires a family friend to look after the kids in the afternoons. She also takes one child, who has autism, to Canberra most sitting weeks because she is home-schooled.
The sacrifices of her family are partly what fuels the fire in her belly: she wants to make her time in parliament count. "I'm not here," she says, "to keep the seat warm." As we head back to my car, Archer wonders whether Winston thinks her job is a bit of a hobby and whether he hopes she'll give it up soon and things will return to normal. If true, Winston's not the only one wondering if Archer will give it up. There's a posse of people in her own Liberal branches desperately hoping she will.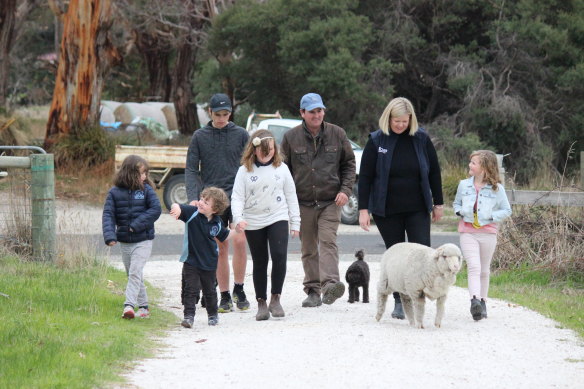 ---
The next morning, Archer is at the Tramsheds Function Centre in Launceston's Invermay, not far from where she lived as a single mother. She's handing out certificates to 59 new Australian citizens, from countries as diverse as Ethiopia, South Korea and Nepal. Later, between photographs with excited new Launcestonians, we talk about the city's lack of diversity when we were teenagers. Today is another sign, says Archer, of Launceston changing for the better.
Archer's message of change for the Liberal Party – that it needs to move towards the centre, where she firmly believes the electorate is – isn't particularly controversial in Tasmania, where the party is much more moderate. The current premier, Jeremy Rockliff – who is campaigning for the Voice – is seen as the most moderate in a succession of moderate Liberal premiers.
Recently there have been rumblings of moves afoot to disendorse Archer during the seat's preselection process next year. For this to happen, however, someone would need to challenge Archer and then win a majority of branch member votes in a plebiscite. Archer admits that some branch meetings have become tense, with a small group expressing their dismay at her floor-crossings.
A senior member of the George Town-East Tamar Liberal branch, one of the biggest in Bass and also Archer's home base, tells that just over half of its 58 members don't support Archer's positions. "Bridget is a pretty popular person down here. She works hard … But she's upset a lot of members through crossing the floor when she probably really hasn't had to." He names the Morrison censure as an example and adds that he believes the party is waiting to see if she'll run as an independent. (Archer says her preference is to run as a Liberal candidate, but that she would consider turning independent if disendorsed.) Another member says the preselection will be "a very noisy process" that will amount to little. "The elderly, ultra-right-wing constituents, they talk a mean game but they're very light on action."
'If you go to the branch meetings, it's like Australia 30 years ago. They are a bunch of very elderly, very conservative retirees.'

A Bass Liberal Party branch member
And here is the wider problem for the Liberal Party, playing out in Bass but also in branches all over the country: members who go to meetings skew older and more traditionalist, creating a disconnect with the broader Liberal base. "If you go to the branch meetings, it's like Australia 30 years ago," says one Bass branch member. "They are a bunch of very elderly, very conservative retirees."
It could seem to some that Archer is on a kamikaze mission that will mark her as trouble and guarantee her own demise. "The more and more she goes against the party, the harder it's going to be for her, isn't it?" says the senior Bass branch member. But Archer faces a big existential challenge in just keeping her seat. At last year's election, Archer went backwards on her primary vote, but through preferences slightly increased her margin by 1 per cent to a slim 1.4 per cent. The national trend towards Labor in current polls suggests Bass will be a tough ask to win again in 2025. It could be that the only way she keeps Bass is to continue on her rebel path, distancing herself from the Dutton-led Liberals, just as she distanced herself from Morrison in 2022.
She will also be reaping the benefit of a substantially raised profile at the next election. She has a local reputation, says Launceston resident and community brand strategist Rick Marton, for listening to all views. "Bridget's seen as a very real person, a very genuine person," he says. Brad Stansfield, a campaign strategist, former chief-of-staff to Will Hodgman and co-host of Tasmanian politics podcast , says Archer has worked out that Bass quite likes someone "who will be up in lights with their electorate's name up in lights beside them". There is, after all, a tradition of Tasmanians loving rebel politicians, from Liberal senator Sir Reg Wright, who crossed the floor 150 times, to Liberal Bruce Goodluck, who wore a chicken suit in parliament in 1985, and, of course, the take-no-prisoners Senator Jacqui Lambie.
Given her popularity, Stansfield believes that forcing Archer out would be "politically crazy" because it would martyr her, deliver her the sympathy vote and hand her the seat as an independent. In other words, for the Liberals, he believes, if it's bye-bye Bridget, it's bye-bye Bass.
---
Over coffee, Archer ponders the things that don't make sense about the conservative-led Liberal Party. It gets involved in transgender and women's culture-war issues despite its core tenet of respecting individual choice – or, as Archer likes to put it: "you do you". She contends it values the family circa the 1950s, yet families don't look like that any more. It doesn't talk enough about the environment. "How do you call yourself a conservative when you're not interested in conserving anything?"
Disgruntled, dear reader, she certainly is.
A week later – after the Voice party room vote – she says she feels even more resolute about change, but wonders if it's too late. "I don't feel like that here in Tasmania. But certainly when I sit in the federal party room, I think maybe it's too far gone."
David Crowe, chief political correspondent for and , says the Liberal Party crisis has a long way to play out, and if Archer can hang on in Bass, she'll be well-positioned when the party finds a team to lead it back to government. "People shouldn't regard her as merely a backbencher in a marginal seat. She has the capability and the smarts to be on the front bench. It's only a matter of time before Archer and others are elevated to positions of leadership." But first, he says, the party must work out where it sits in relation to mainstream values. "Bridget may be out of touch with the party room. But that reflects the fact that the party room may well be out of touch with ordinary Australians."
Archer's war on the conservatives does look lonely. Her fellow moderate-faction MPs who crossed the floor with her on the Sex Discrimination Act lost their seats at the last election. That election also resulted in Peter Dutton's right faction – which is driving the conservatism – being left as the biggest party room grouping (according to an analysis by and 's James Massola, Dutton's group has 27 members of the 66-member party room, while the loosely organised moderates are a diminished bunch of 14).
Dutton declines to be interviewed for this piece, so it's difficult to know what he thinks of Archer, although one federal MP tells me the conservatives "hate her". She certainly gets feedback from anchors, who rail against her floor-crossings. In April, host Caleb Bond advised her to "grow a spine and join the crossbench".
But Archer keeps going, because she knows many Liberals think like her and because she believes the stakes are high. "Maybe it's bloody-minded of me, but I feel you can't let those divisive, American-style political forces just take over the party without a fight. I just don't want to let them win."
.
( Information from politico.com was used in this report. Also if you have any problem of this article or if you need to remove this articles, please email here and we will delete this immediately. [email protected] )