---
We have never resorted to violence before but if the running dogs of the Rajapaksas would lay a finger on another Aragalaya activist, we will show them what we are made of, was an open warning given by the Aragalaya activists who spoke against the recent attack on activist Piyath Nikeshala by political goons.
A group of Aragalaya activists speaking at a media briefing in Colombo said yesterday the political henchmen who were not to be seen in public along with their masters since the May 9th incident, seemed to have come out of their hiding and harassing people again.
Social media activist Shashika Dissanayaka said when the Galle Face Aragalaya was started in 2022, the police first harassed Aragalaya activist Anuruddha Bandara. He was arrested, detained and questioned, and harassed in the guise of inquiries.
"Then some armed goons broke in to the studio of Youtuber Dilan Senanayake and slashed him with sharp weapons causing serious wounds. But the investigations didn't work correctly on this incident.
The third incident was the attack on Piyath Nikeshala by the former Kaduwela Deputy Mayor and his goons. There are live footages of this suspect former Kaduwela Mayor attacking the peaceful protesters last May 9th at Galle Face. But no action has been taken to date," he said.
Aragalaya activist Manoj Mudalige said that they never resorted to violence before but conducted a very peaceful protest at the Galle Face Aragalaya and afterwards.
"We are also thoroughbred village youths nourished by native food. Lay another finger on any Aragalaya activist and see what we are made of. We will take the entire country to the streets," Mudalige warned.
Aragalaya activist Mohamed Rushdi condemned the recent statements made by Minister Prasanna Ranatunga at the Parliament that the Aragalaya activists were drug addicts.
"We ask Prasanna Ranatunga who flew by a chopper from Colombo to Negombo in no time and embraced a politician in public, when the latter's mansion was raided by the Police Narcotic Bureau officials with credible narcotics related information leading to his arrest," Rushdi said. (Kurulu Koojana Kariyakarawana)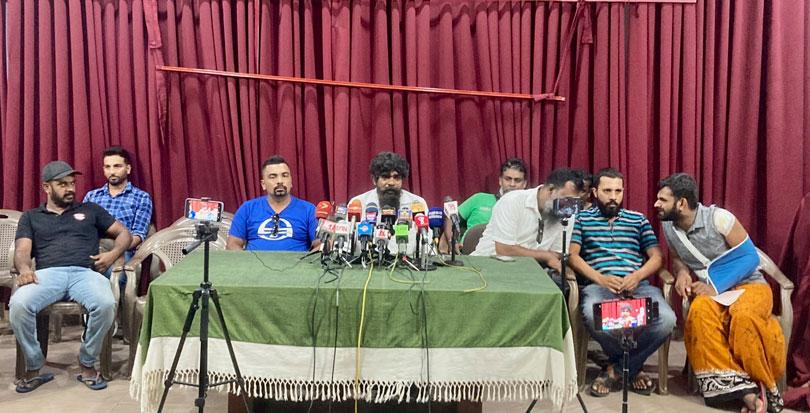 Pin
( Information from dailymirror.lk was used in this report. ALL RESPECT GOES TO ORIGINAL WRITER OF THIS ARTICLE. | Also if you have any problem of this article or if you need to remove this articles, please email here and we will delete this immediately. [email protected] )