Donald Trump arrived in New York City on Monday, a day before he is due for a hotly anticipated court appearance where he'll respond to the first ever criminal indictment filed against a former American president.
At about 2.15pm ET on Tuesday, he will appear at the courthouse where a grand jury convened by Manhattan district attorney Alvin Bragg handed down its indictment last week, to learn the exact details of which laws he is alleged to have broken. At his arraignment, he is expected to be photographed and fingerprinted, but will not be handcuffed per an agreement his legal team reached with Bragg, Trump's attorney Joe Tacopina said last week.
Trump's lawyers opposed videography, photography and radio coverage of the arraignment, saying it would "exacerbate an already almost circus-like atmosphere around this case". Late on Monday, Judge Juan Merchan ruled that five photographers would be admitted for several minutes before the arraignment, with TV cameras allowed only in the hallways of the building.
The former president departed around midday on Monday from Palm Beach international airport, flying for just over three hours to the city where he built his career as a real estate mogul and reality TV star, but ultimately abandoned for the increasingly conservative southern state in 2019. "America was not supposed to be this way!" Trump lamented on his Truth Social account on Sunday evening, in a post where he announced his travel plans for the coming days.
Late afternoon he entered the Trump Tower complex on New York's Fifth Avenue not far from Central Park, where he has an apartment and offices. The former president waved to the public and, wearing his standard outfit of blue suit, white shirt and long, bright red tie, disappeared inside the skyscraper.
Important details of the case could be revealed before Trump sets foot in a courtroom. Media organizations including the Washington Post, the New York Times and CNN have petitioned Judge Juan Merchan to make public Bragg's indictment, which reportedly contains upwards of 30 charges and at least one felony related to the hush money payment he facilitated to adult film star Stormy Daniels ahead of the 2016 election.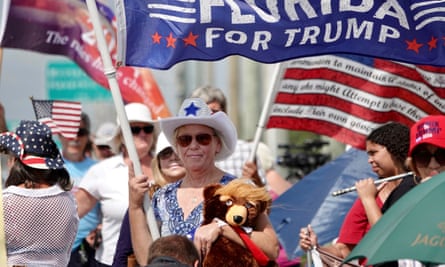 Trump supporters stand outside Palm Beach international airport.

Photograph: Joe Cavaretta/AP
Thus far, the New York Young Republican Club – which has declared that Trump "embodies the American people – our psyche from id to super-ego" – and far-right congresswoman Marjorie Taylor Greene are the only major figures who have announced plans to be on the scene protesting the indictment.
The former president says he will give an address after the hearing, but may not be able to say all that's on his mind. Merchan may decide to issue a gag order on all parties in the case, after Trump spent the weekend raging against Bragg.
"The Corrupt D.A. has no case," the former president said Sunday evening on Truth Social. "What he does have is a venue where it is IMPOSSIBLE for me to get a Fair Trial (it must be changed!), and a Trump Hating Judge, hand selected by the Soros backed D.A. (he must be changed!)." Through a spokesman, billionaire George Soros on Friday denied any association with Bragg or his campaign for district attorney, an elected position.
As angry as he may be in public, the indictment appears to have helped Trump in his quest to again win the Republican nomination for president next year. He was already considered the frontrunner, and a Yahoo/YouGov poll released on Saturday showed the former president has a 26 percentage point advantage over Ron DeSantis, the Florida governor who is seen as his strongest potential challenger. In a survey taken earlier in March, Trump's advantage was eight percentage points.
Yet another poll from CNN and SSRS found 60% of Americans approve of Trump's indictment, but legal experts have raised several questions about the strength of Bragg's case. While the exact charges and evidence underlying them aren't yet known, the doubts center around whether Trump's alleged misconduct adds up to the more serious felony charges that Bragg is expected to seek, as well as the reliability of some witnesses.
Prominent Republicans in Congress and statehouses have rallied to Trump's defense, but beyond calling for calm and respect for the judicial process, senior Democrats have generally stayed mum. Joe Biden has repeatedly declined to comment about it.
That said, the former president's legal troubles are unlikely to end in Manhattan.
County district attorney Fani Willis in Georgia may bring charges against him or his allies for their attempts to overturn Biden's 2020 election win in that state, while in Washington, special prosecutor Jack Smith has convened a grand jury to determine whether Trump's involvement in the election subversion campaign, the January 6 insurrection and his possession of classified materials broke federal law.
It's unclear when a decision in those cases could come.