The Legalise Cannabis Australia Party is shedding its reputation of being a collective of "nutty hippies", stoners and cannabis convicts. After decades of barely making waves as a federal party, it's seen a groundswell of support in state elections, scoring a seat in Western Australia and two in Victoria. Now, the NSW party is on track to win an upper house seat.
It has an eclectic mix of members. It's headquartered in Nimbin, where tourists have to be directed out of the party's building to buy their black-market marijuana. Its federal president Michael Balderstone is a scraggly-bearded daily pot smoker. Its NSW candidates range from those who advocate for people to grow their own cannabis to "prevent much of the ill health that plagues society today", to former NSW Police officers.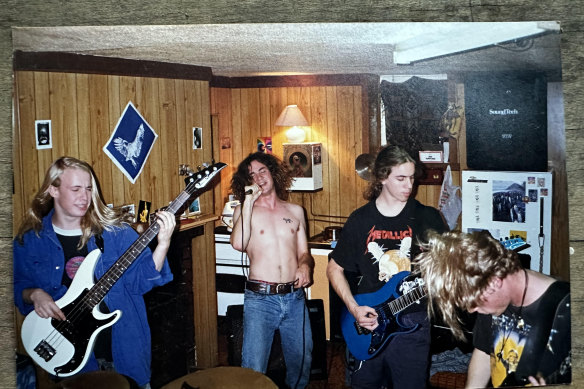 But since nominating former Greens member Jeremy Buckingham as its lead candidate for the NSW upper house, the party has gained an air of legitimacy – despite his dramatic exit from the Greens following a sexual harassment allegation. One in eight residents voted for the party in some regions of NSW. The party only fielded candidates for the upper house.
Buckingham's alternative upbringing in Tasmania made him a good fit for the party but to achieve its goals, he is likely to form some unexpected alliances – even with Pauline Hanson's One Nation party, if required – to get support.
Legalise Cannabis is a single-issue party, aiming to legalise cannabis, introduce a moratorium on arrests of cannabis consumers, and reform drug driving laws so impairment, not presence, is tested. But for nearly 30 years, it achieved none of its goals.
It was first formed in 1993 when activist Nigel Quinlan legally changed his surname to "Freemarijuana", and ran for the Senate in Queensland in 1996. He's since reverted to his original name. The party he founded became the Help End Marijuana Prohibition (HEMP) Party in 2008 and rebranded to become Legalise Cannabis in 2021.
Years of failure have jaded Quinlan, and he's not hopeful the party will achieve anything even now – especially in Queensland. "Australia is a tiny little vacuum … of prohibitionists," he said. "I wish legalisation was going to happen, but it's not."
Yet things have changed following the legalisation of prescription cannabis in 2016. Australians are now changing their attitudes to the plant, with a 2019 National Drug Household Survey finding 41 per cent of Australians support the legalisation of recreational pot, with just 37 per cent opposing it.
Legalise Cannabis parties have emerged in every state and territory, acting in an unofficial "loose federation" with the national party, sharing staff and resources. In the federal election, it was one of the last parties to be eliminated.
But recruiting party members has been notoriously difficult, federal party president and NSW committee member Balderstone said.
To register in NSW for the March state election, the party needed to be established for a year with a minimum of 750 members. "People agree with the cause but once they receive mail at their house from the electoral commission asking them to confirm they're a member of the Legalise Cannabis Party, they go underwater."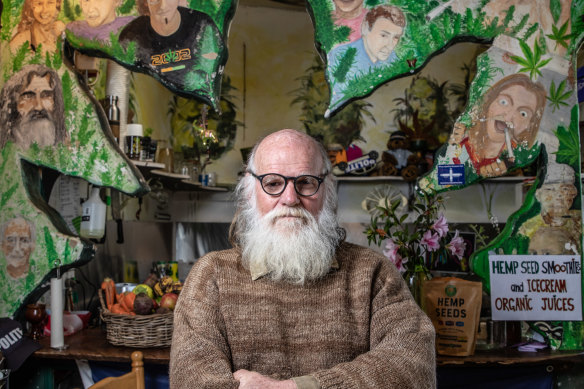 But the party met the requirements and registered. Then members hit the regions, spruiking the hemp and cannabis industry as a job creator and a solution to deforestation, with hemp replacing paper. NSW party secretary Craig Ellis – who also worked as the secretary for the Victoria party – said it was truly a grassroots campaign. "We did it on the smell of an oily rag," he said. The only advertising they ran was a few Facebook ads, and they didn't hand out "how to vote" cards in electorates. Even then, it was a battle: Facebook kept rejecting the party's ads, later reinstating them after being contacted by the Herald.
It also found volunteers in an unexpected place after being erroneously approved as a voluntary work organisation for Centrelink recipients to fulfil mutual obligations – which Buckingham said was a "regrettable move" and one that shouldn't have been allowed in the first place. Services Australia has launched an investigation into how a political party could be added to the list of accepted bodies.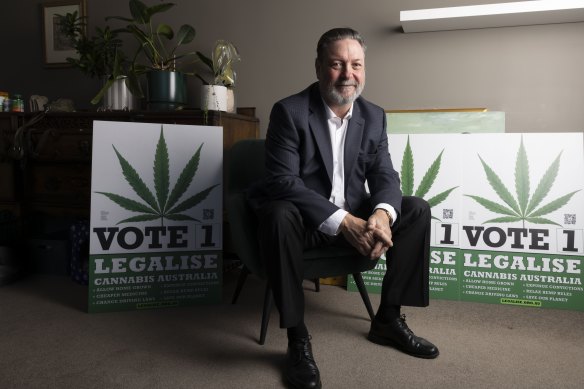 Shellharbour candidate Mia Willmott, who has received 4 per cent of the vote so far, said people have been more and more receptive to the party's objectives. "It was magical. Speaking to people over the years has never been easier."
The party has not taken a hard stand on COVID vaccinations. Last year, WA MP Sophia Moermond was suspended from parliament after refusing to provide proof she had been triple vaccinated against COVID-19.
Balderstone rejected the suggestion the party was anti-vaccination and stressed it supported freedom of choice. "We're definitely not anti-vax, but we're not about being forced to have stuff either," he said.
Finding a lead candidate for the party was another challenge. According to Balderstone, there were not many members who were up for the job. "I don't want to do it," he said. "I couldn't get in there and put on a suit every day."
So, when Buckingham emerged, eager to run, Legalise Cannabis snatched him up.
The party is close to Buckingham's roots: He grew up in off-the-grid, often unpowered farmhouses across Tasmania, wearing raw hemp, and milking goats and cows. Joni Mitchell and Jethro Tull albums crackled from the record player. His first given name was Elian Nova, but his parents changed it while to Jeremy while he was still young. His brother's name is Tambo.
As a bong-smoking adolescent, he played in a heavy rock band, rehearsing in wood-panelled homes, his head-banging band members sporting Metallica tees and oversized denim shirts. He tried to turn his wild, curly hair into dreadlocks but, after starting to go bald in his 20s, abandoned the idea.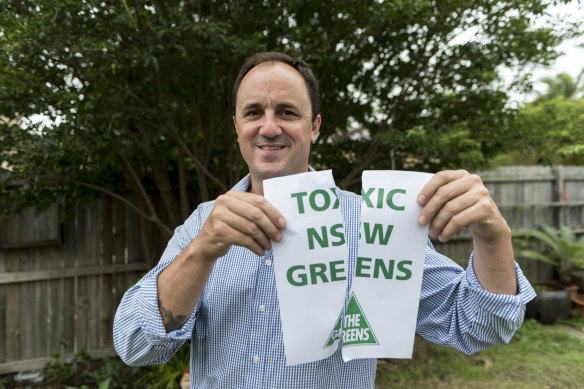 He got into politics early, joining Tasmania's Hemp for Paper Consortium party in the '90s, before being elected to Orange City Council in 2004 and as a member of the NSW Legislative Council for The Greens in 2011.
But after seven years he was asked to remove himself from the party's ticket for the next election: An allegation that he had inappropriately touched a former party aide during his first year in office emerged, with Greens MP Jenny Leong calling for his resignation in 2018. Buckingham denied the allegations, and an independent investigation commissioned by the Greens found insufficient evidence to substantiate the complaint.
He quit the party and left in a blaze of glory, tearing up a poster of the Greens' logo and accusing the party of being "toxic". After failing to get elected as a self-described "real Green independent", Buckingham joined the Legalise Cannabis Australia party last year.
But the decision to make Buckingham the lead candidate wasn't simple. "He had quite a bit of media because he had been so controversial … but his knowledge of parliament and the parliamentary process was invaluable. And he knows cannabis pretty well," Balderstone said.
The party committee met to make sure the sexual harassment allegations were "behind him" and to make sure Buckingham wasn't carrying any animosity towards the Greens. "It was a difficult choice in many ways, but I'm really happy," Balderstone said.
It turned out to be the correct decision for the party. With help from fundraising experts, Buckingham secured cash from prominent donors including the son of former prime minister Malcolm Turnbull, Alex Turnbull; Rob Keldoulis – who also backs the teals and owns a medicinal cannabis farm south of Launceston – and philanthropists Sue and John McKinnon.
Despite the funding injections, the party campaigned with under 3000 members and less than $40,000.
The party has seen a groundswell of support, scoring 13 per cent of the vote in Cessnock, with one in 10 residents voting for them in Myall Lakes. For Ellis, it was a huge win: "We weren't surprised that we've got a good vote, but were surprised at the strength, the size of the vote in some of those seats," he said.
He said a lot of support was coming from those in the regions who had previously voted conservatively, with swings away from the Shooters, Fishers and Farmers party.
Former parliamentary historian David Clune said he wasn't surprised at the party's success. "When it gets down to the last couple of spots [in the NSW legislative council] there's always huge uncertainty," he said. "It really comes down to chance and preference flow – there are always some wild cards."
He attributed some votes to the party's attractive, easy-to-understand title, coupled with residents' focus on health and climate issues, recognising Buckingham as an environmentalist: "There are a lot of older folks who want cannabis for pain relief … and in the country, there are farmers who are taking a progressive stance on the environment as they see the impact [on their land]."
The party has also seen support for its policies in some unusual places. While there's expected support from the Greens – with Buckingham saying he "hopes" they'll work with him, despite their past troubles – there's also support from conservatives. Last month, One Nation senator Malcolm Roberts introduced a bill in federal parliament to medicinal cannabis products available on the Pharmaceutical Benefits Scheme (PBS).
Buckingham said if elected, he'd work with anyone willing to support his policies. "We're looking for all the allies we can get across the political spectrum." With a potential seat in NSW's upper house, Buckingham is hopeful the party can achieve its goals.
The possession, use, supply and unlicensed cultivation of cannabis is illegal in most Australian states and territories. Penalties vary between each state and territory. More information about the health effects of cannabis use can be found at the Alcohol and Drug Foundation and drug counselling websites.
( Information from politico.com was used in this report. Also if you have any problem of this article or if you need to remove this articles, please email here and we will delete this immediately. [email protected] )