---
 T-Bills held by CB to be considered for treatment 
DDO without coercion envisaged for T-Bonds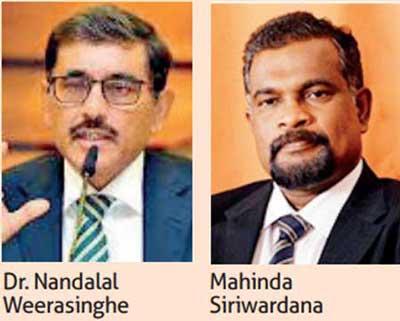 PinIn a major move to gain trust and cooperation of its foreign creditors, Sri Lanka yesterday expressed its willingness to include rupee debt in the debt restructuring exercise.
Central Bank Governor Dr. Nandalal Weerasinghe and Treasury Secretary Mahinda Siriwardana yesterday said only Treasury Bills held by the Central Bank will be considered for treatment to create some fiscal space for the government.
Their presentation to the country's commercial creditors and investors said a voluntary domestic debt optimization (DDO) operation without coercion is envisaged for Treasury Bonds.
It also said the Sri Lankan government and its advisors will initiate consultations with major Treasury Bond holders to gauge options and constraints.
Out of the total Treasury Bill stock, the Central Bank holds 62.4 percent. Superannuation funds like Employees' Provident Fund hold 42.7 percent of Treasury Bonds.
The presentation stated that the envisaged domestic debt optimisation will help reduce the efforts required from external creditors to restore debt sustainability, but taking into account financial stability objectives.
"We envisage to finalise domestic debt optimisation by May 2023 and external debt restructuring by September 2023," Governor Weerasinghe said. 
Meanwhile, a joint press release issued by the Central Bank Governor and Treasury Secretary yesterday evening said despite the ambitious fiscal consolidation efforts, Sri Lanka's public debt trajectory is set to remain unsustainable in the absence of a comprehensive debt treatment. 
"Sri Lanka is also facing a significant external financing gap over the IMF programme period. This financing gap will have to be covered through new external funding and external debt service relief. 
The authorities are also exploring options for a domestic debt optimisation (DDO) operation aimed at liquidity relief while preserving financial stability to avoid further erosion of Sri Lanka's repayment capacity.
It is envisaged that this DDO will be conducted on a voluntary basis and be based on our consultations with major T-Bonds holders," the statement said. (IS)
( Information from dailymirror.lk was used in this report. ALL RESPECT GOES TO ORIGINAL WRITER OF THIS ARTICLE. | Also if you have any problem of this article or if you need to remove this articles, please email here and we will delete this immediately. [email protected] )