The Liberal Party will try to hold on to Aston, the once-safe Liberal seat vacated by Alan Tudge, as Labor pushes for an upset victory. The Age will publish updates from reporters in the field covering issues affecting voters in the lead-up to the poll on Saturday, April 1. See all 11 stories.
A train line to Rowville in Melbourne's outer east was first proposed in 1969. But five decades later in the federal electorate of Aston, the car is still king.
Katrina Marques, who is raising her three school-aged children in Aston's south, said a lack of public transport was the most important issue to her ahead of a byelection on Saturday. But she isn't expecting much after years of empty promises.
"It's pretty appalling," she said. "You've got no faith that anything will change."
Saturday's byelection was called after Liberal MP Alan Tudge quit politics in February and is shaping as a test for Peter Dutton as Opposition leader, while Prime Minister Anthony Albanese is hoping for an upset in the once-safe Liberal seat.
Aston residents spoke to said public transport infrastructure was one issue they wanted candidates to talk about as they competed for their vote.
Road upgrades and the cost of living are among other issues to feature prominently in the campaigns of Liberal candidate Roshena Campbell and Labor's Mary Doyle.
Her children – Taj, 17, Levi, 15, and Eloise, 10 – go to school in Nunawading, largely because the school operates a private bus that picks them up from Rowville.
Marques, a project manager, is also an expert on multi-hour commutes for work in the CBD.
Her normal route starts with a 20-minute drive away from the city to Ferntree Gully station, where she begins an almost hour-long train trip to Flinders Street.
Now, with the line disrupted for level crossing removal works, a 35-minute drive to Syndal station on the Glen Waverley line, followed by a 45-minute train is more likely. Finding a car park was still a lottery, she said.
If Marques was to avoid using a car entirely, her trips would often require several, time-consuming bus changes.
"It would usually be two buses I would have to catch to get anywhere," Marques said. "I often look at moving to other locations that aren't as nice as Rowville, but have better connections."
Rail Futures Institute president John Hearsch said trackless trams were "probably not a perfect solution" partly due to expensive wear on the roadway. However, proponents have touted the low infrastructure cost, quick construction compared to rail and high speeds as benefits. A proposal put forward by Vicinity Centres and Monash University has a $1.4 billion price tag.
"We, on balance, think light rail is probably a better option [than a trackless tram] … but we are pretty agnostic about it all," Hearsch said.
Grattan Institute transport and cities director Marion Terrill noted the Caulfield-Rowville link, potentially via trackless trams, wasn't on Infrastructure Australia's priority list.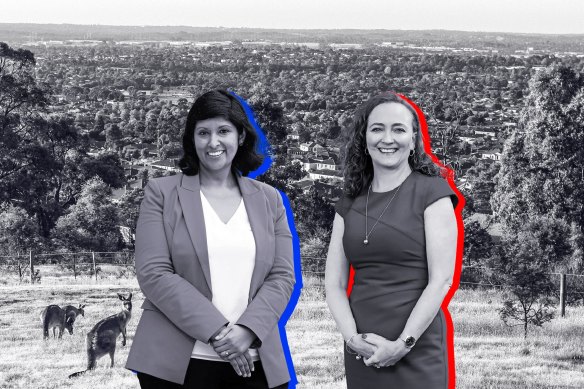 "The public tends to prefer public transport modes that come with a dedicated road space because they can be confident that there's a long-term commitment to the route, but having said that, introducing a whole new mode into a system comes with significant costs," she said.
Terrill also said the federal government "isn't well-equipped to lead a business case" because public transport is primarily a state government responsibility.
Infrastructure Victoria's 30-year strategy finalised in August 2021 recommended "next-generation buses" with dedicated lanes connected Rowville and Caulfield rather than trams or trains, arguing demand wasn't great enough for large transit investment.
Eastern Transport Coalition president Stuart James said Rowville mass transit was the number one priority for Knox Council (which covers the Aston electorate).
James said the group preferred a heavy rail Rowville link, but understood receiving funding for that was unlikely. Instead, he argued a trackless tram corridor should be built, regardless of the business case outcome.
"If business cases were put together for train lines in Melbourne in the 1880s, none of them would have been built," he said.
A federal infrastructure department spokesperson said work on the $6 million Caulfield-Rowville business case would start later this year and would consider improving the existing bus service as well as new services such as bus rapid transit, light rail or trackless rapid transit.
A spokesperson for King said $2.2 billion in federal funding for the Suburban Rail Loop East would also help "deliver a huge improvement in the day-to-day lives of people in Melbourne's eastern suburbs".
Campbell, the Liberal candidate, said she was committed to easing congestion in the outer east and would support the best solution after the business case comes back.
"The Liberal government put money on the table for Rowville rail four years ago. When support wasn't forthcoming from state Labor, the Liberal government helped fund the business case into alternatives," she said. "What the outer east doesn't need is Labor's cuts to local road and rail funding."
Labor candidate Mary Doyle said the Albanese government's $6 million business case "will be of huge benefit to residents all over the outer-eastern suburbs".
"Like every promise made by the Albanese government – every promise on local transport I make will always be fully funded, properly thought through and will be delivered," she said.
A Victorian government spokesperson said new rapid mass transit from Caulfield to Rowville would complement the Suburban Rail Loop and improve transport links to a new station at Monash.
( Information from politico.com was used in this report. Also if you have any problem of this article or if you need to remove this articles, please email here and we will delete this immediately. [email protected] )