Some strong words this morning from Sydney independent MP Alex Greenwich, who has accused federal Senator Pauline Hanson of paying lip service to the LGBTQI community after she demanded her NSW party leader Mark Latham apologise for a homophobic social media post aimed at Greenwich yesterday.
The re-elected member for Sydney, who has been an outspoken advocate of the LGBTQI community, told ABC News a short time ago that Hanson's statement was nothing more than "empty words".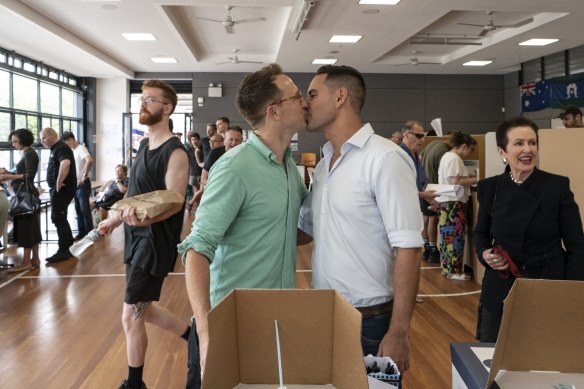 "I don't need or want Senator Hanson's support. She is someone who will target the LGBTQI community when she wants to," he said. "Obviously, she's embarrassed by the content of what Mark Latham tweeted, but the work she has done in our Senate to target the trans community in particular is pretty cruel."
Greenwich said he was OK after Latham posted the since-deleted tweet, but the incident had motivated him to campaign even harder on ending all discrimination against the LGBTQI community in NSW.
"In NSW, you can be fired from a school for being gay. You can be kicked out of a school that you're attending as a student if you come out, and the trans community are unable to get identity documents that truly reflect their sex or gender identity," he said. "For all my colleagues who have reached out to me with words of support for me, I am grateful. But I'm going to be more grateful when they vote to support my LGBTQI equality bill, which will seek to update our laws and end all discrimination that currently targets our community in NSW law."
Asked if he thought Latham was a fit and proper person to sit in NSW parliament, Greenwich said Latham was "equal parts lazy as he is cruel".
"We're talking about a person who imports the worst of US politics to the NSW parliament," he said.
Greenwich implored people to consider how they can support the trans and gender-diverse community on this, International Transgender Day of Visibility.
( Information from politico.com was used in this report. Also if you have any problem of this article or if you need to remove this articles, please email here and we will delete this immediately. [email protected] )