Good morning.
The Wall Street Journal reporter Evan Gershkovich has been arrested on espionage charges, Russia's top security agency has said – the first reporter for a US news outlet to be arrested on espionage charges in Russia since the cold war.
Gershkovich had been detained in the Ural Mountains city of Ekaterinburg while allegedly trying to obtain classified information, the federal security service (FSB) said.
The security service alleged that Gershkovich "was acting on the US orders to collect information about the activities of one of the enterprises of the Russian military-industrial complex that constitutes a state secret".
The Wall Street Journal said it "vehemently denies" the allegations.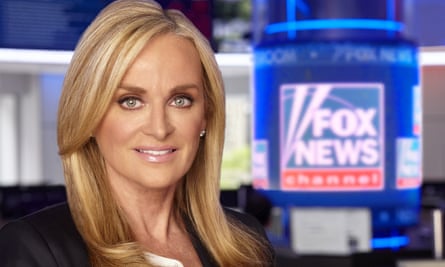 The chief executive of Fox News Media, Suzanne Scott.

Photograph: AP
The top executive at Fox News was furious one of the network's reporters was factchecking Donald Trump's false claims about the 2020 election, writing in a December 2020 email that it was "bad business".
Suzanne Scott, the chief executive of Fox News, was responding in early December 2020 to an on-air factcheck by Eric Shawn, one of the network's anchors. "This has to stop now," she wrote to Meade Cooper, another Fox executive. "This is bad business and there clearly is a lack of understanding [sic] what is happening in these shows. The audience is furious and we are just feeding them material. Bad for business."
The email emerged as part of a tranche of internal communications obtained by the voting equipment company Dominion in its $1.6bn defamation lawsuit against Fox. Dominion displayed a copy of the message in a court hearing last week as its lawyers argued that Fox knowingly aired false statements about Dominion because it was concerned about losing viewers to rival networks such as Newsmax and One America News (OAN). The Guardian obtained a copy of the message and the slideshow that was presented in court.

A Fox News spokesperson said Scott's objection in the email was not about pushing back on election claims. "This is not about factchecking – the issue at hand is one host calling out another," the spokesperson said in a statement.
Paris breathes easier as refuse workers' strike called off and rubbish cleared
The smell of spring is once again in the air in Paris. It makes a change from the stench of overflowing bins that had hung over the French capital for the last three weeks after refuse collectors went on strike and up to 10,000 metric tonnes of festering rubbish piled up on the streets.
Hours after the CGT trade union announced it was suspending the industrial action and lifting a blockade of incinerators serving the city, much of the rubbish had gone.
The strike, part of a wave of protests and industrial action against Emmanuel Macron's pension law, was reportedly called off after the number of refuse collectors taking part dwindled. Strikers in France lose their wages when they stop work, and strike funds, mostly financed by donations, are insufficient to compensate for lost pay.

Union leaders said they would discuss resuming more powerful industrial action in the future if the government does not revoke a new law raising the official retirement age to 64 and requiring workers to have contributed to the system for longer to be eligible for a full pension. The CGT union has called on all members to take part in another day of national action next Thursday, 6 April.
In other news …
Pope Francis has a respiratory infection and will need to spend "a few days" in hospital for treatment, following what the Vatican said were breathing difficulties. The Vatican initially said the checkup had been scheduled, but Italian media questioned that, saying a TV interview with the pope scheduled for Wednesday afternoon had been cancelled at the last moment. The Vatican said tests showed he did not have Covid-19.

The governor of Kentucky has said deaths are expected after two US army Black Hawk helicopters crashed during a routine training mission over the state. Crew members were flying two HH-60 Black Hawk helicopters, operated by the 101st Airborne Division, which crashed at about 10pm on Wednesday in Trigg county, Fort Campbell's public affairs office said.

Strict rules on hairstyles at schools in Japan have attracted criticism after a teenager was separated from other students at a graduation ceremony because he had plaited his hair into cornrows to pay tribute to his Black heritage.
Stat of the day: carbon capture and storage projects could reduce the cost of tackling the climate crisis by 70%
Carbon capture and storage (CCS) is a group of technologies that can capture the carbon dioxide produced by major factories and power plants – preventing them from reaching the atmosphere and contributing to global heating – then transport them, bury them or reuse them.
According to the International Energy Agency, CCS projects could reduce global carbon dioxide emissions by almost a fifth and reduce the cost of tackling the climate crisis by 70%.
Don't miss this: Mediterranean diet 'can reduce heart attacks in people at higher risk'
A Mediterranean diet can lower the risk of a heart attack, stroke or early death for hundreds of millions of people who have an increased possibility of cardiovascular disease, a global review of evidence suggests.
A diet rich in olive oil, nuts, seafood, whole grains and vegetables has previously been linked to a number of benefits, and its effectiveness in helping healthy people to live longer is well known.
However, until now there has been limited evidence of how it might help those at increased risk of cardiovascular disease. These include hundreds of millions of people living with obesity, type 2 diabetes, high blood pressure or high cholesterol, and those who are physically inactive, smoke or consume harmful levels of alcohol.
… or this: how Timothy Snyder became the leading interpreter of our dark times
Historians are not supposed to make predictions but the Yale professor Timothy Snyder has become known for his dire warnings – and many of them have been proven correct, writes Robert P Baird.
Climate check: Ice, ice baby
Melting ice around Antarctica will cause a rapid slowdown of a major global deep ocean current by 2050 that could alter the world's climate for centuries and accelerate sea level rise, according to scientists.
Their research suggests if greenhouse gas emissions continue at today's levels, the current in the deepest parts of the ocean could slow by 40% in only three decades.
This, the scientists said, could generate a cascade of impacts that could push up sea levels, alter weather patterns and starve marine life of a vital source of nutrients.
Last Thing: Creating a sustainable surf paradise
Locals in Tarfaya, a tiny Moroccan town just across the strait from the tourism hotspot that is the Canary Islands, are determined to make their small fishing port as popular as the Spanish archipelago.
How? Through surfing. "In the Canaries you can hardly surf because it's so crowded," said surfing instructor Salim Maatoug. "Here in Tarfaya we have 300km [200 miles] of waves."
Sign up
First Thing is delivered to thousands of inboxes every weekday. If you're not already signed up, subscribe now.
Get in touch
If you have any questions or comments about any of our newsletters please email [email protected]