The nation's peak union body has broken with the federal government over its plans to acquire a fleet of nuclear-powered submarines, with Australian Council of Trade Unions president Michele O'Neil expressing support for a "nuclear-free defence policy".
The ACTU joins several significant unions – including the Electrical Trades Union and the Maritime Union of Australia – opposed to the plan to spend up to $368 billion on nuclear-powered submarines, highlighting a divide on the AUKUS pact that spans Labor's industrial and political wings.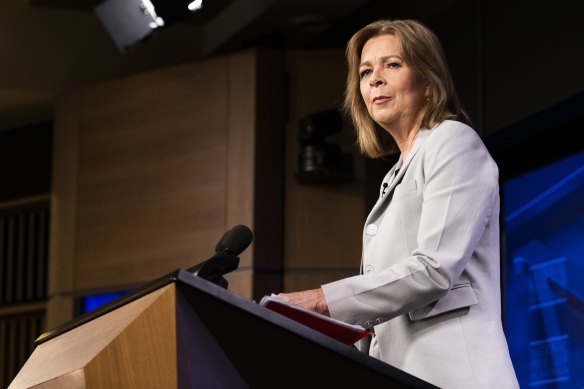 A number of leading Labor figures such as former prime minister Paul Keating, former NSW premier Bob Carr, former industry minister Kim Carr, former foreign minister Gareth Evans and former environment minister Peter Garrett have also voiced concerns about the plan to buy up to five American nuclear-powered boats before building its own fleet based on a British design.
O'Neil told the National Press Club on Tuesday that the "ACTU has a longstanding policy of opposition to nuclear power, nuclear waste and proliferation".
"And we also have a longstanding policy position that supports a nuclear-free defence policy," she said.
"These are not positions that have been developed in the last weeks or months. They're decades-long, and our position hasn't changed."
O'Neil said the ACTU would be seeking more information from the government on issues such as the storage of nuclear waste.
Opposition defence spokesman Andrew Hastie leapt on O'Neil's comments, saying they were "disappointing and disheartening".
"For Labor and its industrial wing to be divided on nuclear submarines sends a confusing signal to the Australian people," he said.
"The Coalition has been bipartisan on AUKUS because we know that it is a multi-generational, nation-building project that demands support from governments around the nation, industry and the private sector. Most importantly, it needs the support of the Australian people."
Hastie called on the ACTU to reflect on its position on nuclear issues and adapt, saying it was "time to be progressive and not reactionary".
"The ACTU should drop its archaic last-century stance on nuclear power and work on growing Australian industry in the national interest," he said.
A spokeswoman for Defence Minister Richard Marles stressed that the submarines would be nuclear-powered but would not be armed with nuclear weapons.
"As the deputy prime minister has said, we will continue talking to the Australian people about why and how we are undertaking this important endeavour," she said.
"There has been no change to Australia's longstanding arrangements regarding the presence of nuclear weapons on Australian soil."
Fremantle MP Josh Wilson is the only sitting Labor MP to openly criticise the AUKUS plan, saying he is "not completely convinced that nuclear-propelled submarines are the only or best answer to our strategic needs".
Labour organisers have relocated the May Day march from Wollongong to nearby Port Kembla, where residents have expressed concern at the prospect that the port town could become the east-coast home for eight nuclear-powered vessels.
( Information from politico.com was used in this report. Also if you have any problem of this article or if you need to remove this articles, please email here and we will delete this immediately. [email protected] )