Defence Minister Richard Marles says Australia's fleet of nuclear-powered submarines will help deter a foreign adversary from launching a shipping blockade which could cut off the country's trading routes from the rest of the world.
With 99 per cent of Australia's trade coming from ships, Marles says the nation is very reliant on trade by sea and that needed to be protected.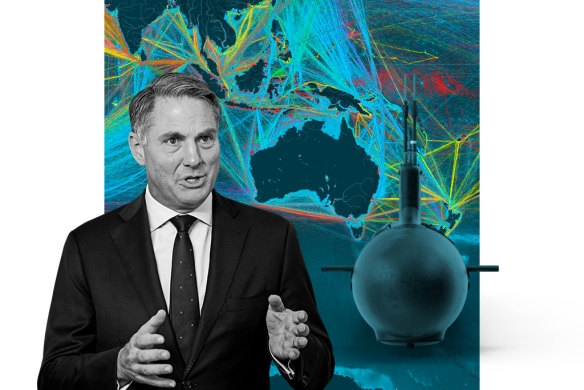 "Trade is a much bigger proportion of our economy and our national wealth [than other countries] … and what that means is our national security is as much defined by the maintenance of the rules of the road and by the collective security of the region, as it is the continent and the border of the continent," Marles says.
The Albanese government last week unveiled the details of the AUKUS pact, whereby Australia will build a new fleet of eight nuclear-powered submarines in Adelaide to begin service in the 2040s under a mammoth transformation in national defence that will cost up to $368 billion by 2055.
Without naming China or any other country, Marles said the nation needs a "capability which would give any adversary pause for thought about disrupting the trading routes to Australia and the way in which we connect to the world".
In an interview with this masthead laying out how the deal came together, Marles revealed there was a risk the AUKUS pact would devolve into a contest between Britain and the United States over who would provide the technology.
Marles says that were stages last year where he was anxious about whether the deal was possible, saying it was "far from certain that it would be able to be delivered".
Australia's decision to acquire nuclear submarines with the help of Britain and the US has largely been seen through the context of a collective effort to deter China from launching a war in the South China Sea or Taiwan Strait, as well as protecting the mainland in the unlikely event of a war.
But Marles says the strategic reasoning behind decisions such as the acquisition of nuclear submarines was "not binary in that way".
Australian military planners have been increasingly concerned about the increase of grey-zone warfare: acts including trade embargoes that fall somewhere between what is traditionally viewed as war and peace.
A shipping blockade could cut off almost all of Australia's trade, while the destruction of underwater cables would block it from sending or receiving financial transactions.
"A lot of damage can be done to Australia without anyone ever having to set foot upon our shore," Marles says. "So our national security lies much further from Australia."
He warns that it would be difficult to patrol all of Australia's vast coastline in a conflict and says that is not the reason why Australia is buying nuclear submarines.
"The way you need to think about what submarines do is really less about patrolling that massive coastline, which you would need a lot of submarines to do," Marles says. "It's about the question mark that you place in an adversary's mind."
'Did I have anxiety? Sure': How the AUKUS agreement was put together
Two days after the May 21 election last year, Marles had a message for the nation's military chiefs.
In a meeting at Defence's headquarters in Canberra, the incoming defence minister and deputy prime minister made it known that the timeframe for building nuclear submarines under the AUKUS agreement didn't make sense.
It was a point that the former Morrison government was loath to accept after announcing the pact with Britain and the US in September 2021, but one Marles saw as integral to turning the idea of nuclear submarines into a reality.
The nation was facing a serious capability gap, whereby the current fleet of conventionally powered submarines would begin going out service in the late 2030s before the AUKUS submarines were due in the 2040s.
The glaring capability gap was already on the minds of Defence officials negotiating the agreement, but Marles says it was important for him to raise it with them directly.
"Once we were elected, literally the first thing I was saying in the conversations I had with Defence was how do we bring this forward," Marles says.
"How do we deal with the capability gap? That is the central question which we really need to have answered as part of the optimal pathway that we end up delivering."
That question was answered on Tuesday, when it was announced that Australia would buy between three and five Virginia-class nuclear submarines from the US from the start of the next decade. At the same time, Australia will build a new class of boat in tandem with Britain – the AUKUS-class – which will be delivered from the early 2040s.
But the decision announced last week was never a certainty. After the Albanese government came to power last May, it became clear that their predecessors were leaning towards buying Virginia-class boats off the production line in the US, before building the same class of boat in Adelaide.
This came with three sets of problems. The first was that America's shipbuilding was already at capacity.
The second was that the US planned to stop building Virginias from the early 2040s – the very moment they would begin rolling off the Australian production line.
The third was that this would create a loser, Britain, who would get nothing out of the deal.
To overcome these three obstacles, two things needed to happen.
Firstly, the US needed to be prepared to sell Australia some of its existing boats that had already been in service in return for Australia investing the bulk of $3 billion to increase its shipbuilding capacity.
Secondly, Britain needed to agree to move on from its Astute class submarine, and operate a joint platform with Australia.
Marles admits there were times early on when it felt like there was no answer to the question of the capability gap.
"Did I have anxiety? Sure," he says. "This was far from certain that it would be able to be delivered."
Marles says the two necessary developments – the US agreeing to sell Virginias and Britain agreeing to operate a shared platform – started to become possible in the second half of last year.
'I think people understand that we do live in pretty challenging times.'

Richard Marles
"There are conversations I can remember where it really felt like there was an answer out there that would actually meet our needs," he says.
"But it wasn't like we've all agreed to do 'x'. It was that maybe we could walk down this path and you think: 'Well that is a path that make a lot of sense'."
He says the work of his counterparts, military chiefs, the foreign ministers, Prime Minister Anthony Albanese and his counterparts, were all integral to the deal coming together.
Marles says Australia never wanted to operate an "orphan – that is, we wanted to operate a class of submarine with one of the other countries so that you have all the benefits of being able to share both the industrial and the operational risks associated with something of this size".
"We needed to be building something that others were building and that's just not where the Virignias were going to be at," he says.
"So all of that needed to be worked through. But equally when you see the logic of that, it's why it was so important that where we got to with Britain was a place where we were building a common platform and that took a huge step that we're grateful for."
Marles says he has repeatedly acknowledged that AUKUS began under the former government and the fact that it is bipartisan "really matters".
But he also says there has been a "lost decade" in which Australia cancelled agreements with Japan and France which presented a "a whole lot of challenges for the country now in terms of dealing with questions such as the capability gap".
"But it does matter that AUKUS remains a bipartisan effort and I believe that it is."
'The future beyond 10 years'
Ever since the 2020 Defence Strategic Update warned Australia no longer has 10 years' warning time of a conventional conflict, military experts have questioned why Australia is getting its new fleet of submarines after that period.
Marles says Australia faces an "enduring critical period, and I definitely think the landscape that we are in right now is very complex".
"It is the most complex set of strategic circumstances that we've faced," he says. "The future beyond the next 10 years, I think, is going to be challenging as well and we need to be providing for that future. And that's what this decision is doing."
Marles says he believes Australians understand that they are living in challenging times, despite the interventions of Labor luminary Paul Keating who last week downplayed the threats posed by a rising China.
Keating last week said the Albanese government had signed up to "the worst deal in all history", saying Marles was well-intentioned but "completely captured by the idea of America".
Marles says he is not concerned that criticism from Labor luminaries such as Keating and former cabinet minister Peter Garrett will erode support among Labor's support base.
"The reception I've had in talking about this has been really positive amongst the Labor movement," he says.
"I think people understand that we do live in pretty challenging times. And we were elected under a mandate of providing national security and that's a well-understood idea within the Labor Party."
( Information from politico.com was used in this report. Also if you have any problem of this article or if you need to remove this articles, please email here and we will delete this immediately. [email protected] )