There are many different ways to while away an eight-hour solo road trip. But Chris Minns chose none of the usual diversions as he drove back early from a family holiday at Byron Bay after Christmas.
Instead, as the kilometres ticked over, he immersed himself in past state election debates, training up for the tough political campaign ahead.
He replayed the clash of March 2019, when then-party leader Michael Daley sank Labor's chances by fluffing key numbers in a head-to-head contest against Gladys Berejiklian.
He listened to Dan Andrews swatting away Victorian Liberal opponent Matthew Guy. And he listened particularly closely to the man whose campaign playbook he appears to be emulating, Labor's newest state conquering hero, South Australian Premier Peter Malinauskas. "I listened to all the Malinauskas ones," he says.
Minns' preparation seems to be paying off. Thus far he is more than holding his own in televised contests against Premier Dominic Perrottet, the most recent of which aired on Nine this week.
Malinauskas, 42, and Minns, 43, the ALP's most telegenic frontmen, have been in regular contact since Minns took over as NSW opposition leader 22 months ago.
Malinauskas himself was still in opposition at the time and he and Minns agreed the best way to ride out the pandemic in their respective states was not to critique every government move simply for the sake of it.
"He and I shared the view that the best way to deal with COVID was to provide bipartisan support for the government of the day, provided they were making sensible judgments," Malinauskas says. "That way when you disagreed with [something] people were far more inclined to pay attention.
"It was also pretty obvious to me that Chris' politics are not too dissimilar to mine: stay connected to mainstream Australia, [and don't be] a leader permanently engaged in the culture wars."
Malinauskas stormed to victory a year ago after a campaign with a relentless focus on shortcomings in South Australia's health system. Last month, he surfaced in Sydney, accompanying Minns on a made-for-TV jog around Bondi.
The NSW Labor leader, who has kept a similarly steely focus on essential service delivery in education, health and transport alongside cost of living pressures, is desperately hoping to mirror his South Australian counterpart's success.
"For close to a decade [as a Labor MP] I've only been able to say, I could never do [anything]," Minns says, with palpable frustration.
"Even today, the most important thing I can do is issue a media release. No one gets involved in public life or public policy to cheer from the sidelines or whinge from the sidelines. We are very eager … there is enormous energy bubbling under the NSW opposition."
Labor remains ahead on most published polls. But both party strategists and Minns know that winning from opposition is never easy.
Two of the party's most electorally successful state leaders, Neville Wran and Bob Carr, only narrowly scraped in the first time they took office, before cementing their position in subsequent elections.
Christopher Brown, chair of the Western Sydney Leadership Dialogue, says "It's a fascinating election because it's the first time in 12 years it's been even close to close. It's a genuine battle of ideas … [between] two young suburban dads with different personalities going head to head."
The brutal truth remains that a heavier burden of expectation rests on Minns than on Perrottet.
Should Perrottet lose, he's got the excuse that he's the last in a succession of four coalition premiers since 2011, and can't be blamed for all the barnacles accumulated in that time.
Minns has no such cover. Should he fail, the crisis inside the NSW party will be existential.
Minns' luckiest stroke came four months after he became party leader when Gladys Berejiklian fell on her sword under the shadow of an ICAC inquiry. As he readily acknowledges, that eliminated the most formidable barrier to Labor's election chances.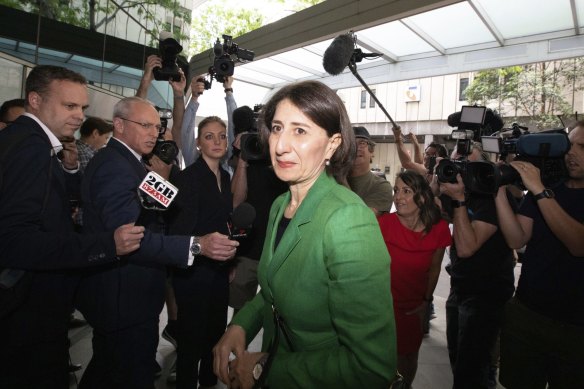 His run of luck has continued, with a series of own goals by the government, compounded by intractable internal feuding inside the Liberal Party and several independent reports highly critical of different aspects of the coalition's administration, the rorted bushfire grants scheme being a prime example.
"Some days Minns could have stayed in bed and the damage would still have been done by investigations, the media or the public bickering," a senior Liberal says with some despair.
But the opposition leader faces a handicap his rival does not – he has to fight to hold on to his own seat as well as win the election.
A redistribution has left Minns' southern Sydney electorate of Kogarah on a knife-edge, with a margin of 0.1 per cent, according to the electoral commission.
Months ago he drafted in one of his most important mentors, former premier Morris Iemma (for whom he once worked), and the popular former local member in the seat, Cherie Burton, to help him shore up his home base.
On his local office desk, he keeps a framed copy of the official tally from the St Raphael voting booth in his electorate, which Labor lost for the first time in 2019. It's a constant reminder of the electoral cliff-edge he's perched on.
Is there a risk he could lose Kogarah but Labor win the election? Not likely, says Minns. He believes that if he goes down in his own seat, the party will go down in the overall election as well. "I'll be tipped out of politics if we don't prevail."
---
IT'S MID-FEBRUARY on the NSW South Coast and the grey skies have lifted, leaving Kiama basking in sunshine, with a stiff breeze blowing off the beach,
At the Central Perk café, an enthusiastic surge of patrons flows out of surrounding shops as Prime Minister Anthony Albanese arrives, flanked by Minns. Labor is intent on capturing the seat, held by former Liberal and now independent Gareth Ward, who is fighting indecent assault charges through the courts.
Minns and Albanese are seemingly delighted to discover that their star candidate, Katelin McInerney, is a former captain of the local high school. Albanese asks Minns if he ever made it to school captain. "No," says Minns, laughing.
The prime minister is mobbed by locals wanting selfies and Minns stays in the thick of it for a while, but gradually drifts off behind the roiling press pack. Soon he is in quiet conversation with two surfers who are on a trip back from Tasmania to Queensland.
It's as if, for now, he's had enough of the circus. Some of Minns' colleagues believe he doesn't always relish the relentlessly performative dimensions of political life.
"I think he is quite a private person," says one. "People demand a lot from their leaders in terms of wanting to know them. But I think he would rather just talk about the issues. His is not a show-business style of politics".
Penny Sharpe, the Labor leader in the upper house, says Minns is thoughtful, reads a lot and has "given a great deal of thought to what sort of government Labor should be".
"He has built a strong leadership team that is very trusted. We don't always agree but Chris has fostered the idea that we don't always have to – in fact it's better if we don't."
When I ask Minns what qualities he thinks he would bring to the premiership he says, "I think that I've got discernment when it comes to issues, I'm quite considered about complicated problems, quite detail-oriented, other people say it's hard to pull the wool over my eyes … on a more personal level, I like to think I've got empathy." He hesitates. "It's hard to talk about yourself in the third person."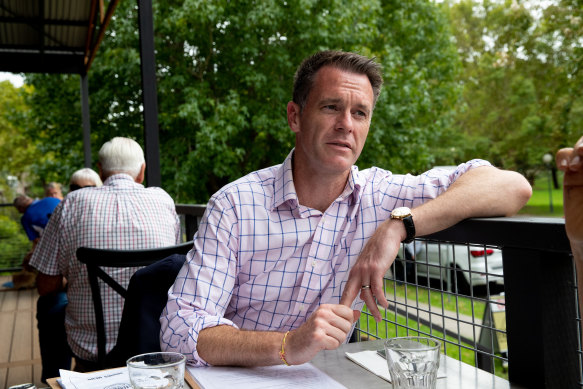 Minns is affable but a harder to read character than Perrottet. He's said that he takes the job very seriously, but doesn't take himself too seriously. That belies the hard-nosed tactician that lies behind the easy-going manner. Labor's small business spokesman Steve Kamper calls him humble, but there's enough relentless drive there to have propelled him to the top of his party, after three attempts.
He had only been an MP for three and a half years when he surprised (and annoyed) some parliamentary colleagues by having the chutzpah to run against the far more seasoned Michael Daley for the leadership in November 2018. He lost then, and lost again when he pitted himself against Jodi McKay after the 2019 state election.
The path to the top finally opened up after Minns and his then-ally, Walt Secord, resigned from McKay's frontbench, citing outrage after the circulation of a "dirt dossier" on Minns by a staff member in a rival office.
Within days, McKay had stepped down, clearing the way for Minns to replace her unopposed when Daley withdrew from a rematch. McKay's supporters accused Minns of white-anting her. He has always denied it.
Minns has since built a tight-knit leadership team centred on deputy leader Prue Car, treasury spokesperson Daniel Mookhey, upper house leader Sharpe, transport spokeswoman Jo Haylen, and upper house frontbencher John Graham.
Iemma and federal Energy Minister Chris Bowen are important confidants too. Another is Kamper, who holds the neighbouring electorate and has become one of Minns' best friends, despite the age disparity between them (Kamper's oldest child is only five years younger than Minns).
Kamper ran a highly successful accountancy business before entering parliament. Their friendship developed after Minns, then a party official, persuaded him to run for a seat in 2011."He thought we needed more successful business people sitting in the front row at branch meetings," Kamper says. "We had lost that."
Kamper eventually won his seat in 2015, and he and Minns entered parliament on the same day.
Kamper is on the phone regularly to the leader through the campaign, "just touching base as mates. I continue to be there to support him and keep him strong. I think it's really important that Chris' spirits are up. I'm a bit of a clown, and a stirrer."
Minns' personal regimen through the campaign is strict. He has given up alcohol for the duration, although that's left him with sugar cravings.
He says he's "losing weight because of the adrenaline. The adrenaline of the campaign means you just shred."
Minns' spacious parliament house office – the one traditionally assigned to opposition leaders – remains deliberately bare of any personal paraphernalia, a psychological trick to remind him and his staff that they shouldn't get comfortable in opposition.
'(I'm) losing weight because of the adrenaline. The adrenaline of the campaign means you just shred.'

Opposition Leader Chris Minns on how campaigning has become a weight loss regime
He's got a superstitious streak as well. I notice a fine yellow cotton string threaded through with red on his right wrist.
He says it was placed there by a visiting guru associated with the BAPS (or Bochasanwasi Shri Akshar Purushottam Swaminarayan Sanstha) strand of the Hindu faith who visited Sydney six months ago.
"I've got a strain of superstition that runs through the Minns line and I haven't been game to take it off," he confesses.
What did the monk say? "He didn't speak English so I've got no idea," Minns replies. "I probably told him I was running for office so … probably 'best of luck mate'."
Minns has been assiduously cementing links with communities of faith in western Sydney since he became leader.
It's one vital route for Labor into the large migrant populations that have built up in the city's outer ring. On a recent Sunday he embarked on an hours-long odyssey through outer suburbs, calling in on places of worship and cultural hubs established by Sikh, Muslim and Hindu communities.
First stop was the imposing Gurdwara Sahib Sikh temple in Glenwood, where Minns knelt on the jewel-red carpet, touching his head to the ground in front of a canopied altar as a mark of respect before joining dozens of Sikh families who had gathered for lunch in the cavernous kitchen and dining hall below. By mid-afternoon he was at a humble brick mosque on the extreme urban fringe at Riverstone, and by evening, at the BAPS Hindu place of worship in Rosehill.
At each stop Minns met community elders, listened, and made a promise: that if he became premier, he would not forget them.
---
rally for the party faithful in Nowra, inside the town's picturesque School of the Arts, Minns gives a rousing stump speech.
He's running hard against the government's privatisation program which he says has robbed the public of future revenue streams, and driven up the cost of living through exorbitant tolls and rising power bills.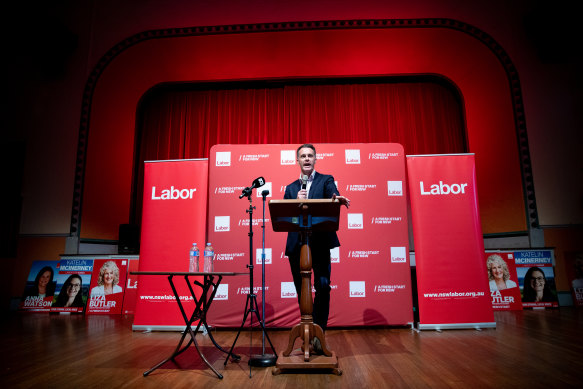 He zeroes in on the sale by the coalition government of the mega WestConnex toll road. "Twenty one billion to build, sold off for 20 billion! Not only that, 70 billion worth of dividends that would otherwise come to the NSW government are now going to a private company. That's money that could have been going to schools and hospitals."
There are predictable cries of "shame!" from the Labor faithful. The speech is delivered off the cuff, and has a force that is lacking in Minns' formal campaign oration, delivered two weeks later with the aid of an autocue.
Labor's slogan – "a fresh start" – seeks to tap into a mood for change, as federal Labor did last year.
But Perrottet is proving himself a master of reinvention.
The premier has executed a U-turn on privatisation, declaring there will be no more sales of public assets to fund ongoing infrastructure plans. Minns refuses to accept it, saying the government has unfunded promises worth $50 billion on the forward estimates. Why, he argues, would the coalition "change the habits of a lifetime?"
Perrottet's bold plan to set up a savings fund for the state's children, with each child having their account seeded with government funds and preserved until 18, was another very large rabbit pulled out of the hat by the premier late in the campaign. Mookhey, Labor's treasury spokesman, calls it Australia's most complicated term deposit scheme.
But it successfully overshadowed the ALP's announcement, made the same day, of a targeted energy relief package for small businesses and the neediest families.
One party dissident worries that Labor's election pitch is too restrained. "Chris has not fully developed that sense of who he is with voters. Perrottet is known, he's got the strange number of kids, he looks a bit gawky but these are all things that make him relatable. Chris is this bloke with the hair gel … and a sales pitch that tells voters, 'the government is not doing well and it's time for a change and we are that change'. Maybe that will work but I've never seen the Labor party win that way."
Minns bats away the criticism: "There's always cynics inside Labor," he says.
"I don't know who that [critic] is but we haven't won with any strategy for a long time in NSW whether it was that or others. So I would say, the thing that we've been insistent upon … is being upfront about urban consolidation and where people will live in Sydney over the next 20 years."
I ask if that is his big idea for the election.
"Well, to the extent that state politics is about service delivery and how you grow a big metropolis like Sydney and how the regions interact with it, yeah I think it is," he says.
"It's not just about an equity issue for the west, for example, it's also about intergenerational equity, where people live in Sydney and will they have access to housing … Sydney cannot grow without more density along major transport routes that have already been built or been commissioned."
'Chris is this bloke with the hair gel (saying) the government is not doing well … I've never seen the Labor party win that way.'

A Minns critic inside the Labor party
It's a worthy and important topic but there hasn't been much about it in the Labor leader's day-to-day pitches.
Sharpe concedes party activists often want "a lot of the big vision stuff".
But she thinks that "coming off the back of Scott Morrison, and the way Anthony Albanese has settled into the prime ministership, a quieter, more purposeful government is probably something that people are up for".
Minns has also promised to set up a state-owned Energy Security Corporation to drive investment in renewables should he win, but climate change has received less attention than it warrants in the campaign.
"Climate is a massive concern," Minns concedes. He says he's drawing inspiration from the way Albanese and Bowen have been navigating "tricky waters and keeping the renewable energy revolution on track, given that it's wrecked three or four federal governments so far".
Pressed on what he's most passionate about, he most frequently nominates education.
It formed the centrepiece of his campaign launch in Hurstville in early March as he pledged to offer 10,000 temporary teachers a permanent position, promised to slash teachers' hours of administration, and undertook to remove the Perrottet government's wages cap.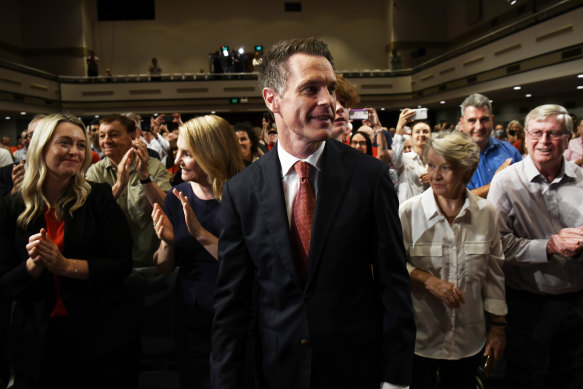 With his parents John and Cara sitting in the front row, Minns declared: "Don't let anyone ever tell you that a computer program or an app on a smartphone or a website can take the place of a teacher.
"I know this better than most because I had the honour of watching my dad build a successful life for himself, and a loving home for our family, during a 40-year career as a NSW public school teacher."
Anyone looking closely would have noticed Minns senior struggling to hold back tears at that point.
Minns grew up in Sydney's Penshurst, and like Perrottet, is part of a tight-knit Catholic family. Educated by the Marist brothers, he's also a product of the party he joined when he was a teenager.
He was 19 when he met his wife Anna while both were working on Labor candidate Kevin Greene's campaign and the couple now have three boys, Joe, Nicholas and George, aged 14, 12 and 6.
(Nicholas is something of a fan of Perrottet's, prompting the premier to send the boy a T-shirt last October with a note suggesting he wear it around the house "when dad's around".)
By the time he was 21, Minns had landed his first job with the party as a part-time electorate officer to then-minister Iemma.
Then came a steady march upward through the party's institutions as a scion of its powerful right faction: president of Young Labor, staffer to senior ministers including Carl Scully and John Robertson and a second stint with Iemma once Iemma became premier; a stretch on Hurstville council, and a job inside the ALP machine as assistant state secretary between 2010 and 2012.
There were three detours from this trajectory: the time he spent as a retained firefighter while finishing his university degree in 2006, working for the not-for-profit Inspire Foundation in 2008, and a year a spent in the US, in 2012-13, when he left the party's head office to undertake a master's in public policy at Princeton University.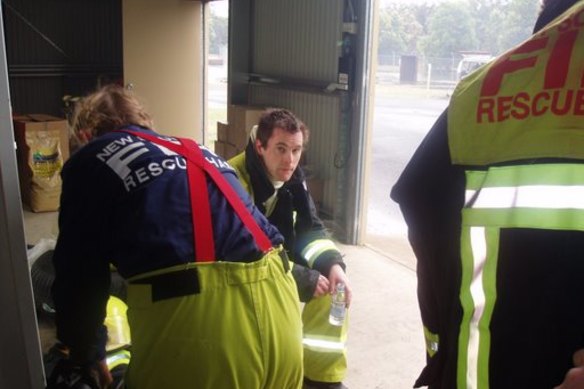 But Ryan Liddell, Bill Shorten's former chief of staff, says from Young Labor days there was a "sense of inevitability that Minns would be leader one day".
Minns annoyed union bosses with his inaugural speech in parliament, suggesting their role in party forums should be pared back, but he has long since mended those bridges.
While he's had years of experience in the backrooms of politics, his parliamentary experience is more limited.
He became an MP when Labor was in opposition, so he's never served as a minister. The frontbench shadow portfolios he held before becoming leader were water, corrections and transport. It's a large leap from there to premier. Only one member of Minns' current frontbench – Michael Daley – has held ministerial office.
However Perrottet is about to lose some of his best and longest-serving ministers, people like veteran Health Minister Brad Hazzard, Cities Minister Rob Stokes and Customer Service Minister Victor Dominello, who are retiring after March 25.
The Western Sydney Dialogue's Brown points out that regardless of who wins, after the poll the state will have "the most inexperienced cabinet on both sides we have seen in decades".
Labor needs nine seats to govern in its own right. Both sides are alive to the risk that independents could turn out to be the kingmakers if neither of the major parties wins an outright majority.
Is Minns concerned about that prospect? "I'm worried about everything," he says, only half in jest. "You can insert anything and I'm worried about it. [But] I have quite genuinely compartmentalised all of that till after the election.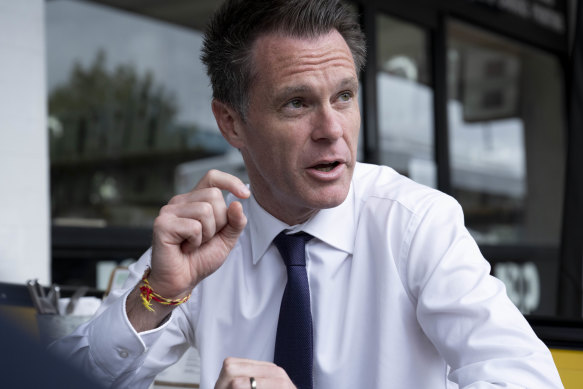 "Ultimately I think we just have to get as many votes as we can and as many seats as we can on our platform and then if we have to negotiate, we have to negotiate. I am not going to be in a position where in the run-up to an election campaign I have to filter my policies through a hypothetical hung parliament. I think Dominic is doing that by the way, and I don't think that's good government."
Minns' greatest point of weakness, in a policy and a political sense, is his refusal to back the government's proposed transition to a cashless gaming card to stem the tide of human misery flowing from the state's cancerous proliferation of poker machines.
Despite an unusually strong alliance of supporters for the government's idea, including Unions NSW boss Mark Morey, Minns is sticking with his own much less ambitious proposal for a trial of cashless gaming in 500 pubs and clubs.
This has so incensed whistleblower Troy Stolz, a former industry insider, that Stolz is now challenging Minns as an independent candidate in the leader's own seat.
Gambling reform advocate, Tasmanian federal MP Andrew Wilkie, has labelled NSW Labor "morally bankrupt" for not taking what he says is a historic opportunity to rein in the lobby groups behind the gaming industry.
Dominello, who first proposed the cashless card idea, sparking a huge industry backlash and losing the gaming portfolio for his efforts, also has a stark warning for Minns.
"All Labor have done is created a more powerful god for themselves to genuflect to," he says. "If the pokies lobby are powerful now, do you think they won't extract an even greater price downstream? It's horrific and sad for democracy."
I press Minns on why he's not for turning.
"It's not that I'm not for turning. It's just that I want to make sure that we've got the policy right," he says. He points to the "unintended consequences" which came in the wake of Sydney's lockout laws. "Within a few years they were completely reversed and dumped as a policy prescription."
He gets fired up over Wilkie's "morally bankrupt" label.
"Would I accuse somebody of that? No, certainly not someone who does not have any record of that kind of moral turpitude."
In response to Dominello's warning, he says: "Wouldn't you have loved [government ministers] to have stood up when Crown casino got their licence, when problem gambling doubled over the last 10 years? When gambling losses on horses and greyhounds and trots went from one billion to two billion dollars? When anyone in the NSW government could have stood up at any point at any time and said, geez, there's too many ads on television promoting gambling? Nothing – not a single solitary word."
But cashless gaming is a top priority for two of the most influential independents, Alex Greenwich and Greg Piper. Greenwich says: "The time to do it is now; I would hope that a potential Minns government would not waste the opportunity."
The tumult of the campaign has obscured another painful problem for Minns – the defection of his former frontbencher Tania Mihailuk to One Nation, where she is now running for an upper house spot alongside Mark Latham.
Minns and Mihailuk fell out over an attack she launched under parliamentary privilege against the mayor of Canterbury-Bankston, Khal Asfour, who had been endorsed by Labor for the upper house ticket.
She alleged Asfour had embarked on "unprincipled actions in furthering the interests of developers and identities" – including Labor's bete noire, (and ghost of scandals past) jailed former minister Eddie Obeid. After she refused to undertake not to raise the matter in parliament again, Minns sacked her from his front bench.
An independent inquiry commissioned by the council from Arthur Moses, SC, concluded there was no evidence of corruption or an unlawful act by Asfour.
However, in mid-January, Asfour, embarrassingly for both him and Minns, was forced to give up his place on the Labor ticket after it was revealed he had been reimbursed by the council for a number of personal expenses, including alcohol, a massage, and luxury clothing, while on a 2015 work trip. A parliamentary inquiry found the expenses were within council guidelines but fell well short of "community expectations".
Minns, who until that point had stood by Asfour, labelled him a "distraction" and said the expenditure was "unacceptable".
Mihailuk sees this as some vindication. She remains irate about the way she was dumped, labelling her former leader "calculating, shrewd and merciless". "Minns would sacrifice anything and anyone in his pursuit of power," she says. "To be in his inner circle you have to be of use, and you are easily discarded if you challenge him or become a burden."
In response, Minns says: "She's a candidate for One Nation in this election campaign and I think that sums up her motivations for those comments."
Minns won't speculate on whether he'll run for leader again should Labor lose, yet he manages to keep his seat. "I've got no idea, I don't know what the future holds."
Does he feel that he meets the test once articulated by Paul Keating – that political authority adheres to those who take the big policy decisions?
"I don't know if I meet that test and I'm not sure that I'm required to," he says. "I am comfortable with where we are at. We have learnt the lessons of a long time in opposition and we're not going in with hubris or arrogance, we have a very disciplined team focused on problem-solving and I think our heads are in the game. I genuinely think we are ready."
In just over a week, he'll find out if NSW voters agree.
( Information from politico.com was used in this report. Also if you have any problem of this article or if you need to remove this articles, please email here and we will delete this immediately. [email protected] )