A 'teal' candidate has distanced herself from Climate 200 – a major campaign donor – for circulating an attack ad that casts her Liberal rival as a liar who should be put last on the ballot, below an anti-vaccination party.
Climate 200 paid for and authorised a flyer in the seat of North Shore that dubs Liberal MP Felicity Wilson "Duplicity Wilson" – a phrase first used by former 2GB shock jock Alan Jones when Wilson was under attack from factional enemies in 2017.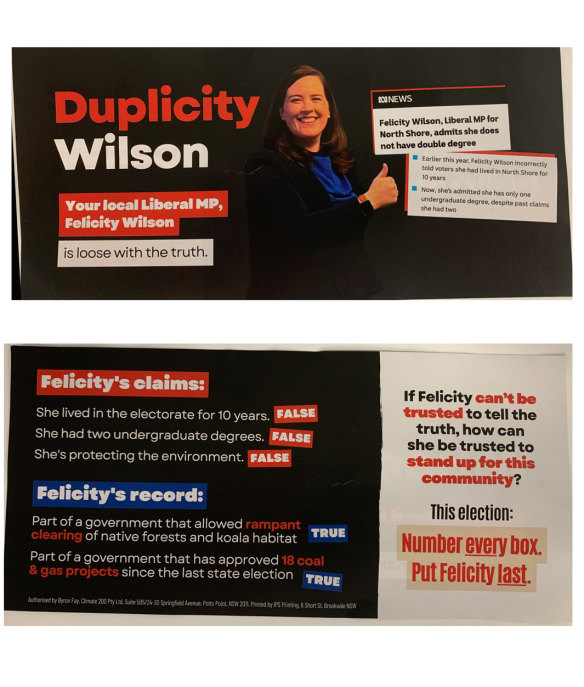 The flyer asserts Wilson was "loose with the truth" about where she lived, her education and her environmental record, and urges voters to "put Felicity last". That would mean preferencing her below the Informed Medical Options Party, a group of vaccination sceptics and opponents.
The flyer does not mention the 'teal' candidate in the seat, Helen Conway. It is one of several Climate 200 ads that landed in northern Sydney letterboxes this week; others targeted Manly MP and Environment Minister James Griffin, and Pittwater Liberal candidate Rory Amon.
The brochures arrived just days after Conway said voters were sick and tired of "dirty tactics" in politics and wanted candidates to be "focused on collaboration and constructive participation".
Conway declined a phone interview, but her campaign confirmed it had complained to Climate 200 about the advertisement.
"I was not aware that Climate 200 were planning to distribute a flyer of this nature, and I did not endorse or provide authorisation for its distribution, and nor did anyone from my campaign team," Conway said in a statement.
"Climate 200 is an independent organisation and third-party campaigner, who make their own decisions about their messaging and activities. My community independent campaign for North Shore is a positive one … I will always act with the highest levels of personal and professional integrity."
Independent federal MP for Warringah Zali Steggall, who also benefited from Climate 200 finance, tweeted on Tuesday that it was "very disappointing" to see Climate 200 turn to "fear and smear".
The claims against Wilson referenced in the flyer arose during and following a bitter preselection stoush in 2017. Wilson beat Liberal rival Tim James 104 to 98 to become the candidate for North Shore, but later admitted to errors on her nomination form regarding how long she had lived in the electorate, and her university degrees.
Climate 200 executive director Byron Fay declined a phone interview and did not directly answer questions about the flyer and Conway's views about it. A Climate 200 spokesperson said in a written statement the contest was between Conway "who has always been open and honest about her history" and Wilson "who has not".
"After relentless and hypocritical attacks by the Liberal Party against Helen Conway, Climate 200 distributed a flyer that drew attention to an integrity issue that many voters in North Shore care about: their MP's track record with the truth," they said.
Contrary to the Climate 200 message, Conway's how-to-vote card does not encourage voters to put Wilson last; it urges them to number every box but does not suggest an order, other than putting Conway first. The NSW lower house uses an optional preferential voting system.
Labor candidate Godfrey Santer, the deputy mayor of North Sydney Council, has recommended voters put Wilson second-last, ahead of the vaccine sceptics.
Conway's repudiation of negative campaigning at the weekend followed an attack by the Liberal Party over her 12 years working at oil giant Caltex. She was company secretary and general counsel when she departed in 2011.
Deputy Liberal leader Matt Kean said Conway was a "fraud" on climate change and her teal T-shirt "should be smeared in black oil". Wilson also worked for Caltex before entering politics.
Kean's comments prompted Conway to bemoan: "The Liberal Party still hasn't learnt that these sorts of dirty tactics by politicians are what is driving the momentum for change in our state."
On Tuesday, Wilson said the Climate 200 flyer was "pretty grubby". "I'm not going to get into the gutter with them," she said. "It really is bringing the worst of politics into our local community campaigning. We don't do this."
Asked about the Liberal Party's attack on Conway and Kean's comments about her T-shirt being smeared in black oil, Wilson said it was perfectly reasonable to point out a person's hypocrisy.
"We all have to be scrutinised when we're in public office and when we're running for public office," Wilson said.
( Information from politico.com was used in this report. Also if you have any problem of this article or if you need to remove this articles, please email here and we will delete this immediately. [email protected] )