First published in on March 16, 1993
AS a piece of furniture the Prime Minister's private dining table is in a league of its own but, like any ordinary dinner table, it's nothing without its food.
In a pinch, the Keatings can seat two dozen guests in The Lodge dining room and, like every other Prime Minister and his wife, they have absolute veto over menus. If, during the next three years, they host the US President or Japan's Prime Minister, the food will be Mr and Mrs Keating's choice – and the last thing Australia needs to be remembered for is having caused a bad case of indigestion. So what is the history of Australian food at The Lodge?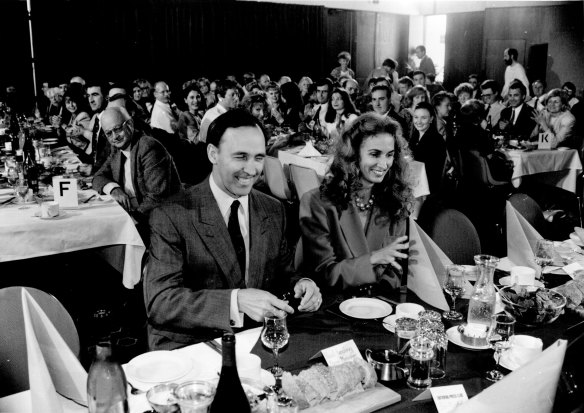 For Paul Keating, it's a plainer choice: his very favourite dish is roast beef or steak and vegetables but he also has a taste for French champagne.
For Bob Hawke, despite the Pritikin regime, the test of a really great cook was fried onions – not burnt, not greasy, but golden. A chef who once cooked for him said that a breakfast order for fried onions arrived the first day that he joined Mr Hawke's kitchen staff. He passed. Mr Hawke also loves Thai chillies, the hotter the better.
For Malcolm and Tamie Fraser, a worldly couple with deeply conservative roots, it was buttery sauces and creamy desserts. Bob Menzies, who was big on puddings, had a soft spot for bombe alaska.
But for sheer imagination, Harold Holt and his wife Zara eclipsed almost every other couple to have lived at The Lodge.
The Holts' most extraordinary effort was at a 1966 dinner for the then US President, Lyndon B. Johnson, at a historic homestead close to Canberra. Going all the way for LBJ, the Holts served individual pink and white ice-cream kangaroos.
In the history of Australian food, the kangaroo dessert, which was brought in by helicopter from Canberra, is a benchmark. Not that it went down terribly well – by some accounts the Holts' American guest ate the head and then watched the rest of the 'roo dissolve into a pinkish swirl. But it demonstrates the great unresolved dilemma about Australia's national cuisine and the role of The Lodge as a centre for culinary excellence.
And if Saturday's election had gone in Dr Hewson's favour, there would have been a new direction at The Lodge.
According to Dr Hewson's biographer, Christine Wallace, the Opposition Leader's only known food obsession is the Big Mac, although he is also said to have a taste for French champagne.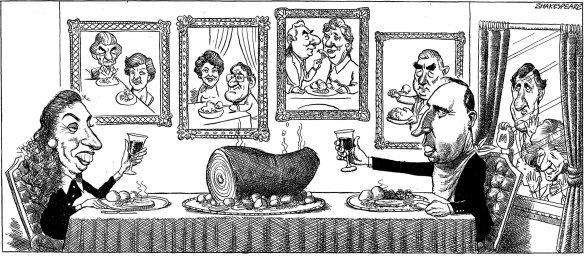 John Downes, who was a consultant chef at The Lodge and at the Prime Minister's Sydney residence, Kirribilli House, when Mr Hawke was Prime Minister, says: "It's utterly vital that The Lodge and Parliament House be showcases for our food and it's got to start there.
"It's important that the food be of an incredibly high calibre and interesting enough to cause comment."
Mr Downes, the author of three cookbooks, including Natural Tucker (Hyland House, $20.95), was hired as a chef by Mrs Hawke, who was concerned about the potentially calamitous combination of cream and a high prime ministerial cholesterol count.
She also wanted to update the food at private and State occasions and took the highly unusual step of recruiting a chef from outside the Public Service.
Downes was the first prime ministerial chef to use fresh coriander, Vietnamese mint and basil. When he served fresh Asian herbs in a Vietnamese soup, four of the kitchen staff who'd worked at Kirribilli House during the Fraser years stood amazed at the end of the workbench. It was the first time that the prime ministerial catering corps had a taste of a style of cooking that by then had substantially influenced chefs in Sydney and Melbourne.
Mr Downes still remembers the fuss he caused at a New Year's Eve party for the family and friends of the Governor-General and Prime Minister at Kirribilli House when, as the centrepiece to a banquet, he prepared huge snapper spread thickly with a Thai basil paste flavoured with chilli and fish sauce.
The tradition of innovation at Kirribilli and the Governor-General's Sydney residence, Admiralty House, continues. Earlier this year, on Australia Day, guests at a special lunch hosted by the Keatings were served linguine with yabbies, a dish that would hardly have made the grade even in the days of Malcolm and Tamie Fraser who, from a long line of pastoralists, kept yabbies confined to dams.
Until the appearance of the Thai spiced snapper at Kirribilli House, the prime ministerial smorgasbord, while always a bit above cold meat and pickles, was a far plainer affair.
The menus from different prime ministerial eras reveal a great deal about their times and also about their personalities.
The curator of political history at the National Museum of Australia in Canberra, Mr Ian McShane, has a small collection of menus and anecdotes about the food and wine served at official functions, many of them passed onto him by former staff members at The Lodge and Parliament House.
In the 1930s, at functions in the old Parliament House, food reflected an age of post-Depression, pre-immigration conservatism. At a 1936 lunch for State and Federal agricultural ministers, the main course was cutlets and peas.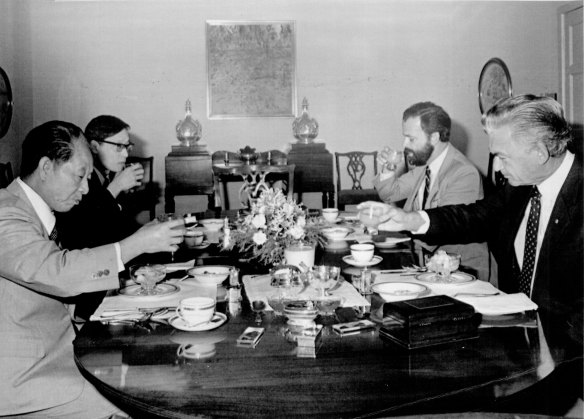 At a Premiers' Conference later that year lunch began with cream of celery soup and ended with apple meringue. Wine, when it was served, was invariably Australian.
Thirty years later, the food was grander but still bland by today's standards. It is quite safe to speculate that, even as late as 1970, not a single capsicum had gone under the cook's knife at The Lodge. Undoubtedly, it was also one of the few houses in Australia that escaped the Depression without serving rabbit stew.
Not unexpectedly, during the tenure of Sir Robert Menzies, menus were as British as they were Australian. A 1966 dinner hosted by Sir Robert, in the final year of his prime ministership, began with consomme royale and was followed by fillet of sole caprice, then roast turkey and ham with cranberry sauce, and for the grand finale bombe alaska.
What with the bombe alaska and Zara Holt's pink and white ice-cream kangaroos, John and Bettina Gorton had quite an act to follow when they became the next tenants at The Lodge in 1968. And, judging by a couple of menus from their era, the Gortons served fewer courses, were moderately adventurous and preferred their menus to be entirely written in English and not the French that had been used exclusively during the 1930s and '40s and intermittently afterwards.
At a 1968 lunch for Indira Gandhi, who was soon to become Prime Minister of India, the Gortons pruned the menu back to three courses: lobster mornay, noisettes of lamb and mocha cream with coffee.
Later that year at a lunch for the Prime Minister of Western Samoa they were positively daring, serving Queensland lobster salad and then tortillas mexicana. (Regrettably the Herald was unable to track down the recipe.)
A menu is printed not only for every official lunch and dinner party at The Lodge and at Parliament House, but also for many private ones, and everyone's place at the table is designated by a name card.
Records of all the dinners – who attended, where they sat and what was served – are kept in Canberra archives, though, in an absurd Sir Humphreyism, even the menus are kept secret by the same 30-year non-disclosure rule that prevents us from learning the details of the manoeuvres on the rocket range at Woomera. But what is known is that the Whitlams loved food and ate big servings of vegetables.
The Frasers enjoyed meat but tended to eat smaller servings and were known for their adventurous desserts. Mrs Rosemary Sinclair, cookbook author and wife of a minister in the Fraser Cabinet, Mr Ian Sinclair, says one memorable dessert from that era was fresh figs and ricotta cheese.
The importance of food at official functions as an instrument of diplomacy has long been recognised, most notably at the White House where the Bushes and now the Clintons have taken the matter seriously.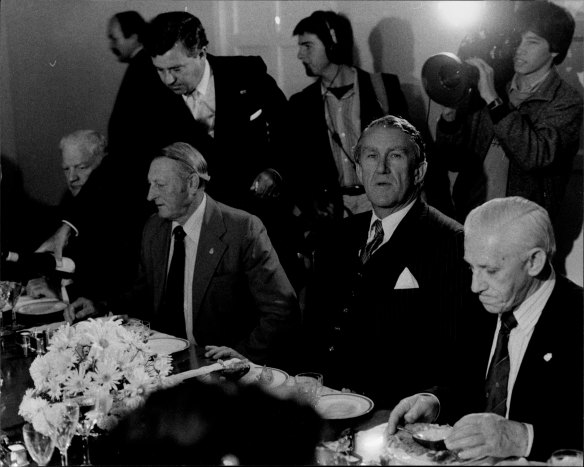 The Bushes were the first since the Texan Johnsons (the Reagans preferred French food and the Nixons, Fords and Carters didn't distinguish themselves)to recognise its potential. Although not going as far as serving deermeat sausage and ranch chilli, the Bushes did serve barbecued ribs and other American specialties.
The Clintons have already made their mark by bringing in a consulting chef from outside Washington and at their first major function served large shrimp that had been smoked in the White House kitchen. As a side dish to a main course of roast beef, they served Yukon gold potatoes with Vidalia onions, a delicacy whose ingredients span half of North America.
The biggest change to the food served at The Lodge and, importantly, at large official dinners in Parliament House, was made in 1988, the bicentennial year.
The author of Prime Ministers' Wives – the public and private lives of ten Australian women (McPhee Gribble, $24.95), Diane Langmore, said that in her role as wife to the Labor parliamentarian Mr John Langmore, she noticed a sharp change in the quality and Australian-ness of official meals in 1988 and afterwards.
"Since then they've been using Australian fish, cheese and lovely Australian fruit. My impression is that the change has been quite remarkable and I must say that I've been quite proud."
( Information from politico.com was used in this report. Also if you have any problem of this article or if you need to remove this articles, please email here and we will delete this immediately. [email protected] )