---
Despite recent appreciation of the rupee and improvements in the external account, the government remains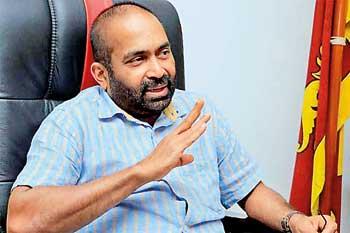 Pin
Ranjith Siyambalapitiya
cautious on lifting import controls in the near-term while stressing on the need to act with scrutiny and through examination when considering such a move.
"I believe, we will only consider lifting import controls on a case-by-case basis under extraordinary social and economic circumstances. We have to be vigilant and act with scrutiny. It requires deep thought and management," State Minister of Finance Ranjith Siyambalapitiya said. He pointed out that the recent appreciation of the rupee against the US dollar was partly due to import controls in place which saved the country an estimated US$2 billion worth foreign exchange over the past 
few months.
Based on industry and social requirements, the minister noted that the government has relaxed nearly half of the import restrictions imposed originally at the height of the economic crisis last year.
The Trade, Commerce and Food Security Ministry Secretary last week shared intentions to lift restrictions placed on certain imports in stages without divulging any specifics.
Sharing his views, Department of Business Economics, Faculty of Management & Finance of University of Colombo, Professor H. M. Nihal Hennayake opined that it is still premature to remove the import controls given that the country still runs on a US$600 million trade deficit a month.
Meanwhile, Siyambalapitiya stressed that the government institutions and regulatory bodies would interfere as required to pass down the price benefits of the recent currency appreciation. 
"Seventy five percent of products and services in the market either directly or indirectly depend on imports. In such a background, appreciation of the local currency is significant for a nation coming out of a record inflation. Somehow, the consumer must be the ultimate to beneficiary of this rupee appreciation. Therefore, State institutions such as Sathosa and Consumer Affairs Authority (CAA) will interfere to pass this benefit to the consumer," he stressed.
( Information from dailymirror.lk was used in this report. ALL RESPECT GOES TO ORIGINAL WRITER OF THIS ARTICLE. | Also if you have any problem of this article or if you need to remove this articles, please email here and we will delete this immediately. [email protected] )