At first, Nikola Zovko thought the creature curled up in his dog Squeakers's deluxe, heated dog bed was just one of his cats. "I said, 'Fuzzerhead, what're you doing in Squeakers's bed?'" he said. And that's when it registered. "Oh that's not Fuzzerhead. That's a real life bobcat."
In the week since, Zovko and his family lost and found their beloved pup Squeakers, a 10-year-old chihuahua-dachshund mix. After discovering that he had been mauled by the bobcat who stole his throne, they raised enough money for surgeries to restore him to health. The local game and fish department has used their story as an example of what to do when wildlife wander in to your home.
"Don't handle entrapped/hurt wildlife yourself," the Arizona game and fish department Tuscon tweeted.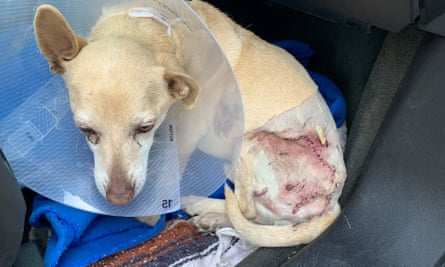 Squeakers, a 10-year-old chihuahua-dachshund mix, got into a scuffle with a bobcat who decided to snuggle up in his bed.

Photograph: Courtesy Nikola Zovko
Given Squeakers's age, and the extent of his injuries, Zovko said the family is monitoring him closely, to make sure none of his cuts become infected.
They had adopted him from a shelter, where he had ended up after being hit by a car – so he had always been a survivor, Zovko said. "Squeakers always does what Squeakers wants," he said. "He's the smallest of our dogs, but he's still the alpha."
Bobcats are found across Arizona, especially in the Sonoran desert, rimrock and chaparral regions, according to the game and fish department. It's not uncommon to spot them on the outskirts of urban areas, and in wildland and rural communities. They generally keep away from people, though they might wander into back yards seeking shade or water, or stalking birds or small pets.
Zovko said and his wife had been careful to store pet food away from doors and windows, where wild animals might see or smell it. It's possible that the bobcat was hunting Squeakers or one of the family cats, and was thwarted – but that still doesn't explain why he chose to come inside and lounge around for so long. Indoors, nothing had been misplaced or damaged. The wild animal had just made himself comfortable.
On the way back from the vet, Zovko bought Squeakers a fresh new dog bed. "Everybody knows that's Squeakers's spot," he said. "He's pretty territorial about it."