Newark's Mayor Ras Baraka, community leaders and celebrities including the musician and actor Queen Latifah and writer Pia Wilson led celebrations of a new monument to the abolitionist Harriet Tubman this week. The ceremony was a historic final step in replacing a Christopher Columbus statue that was removed from a square in the New Jersey city following the murder of George Floyd in 2020.
Gone is an ode to Columbus, who engaged in the kidnapping, enslavement and killing of Indigenous people in the Caribbean. Instead is now a depiction of Tubman, a legendary racial justice activist. Known as the "Moses of her people", Tubman, who escaped slavery herself, helped other enslaved people gain their freedom amid great danger, acting as what was known as a conductor of the Underground Railroad during the civil war.
The new Tubman monument in Newark, Shadow of a Face, designed by the architect Nina Cooke John, is installed at a park that had been known as Washington Park since the 1790s.
Last year, the park was renamed Harriet Tubman Square, a move that local preservationists questioned given Tubman's loose connection to Newark compared with George Washington's during the revolutionary war. Tubman reportedly passed runaway enslaved people through the Presbyterian church in Newark as part of the Underground Railroad, the huge network of safe houses and contacts by which people risked their lives to escape or help others flee slave-holding parts of the US.
The monument features a circular wall with a steel outline of Tubman within and ceramic tiles from Newark residents. It also includes a "listening wall" where visitors can hear accounts, narrated by the Newark-born rapper and actor Queen Latifah and written by author Pia Wilson, about Tubman's life and the city's connection to emancipation. Cooke John told NJ.com that the installation "aims to connect the stories of the past to the stories of today".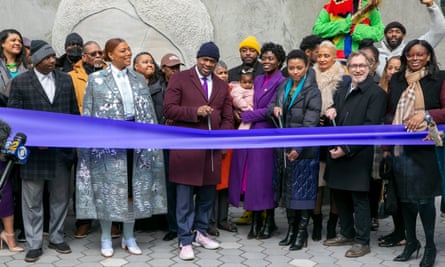 Queen Latifah, Mayor Ras Baraka, architect Nina Cooke John and others cut the ribbon.

Photograph: Ted Shaffrey/AP
"To have something that started as a response to George Floyd and his murder … people all around the country pulling down statues that represented a history that was oppressive, we wanted to take it a step further," Baraka said on Thursday. "We wanted to build something. And as a result of that, this is what we got."
"In the spirit of Harriet Tubman," Michele Jones Galvin, Tubman's great-great-great-grandniece, said at the event, "the monument … will memorialize her heroism, will inspire future generations to take action when they see injustice and will instill the value of service to the most vulnerable in our society."