There is no end in sight for California's brutally wet winter as yet another atmospheric river storm collided with the state on Friday, bringing torrential downpours, thunderstorms and wind. The National Weather Service issued a slew of flash flood warnings and watches for already inundated areas from the San Francisco Bay, to the central coast and the Sacramento and San Joaquin valleys, with more stormy weather expected through the weekend.
Snow-covered mountain towns in the Sierra Nevada foothills braced for another round of heavy precipitation. So much snow has fallen across the ranges that residents are still struggling to dig out days after earlier storms; now, warmer rains are threatening more damage to towns and buildings by adding more weight to snow-heavy roofs that could cause them to crumple.
"A heightened risk of excessive rainfall continues for southern California Friday night and renews across central and northern California Saturday night into Sunday," the NWS said in a forecast issued on Friday, noting that the system will also dump more snow at higher elevations and could contribute to more depth and weight to an already enormous snowpack. Travel across the stormy parts of the state will be difficult and dangerous.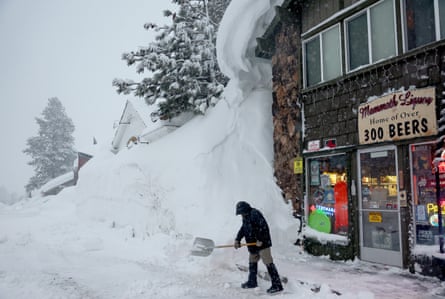 A man shovels snow piled up from previous storms during another winter storm in the Sierra Nevada mountains in Mammoth Lakes, California, on Friday.

Photograph: Mario Tama/Getty Images
Evacuation warnings were issued in advance for various foothill and mountain communities that are prone to flooding and mudslides. An evacuation order was in place for a small number of central coast residents who live below a levee near Oceano in San Luis Obispo county.
Mountainous areas of San Bernardino county were among those where flood watches were issued as the extreme weather threatened to wreak more havoc for communities only just emerging from the catastrophe caused by the last round of storms.
Many residents in the area spent weeks barricaded in their homes without access to essential supplies as power outages left neighborhoods dark and cold. Roofs collapsed, cars were buried and roads were blocked. Officials are only just beginning to tally the toll from the snowstorm, but investigators are assessing whether more than a dozen deaths that occurred were linked to blizzard conditions.
This week, firefighter-paramedics began delivering prescription medications to residents who are still unable to leave their homes, said fire captain Steve Concialdi, a spokesperson for San Bernardino county's emergency response.
In the Bay Area, where flood watches have been issued through Sunday, the relentless rain is believed to have caused a warehouse roof collapse that resulted the death of one person and an injury of another.
On the far north coast, Humboldt county authorities organized an emergency response to feed starving cattle stranded by snow. Cal Fire and US Coast Guard helicopters began dropping hay bales to cattle in remote mountain fields last weekend, and then the California national guard was called in to expand the effort.
The severe storms have been a dramatic shift for a state that spent the last several years beset by drought. Reservoirs that just recently bore stark bathtub rings showcasing how far water levels had receded are now being approved for releases as fears of flooding mount.
Releases were scheduled to begin late Friday morning from the state's second-largest reservoir, Lake Oroville, which collects water from the Feather River in the western foothills of the Sierra Nevada in the northern Sacramento Valley. The lake level has risen about 178ft since 1 December. The outflows are intended to ensure there is room for heavy runoff.
Officials expect a small spill at the lake but emphasized that the spillway is fully operational and ready for higher releases as needed, hoping to assuage fears of a repeat to the 2017 disaster that forced thousands of people to evacuate after heavy runoff collapsed the main spillway and the emergency spillway began to erode.
"The spillway has been reconstructed to modern standards," said Ted Craddock, deputy director of the State Water Project, adding that the agency was "very confident that it will be able to pass the flows that are coming into Lake Oroville".
Along with robust reservoirs, California's Sierra Nevada snowpack, which provides about a third of the state's water supply, is the highest it's been in years – more than 180% of the 1 April average, when it is historically at its peak.
And, the wet weather is not over yet.
Yet another atmospheric river is already in the forecast for early next week. State climatologist Michael Anderson said a third appeared to be taking shape over the Pacific and possibly a fourth.
California appeared to be "well on its way to a fourth year of drought" before the early winter series of storms, Anderson said. "We're in a very different condition now."
The Associated Press contributed to this story