---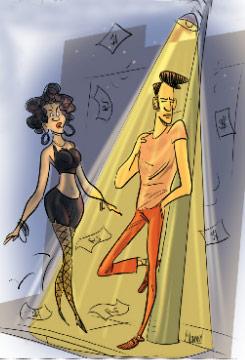 PinThe economic crisis in Sri Lanka has left many hanging dry. From job cuts to facing a high cost of living to feed children less, the crisis has hit almost all households across the island with the heaviest brunt on low-income families.
The youth today are also in search of suitable employment to meet their costs. While many wait eagerly to leave the shores for greener pastures, there are those who prefer to remain here to feed themselves and their families.
The latest survival method which some families turn to, to earn a living is sex. While more females are turning to prostitution to survive, young men between the ages of 20 to 40 are also turning to this trade in order to earn a living.
According to those in the industry, within the past recent months since Sri Lanka's economic crisis took a turn for the worse, more men have registered on websites offering the services of 'male escorts'. Some of these sites are quite popular for the services provided and are operating from overseas offering a wide range of men for sexual purposes from different countries.
When searching under the column of 'Sri Lanka' in these sites, the men listed are between the ages of 20 to 40 years and the charges vary according to the services provided. Almost all the male escorts charge in US dollars per hour which ranges from US 20 dollars to US 50 dollars while services for a full night ranges from US 100 dollars to US 500 dollars.
The websites give a brief introduction of the escort, along with their age and a contact number and a picture can also be requested upon request if a male is selected by a client. All monetary transactions are done by hand only and can be paid in Sri Lankan rupees according to the present exchange rate.
Some of the services provided also include massages and all websites have stressed on confidentiality between the client and the escort.
The Daily Mirror spoke to one male escort under conditions of anonymity who was from Kottawa aged 22 years old and said he was compelled to turn to this trade due to unemployment and the burdens of a high cost of living. He said there was a demand for male escorts especially among the high society in Colombo who often requested for services in parties and informal gatherings.
There was a rising demand from couples as well.
This male escort charged Rs.15,000 an hour and said a full night of service ranged from Rs.50,000 onwards for VIPs.
He said the money was quickly earned and he could provide for his family. And he had bookings almost every week.
Police officials told Daily Mirror that the operation of websites providing sex services by men or women was illegal but this trade could not be easily identified as there was no legal cash exchanged. It was also consensual sex.
Police sources said that unless a complaint was lodged against a specific incident, they were unable to investigate and find out more details.
( Information from dailymirror.lk was used in this report. ALL RESPECT GOES TO ORIGINAL WRITER OF THIS ARTICLE. | Also if you have any problem of this article or if you need to remove this articles, please email here and we will delete this immediately. [email protected] )