Brad Hazzard speaks French. He describes it as schoolboy French, but it is more than enough for the health minister to converse freely with a native speaker who is our waitress when we meet for lunch at Ursula's Paddington. When I arrive, he is settled in chatting with Noemie and asking about her home town. All in French.
"France is one of my favourite places in the world. France and then Italy," Hazzard tells me just weeks out from calling time on his 32-year parliamentary career. The father of the house hopes to spend a good chunk of his post-politics life in the south of France after the March 25 election – if it fits in with his wife's demanding work schedule as a senior regional development manager for Woolworths.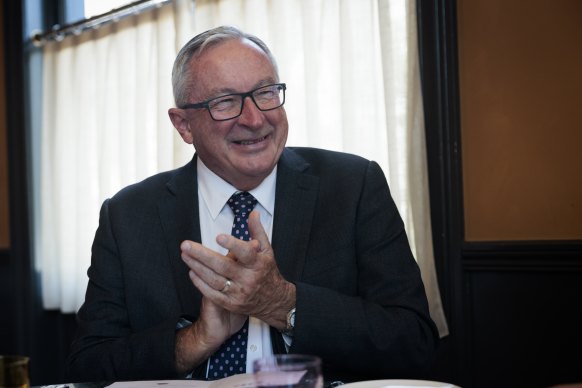 Hazzard left it to his staff to pick the restaurant for our lunch. He insists that he isn't in the know because he only ever grabs an egg and lettuce sandwich for lunch. For almost three years, he has barely had time for that. Hazzard has been health minister during the state's darkest days, from the time a little-known virus originated in Wuhan, right through to when NSW learnt to live with COVID-19. It has been the worst time in his three decades in public life.
Hazzard, 71, is the longest-serving MP in Macquarie Street. He was elected as the member for the northern beaches seat of Wakehurst in 1991 and has been in government, opposition and government once again. Hazzard has spent 25 years on the frontbench, with 17 portfolios. His staff member Toby Williams has been preselected to succeed him in Wakehurst. But the political ambitions of Hazzard's understudy could be thwarted by the popular local Northern Beaches mayor, Michael Regan, who is running as an independent. It is a seat that the Liberals could well lose.
We agree to start with entrees while Hazzard shows me photos and videos of his beloved pet labradors. I order the kingfish salad, he has the beef carpaccio. I ask if he can be tempted to have a glass of wine. His arm doesn't need to be twisted (although he only takes a few sips of his pinot gris throughout the lunch).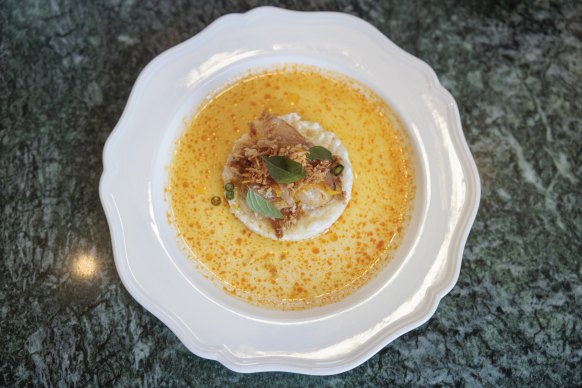 Hazzard became a "default labrador parent" when he married his second wife, Nicole. Earlier in the morning before we meet, the couple had to farewell a foster lab, which they had been caring for until a new family was found for him. With two big labradors already ruling the roost of their Allambie Heights home, there was no room for a third.
As luck would have it, Hazzard's Nationals colleague and the regional health minister Bronnie Taylor was desperate for another dog and adopted Larry the Lab. He will live on her sprawling property in the south of the state. Taylor sends video updates of Larry during our lunch, which Hazzard forwards on to Nicole to cheer her up.
Hazzard was married to his first wife for 30 years, and they had two sons together, but the relationship ended in 2013. He does not go into details, other than to say he was devastated and indicated his political career played a part. Hazzard never expected to remarry, but then met Nicole at an event when he was planning minister.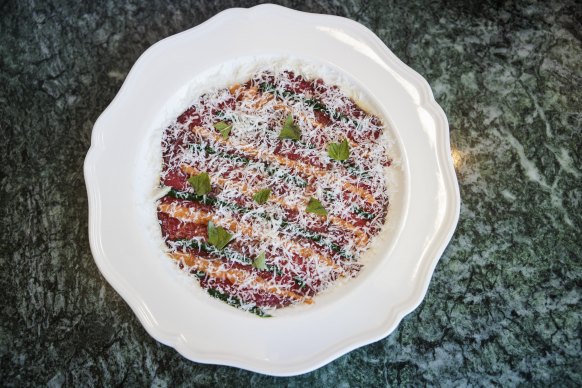 "I couldn't ask her out, though, because she was working for a property developer," he says. "But some months later I was able to because politics is a strange life. My very good friend Barry O'Farrell, unfairly and improperly, lost his job over one bottle of wine – which to this day I think was abhorrent. He resigned, Mike Baird became premier, he appointed me attorney-general, and I instantly thought 'I can ring that girl up and ask her out'."
His close friend and former NSW Liberal opposition leader Kerry Chikarovski, now a civil celebrant, married them in February 2020, as COVID was starting its march into NSW.
In many ways, Hazzard's long-term survival in the brutal world of state politics is surprising. Macquarie Street is known as the Bear Pit for good reason. The rough and tumble of parliamentary debate (for want of a better word) in the lower house chamber is legendary and internal factional battles, on both sides of politics, are often even more brutal.
Hazzard is a classic moderate Liberal. He was instrumental in the state's removal of abortion from the Crimes Act and was key to legalising voluntary assisted dying in NSW. He is passionate about Indigenous issues and has been closely involved in projects in First Nations communities in the state's far west.
However, he is not a card-carrying moderate. In fact, he does not belong to a faction, and hasn't since he entered politics. Hazzard, a science teacher turned lawyer, knows that without factional support, an MP can be killed off by their own people at any time. So he has always retained his legal practicing certificate – just in case he found himself on the outer with his party and needed to return to his former life. That has never happened.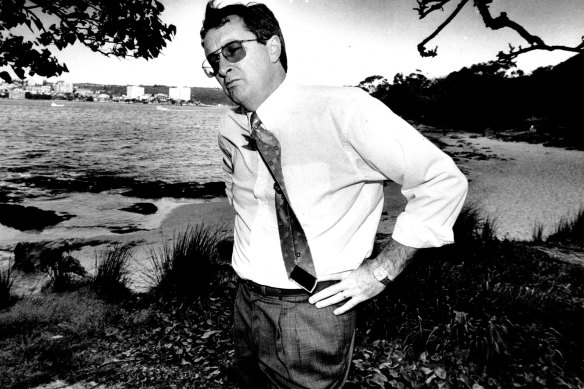 He counts many colleagues, current and former, as good friends. He regularly catches up with former premier Gladys Berejiklian and says he intends to keep up his friendship with his current leader, Dominic Perrottet, once he has left politics. "Dom and I have a big age difference, but we still get on extremely, extremely well," Hazzard says of the 40-year-old premier. He is also close to former Liberal leader John Brogden.
But he also has plenty of mates from the Labor side. Hazzard says he has huge respect for former ALP premier Morris Iemma, as well Bob Debus, who was once attorney-general, former deputy premier Andrew Refshauge, and David Campbell, a one-time Labor police minister who was forced out of politics after a controversial Channel Seven report, which showed him leaving a gay club. "He got a pretty raw deal from particular media outlets," Hazzard says.
Hazzard has held myriad senior portfolios in his long political career, but it is his current role as health minister that has significantly elevated his profile and made him instantly recognisable. For months on end, Hazzard was at Berejiklian's side – along with chief health officer Kerry Chant – delivering the daily 11am COVID update, beamed live into lounge rooms across the state.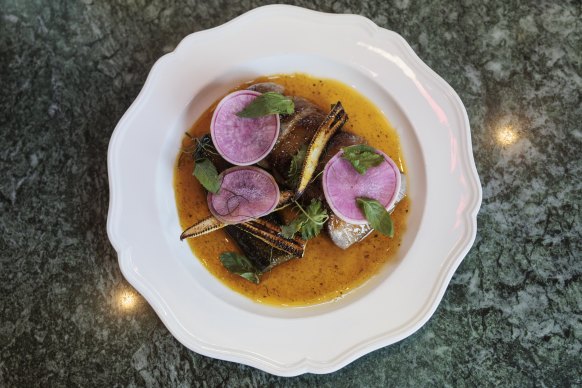 As our mains arrive – I have the roast Bannockburn chicken with creamed corn, Hazzard the roast Sovereign lamb with braised eggplant – two older well-heeled female diners stop by our table on their way out. "You look much younger in real life," one of them gushes. Despite his new-found fame, Hazzard does not shy away from the toll the pandemic took on him.
Early on, Hazzard's first major test was the Ruby Princess cruise ship saga in March 2020, which saw 2647 passengers leave the boat at Circular Quay and travel home. In the weeks that followed, 712 passengers and 202 crew tested positive for COVID-19 and 22 people died. The government and Hazzard were widely criticised and there were calls for his resignation. I ask him to pinpoint the worst moments of the pandemic. "The early days when we had no idea what was coming," he says.
But the single worst day was March 25, 2020, when Hazzard was called to a briefing with senior NSW Health staff, who presented modelling which showed there could be 25,000 COVID deaths in NSW that year. The death toll was ultimately 56, but the initial figure left Hazzard shaken to the core.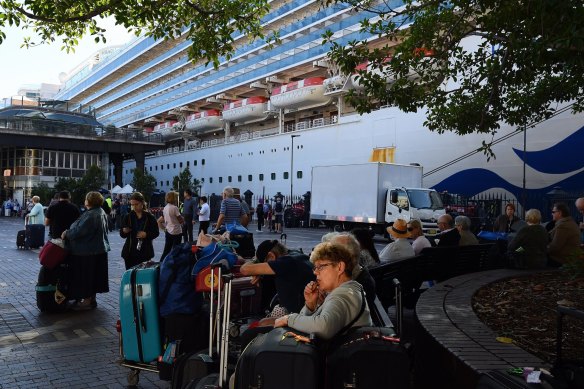 The many months that followed were also horrific, he says, and for a considerable time Hazzard required 24-hour police protection. "It was very unpleasant, the online community, the anti-vaxxers certainly know how to …" His voice trails off and I change the topic as it becomes clear that it is too upsetting for him to talk about.
Each time our waitress Noemie checks on us, Hazzard asks her to correct his French. He wants to get back up to speed before his next European jaunt. But despite his travel plans, Hazzard has no intention of retiring. What does his post-politics life look like? "I'm not sure, but it has to be challenging. Stopping work is not on my radar," he says. "Interstate or overseas might be a possibility – something challenging, innovative and fun would be great."
After a torrid few years, Hazzard's wife is "ecstatic" that he is quitting parliament. Even with his departure fast approaching, his diary remains busy with work commitments.
As we finish with coffees, I wonder if he has any regrets. He pauses for an uncomfortably long time before he answers. "Public life is all consuming and that has ramifications for your family life." He won't be drawn further. We are the last ones in the restaurant, with the lunch service long finished. He pops his head into the kitchen as we leave, to thank the chef and Noemie. The pair chat in French and break into laughter. I have no idea what was said, but he leaves with a spring in his step.
Hazzard has to race off to Cronulla to launch Attorney-General Mark Speakman's re-election campaign and NSW Health's top bureaucrat is trying to reach him on his phone. But first, he wants to check in on Larry and make sure his wife knows their beloved lab is in safe hands.
( Information from politico.com was used in this report. Also if you have any problem of this article or if you need to remove this articles, please email here and we will delete this immediately. [email protected] )