A slow-moving winter storm intensified over California on Friday, triggering the first blizzard warning in parts of the Los Angeles area since 1989 and creating the extraordinary sight of icy flakes swirling around the iconic Hollywood sign.
A massive low-pressure system driven from the Arctic was responsible for the unusual conditions, said Bryan Jackson, a forecaster at the weather service's Weather Prediction Center in College Park, Maryland.
In southern California, "this is a rare case of a cold, significant storm event", Jackson said.
The cold weather is set to last through the weekend, with blizzard warnings posted in the Sierra Nevada and southern California mountain ranges, where as much as 5ft (1.5 meters) of snow was expected. Forecasters warned of severe thunderstorms that could create waterspouts off the southern California coast. A blizzard warning was in effect in part of Nevada.
"Simply put, this will be a historic event for the amount of snow over the higher peaks and lower elevation snow," according to the regional weather office.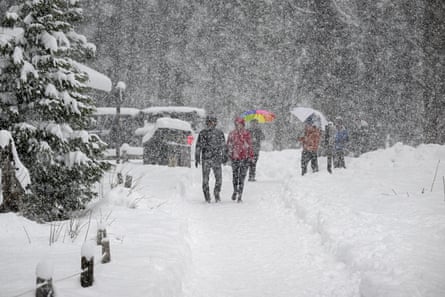 A couple walks on a pathway as snow blankets the Yosemite national park in California on 23 February 2023.

Photograph: Anadolu Agency/Getty Images
In other storm-battered parts of the country, though, the beauty was lost on most. The weather has closed major roads, caused pileups, closed schools and snarled air travel. More than 300 flights were canceled and more than 3,000 were delayed as of midday Friday, according to FlightAware.com.
Much of Portland, Oregon, remained shut down on Friday with icy roads not expected to thaw until Saturday after the city's second-heaviest snowfall on record this week – nearly 11in.
All told, the storms have cut power to nearly 1m homes and businesses from coast to coast. Michigan was hardest hit after a storm this week coated branches, power lines and utility poles with ice as thick as three-quarters of an inch, putting more than 820,000 customers in the dark at one point.
By Friday, that was down to less than 700,000, most in the state's populous south-eastern corner, around Detroit. Promises of power restoration by Sunday, when low temperatures were expected to climb back above zero (-18C), were of little consolation.
"That's really vague and that's really long," said Apurva Gokhale, of Walled Lake, Michigan. "That's four days without power in such weather. It's unthinkable."
Her home lost power early on Thursday. By that evening, the temperature inside had dropped to 55F (12C). She, her husband and her son stayed the night with relatives.
Tom Rankin, 70, said he and his wife were unable to reach his 100-year-old mother-in-law Friday morning by phone. The couple drove to her home in Bloomfield Township, Michigan, to find her in bed "with a whole lot of blankets", Rankin said.
She was fine, Rankin said, but she had lost power on Thursday afternoon. They helped her to their car, planning to ride out the outage at another relative's home.
A Michigan firefighter died on Wednesday after coming in contact with a downed power line in Paw Paw, authorities said.
"We've not had an ice storm in the last 50 years that has impacted our infrastructure like this," said Trevor Lauer, president of DTE Electric.
In southern California, the latest storm began moving in on Thursday with rain and snow flurries. Flood watches and warnings were in effect through Saturday afternoon for some coastal regions and valleys, and the potential for rainfall causing flooding and debris flow in some areas burned by wildfires in recent years.
Evacuation warnings also were issued in Ventura county for four areas considered unstable after being hit hard by storms last month.
The storm has added to major precipitation from December and January's "atmospheric rivers" that improved California's drought outlook, but authorities who allocate water to farms, cities and industries remain cautious because of a recent history of abrupt changes in hydrologic conditions.
The weather service said temperatures could drop far below normal in the region, posing a special risk to homeless people.