An arrest has been made in the case of the missing monkeys apparently abducted from the Dallas zoo, whose shock disappearance was the latest in a series of incidents to affect the zoo's animal inhabitants.
Davion Irvin, 24, was arrested on Thursday night and charged with six counts of animal cruelty. The move could mark a breakthrough in a mysterious case which has created headlines across the US as the zoo struggled to explain how or why it was being targeted.
On Tuesday, zoo staff noticed two emperor tamarin monkeys – Bella and Finn – were missing. Their enclosure appeared to have been deliberately cut. They were found later that day in an abandoned home in nearby Lancaster. Veterinary and animal care teams that examined the monkeys after the incident said they showed no signs of injury beyond losing some weight.
Other animals, including birds and cats, were also found inside the home.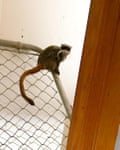 A statement from the Dallas police department said: "On Thursday, Dallas Police received a tip Irvin was seen at the Dallas World Aquarium near animal exhibits."
It has not been confirmed if Irvin is also responsible for earlier incidents that took place at the zoo last month, or if those incidents are linked.
In January, the enclosures of the clouded leopards and the langur monkeys were also tampered with. One clouded leopard named Nova escaped, but was found and returned later that day. No langur monkeys got out.
Another animal, a 35-year-old lappet-faced vulture named Pin, died on 21 January with a "suspicious" wound.
Investigations into all the cases at the zoo are ongoing and a reward of $25,000, bumped from $10,000, was offered for information leading to the arrest and indictment of the person responsible.
Further charges for Irvin are possible.
( Information from politico.com was used in this report. Also if you have any problem of this article or if you need to remove this articles, please email here and we will delete this immediately. [email protected] )