Actor Alec Baldwin and a weapons specialist have been formally charged with involuntary manslaughter in the fatal shooting of a cinematographer on a New Mexico movie set, according to court documents filed by prosecutors Tuesday.
The charges come with two alternate sanctions, one with a penalty of up to 18 months in jail and a $5,000 (£4,061) fine, and another that could bring a mandatory minimum prison term of five years.
The official charges came nearly two weeks after Mary Carmack-Altwies, the Santa Fe district attorney, first announced that Baldwin and Hannah Gutierrez-Reed, who supervised weapons for the film, would be prosecuted for what authorities have described as a pattern of criminal disregard for safety on the set of the Western movie Rust.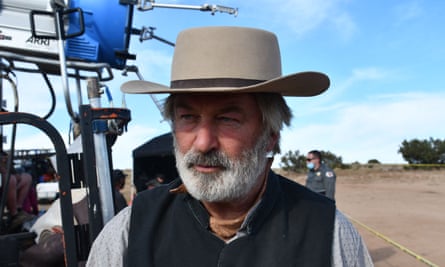 'Mr Baldwin had no reason to believe there was a live bullet in the gun – or anywhere on the movie set.'

Photograph: Santa Fe County Sheriff's Office/AFP/Getty Images
The probable cause statement also suggests that prosecutors may attempt to use evidence from Baldwin's film and television career to suggest he has demonstrated a pattern of "reckless behavior" with firearms. A review of previous films and film posters produced "a multitude of instances" in which Baldwin was shown "with his finger on the trigger guard and on the trigger" when safety protocols suggested "it should not have been".
Before the fatal shooting of Hutchins, there were two other negligent discharges of prop firearms on set, one by a prop master and one by a stunt double, which should have prompted a more serious response and additional safety measures, prosecutors said. Gutierrez-Reed, who should have been supervising the use of the gun during the rehearsal when the fatal shooting happened, broke protocol by not being present. This also meant she was not there to remind Baldwin to keep his finger off the trigger and not to point the gun at people.
Baldwin's attorney Luke Nikas declined to comment Tuesday and referred to his previous statement on the case, in which he called the charges a "terrible miscarriage of justice" that he and his client would fight and win.
"Mr Baldwin had no reason to believe there was a live bullet in the gun – or anywhere on the movie set," the statement said. "He relied on the professionals with whom he worked."
Gutierrez-Reed's attorney said they would release a statement later.
The Screen Actors Guild, the actors' union, previously criticized the choice to prosecute Baldwin, saying that Hutchins' death was a "preventable" tragedy but arguing it was "not a failure of duty or a criminal act on the part of any performer". In a statement, the union argued, "The prosecutor's contention that an actor has a duty to ensure the functional and mechanical operation of a firearm on a production set is wrong and uninformed. An actor's job is not to be a firearms or weapons expert."
Baldwin, also a co-producer on Rust has described the killing as a tragic accident. The 64-year-old actor said he was told the gun was safe and has sought to clear his name by suing people involved in handling and supplying the loaded .45-caliber revolver.
In his lawsuit, Baldwin said that while working on camera angles with Hutchins, he pointed the gun in her direction and pulled back and released the hammer of the weapon, which discharged. Participants in the un-filmed rehearsal have given conflicting accounts of who handed the gun to Baldwin.
The decision to charge Baldwin marks a stunning turn of events for an A-list actor whose 40-year career included the early blockbuster The Hunt for Red October and a starring role in the sitcom 30 Rock, as well as iconic appearances in Martin Scorsese's The Departed and a film adaptation of David Mamet's Glengarry Glen Ross. In recent years, Baldwin was known for his impression of former President Donald Trump on Saturday Night Live.
Prosecutors also said they will release the terms of a signed plea agreement with assistant director David Halls, who oversaw safety on the set. Halls has agreed to plead guilty in the negligent use of a deadly weapon, they said.
Defense attorney Jason Bowles, who represents Gutierrez-Reed, said the charges are the result of a "flawed investigation" and an "inaccurate understanding of the full facts."
Baldwin and Gutierrez-Reed will be issued a summons to appear in court. Prosecutors will forgo a grand jury and rely on a judge to determine if there is sufficient evidence to move toward trial. It could take up to 60 days for decision.
The manslaughter charge filed Tuesday against Baldwin and Gutierrez-Reed includes two alternative standards and sanctions. One version would require proof of negligence, which is punishable by up to 18 months in jail and a $5,000 fine under New Mexico law. The second alternative is for reckless disregard of safety "without due caution and circumspection". It carries a higher threshold of wrongdoing and includes a "firearm enhancement" that could result in a mandatory five years in prison because the offense was committed with a gun.
Prosecutors have said a jury may ultimately decide which definition of manslaughter to pursue.
Hutchins' death already has led to new safety precautions in the film industry.
The Associated Press contributed reporting.