---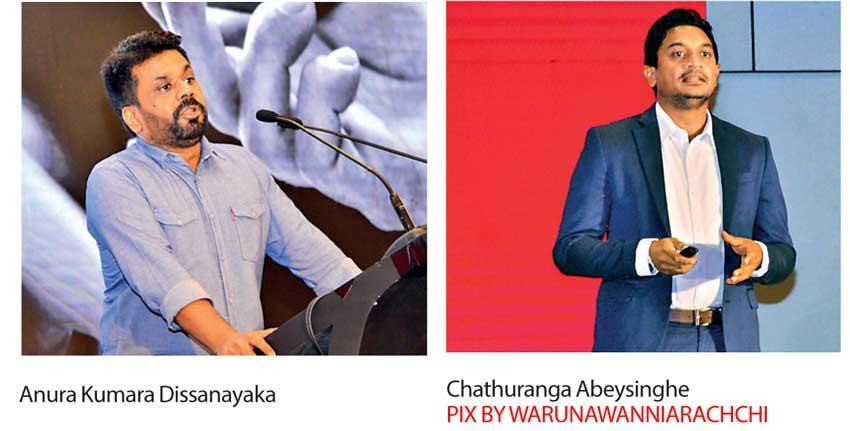 Pin
Says current govt. has lost public trust, hence unable to implement critical reforms 
Points out new constitution abolishing executive presidency key to transform corrupt political culture 
Says NPP govt. would look into reducing income distribution inequality; calls equal distribution of income utopian concept
Stresses an NPP-led government would only undertake infrastructure development projects after assessing their economic contribution
Shares plans to establish a financial crimes investigation division to recover stolen assets by politicians and others
By Nishel Fernando
While stressing the need for fresh elections to elect a new government to come out of the on-going economic crisis, National People Power (NPP) Leader Anura Kumara Dissanayaka vowed to build a resilient social market economy by transforming the country's political culture.
He outlined that the current government has lost public trust and hence cannot implement critical reforms to revive the economy. "We need to restructure our debt with an involvement of a third party in the short term. A united effort is needed to come out of the current economic crisis. A new government with a fresh mandate would have the public support to carry out the required reforms in the
short term. 
However, the current government, which is responsible for the economic crisis we are experiencing, does not have the public support to undertake these tasks. Nowhere in history, a government responsible in putting a country through crisis, has succeeded in reviving the economy," he said.
Dissanayaka shared these remarks while addressing the National Economic Forum organised by the NPP in Colombo, on Tuesday evening.   He stressed that a new constitution that abolishes executive presidency is a critical component in transforming the country's deep-rooted corrupt political culture. "It is unsuitable for a country such as Sri Lanka, as it is often misused by our leaders. They have not developed the ability or thought process to handle such power," he added.
Under a future NPP government, Dissanayaka highlighted they would focus on increasing economic participation of the population and to reduce income distribution inequality while terming equal distribution of income as a utopian concept. 
"Within three to four years, we will build a strong social market economy," he said. 
Presenting the party's economic development plan, NPP Council Member and Kotte MC candidate Chathuranga Abeysinghe noted the key pillars of it include a production plan, human resource plan, geo-heritage values, effective and efficient public service and international trade.
Accordingly, he emphasised that the private sector would be able to make better informed decisions, in line with the set industry targets while the government would remain accountable for meeting these targets. Meanwhile, Dissanayaka stressed that a future NPP-led government would only undertake infrastructure development projects after assessing their economic contribution to the country at large.  In terms of the government's role in the businesses, he noted that it would be largely limited to regulation, except for the energy and financial services industry.  "We don't like to hand over the country's power generation to foreign parties," he added. 
Towards a more equitable income distribution in the country, Dissanayaka shared that they would empower co-operative movement. Commenting on human resource development, Abeysinghe noted that the NPP would develop a national HR plan while focusing on to develop socially-conscious global citizens. "We need to create a society that goes in line with the demands of the world," he said. Commenting on education, Dissanayaka noted that the citizens would have the ability to choose to undertake their education either in a state institute or private institute or abroad. Making a remark on recovering the stolen state assets by politicians and others, he shared the intentions to establish a financial crimes investigation division. He pointed out that the country could seek assistance of multilateral agencies to recover these assets.
The event saw the participation of over 1,000 invitees of the country's business community.
( Information from dailymirror.lk was used in this report. ALL RESPECT GOES TO ORIGINAL WRITER OF THIS ARTICLE. | Also if you have any problem of this article or if you need to remove this articles, please email here and we will delete this immediately. [email protected] )