It was only when I pulled a U-turn on McIvor Street in Norseman that I realised we had been followed for the last hundred kilometres.
I'd been driving for 12 hours into the West Australian sun and I was exhausted.
I hadn't noticed the car right behind us: a dusty white LandCruiser troop-carrier ute with a green canvas cover and an angry set of eyes staring right at me.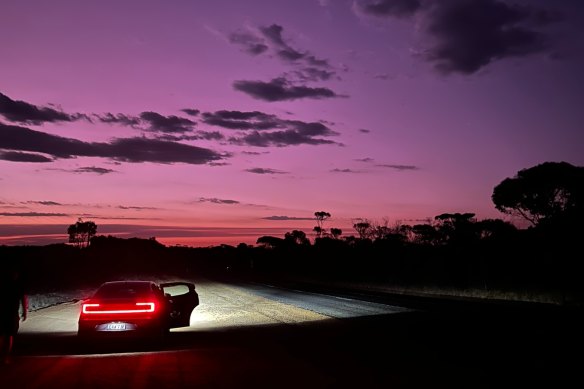 An hour earlier I'd overtaken him on the Eyre Highway. That must have pissed him off: for the next 30 kilometres or so, the troopy tailgated me before backing off. I thought he was a highway memory, but he was back.
Where was the motel? Our car, a Polestar 2, had 6 per cent of its battery left.
My mate Vaz, sitting in the back seat, was alarmed."Holy shit, he just did a U-turn and he's still following us".
"I'll pull into the service station".
This was a particularly useless place for an electric vehicle to stop.
"Do you see that guy over there? Do you know who he is? Do you have a number for the local police?" I asked the woman in the service station.
The troopy had pulled over just outside the servo and its owner was staring at us in quiet fury.
She blinked at me for a moment and pointed us towards the motel driveway. The troopy did another U-turn and propped outside the motel.
"Why was that guy following you?" the motel owner asked. He'd been following the action on his CCTV.
We shrugged nervously, paid and unpacked the car.
The slow three-phase charger we needed was about a kilometre away and we'd have to walk back. What if the troopy re-appeared?
---
As far back as I can remember I've loved road trips. The first one was 2000 kilometres up the Newell Highway from Melbourne to Noosa in 1985 with my dad, but since then I've driven to Darwin twice, across Europe and looped western Canada.
I'd grown up in a car family. My great-grandfather Carlo was a mechanic who'd raced the Targa Florio in Italy before coming to Melbourne to establish Fiat dealerships.
Racing was passed down to my grandfather Silvio, who built Bugattis and raced in the Albert Park Grand Prix of the 1950s, and the love of cars on through my dad to me.
I'd also grown up hearing stories from Dad about his drive across to Perth on a dirt road in an old Holden in 1971.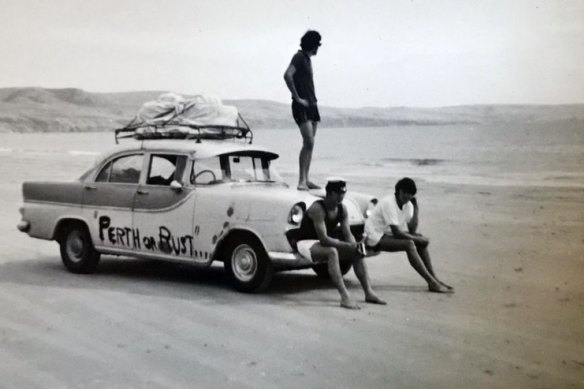 One night on the election campaign trail last May, I rang my wife and said I wanted the five of us to drive across the Nullarbor in January.
After several weeks of discussions, Karen decided – in her wisdom – that a family of five (kids aged six, four and four) could not cross the Nullarbor.
But I had her blessing to go.
And while I loved internal combustion engines, I wanted to drive it in an electric vehicle – to see if it could be done and to settle questions in my own mind about range anxiety.
But first I had to find an electric vehicle to drive.
---
After ringing around various brands looking for a loan car, Polestar, owned by Volvo, came through with a Polestar 2 in a shade they called Jupiter. It was beige.
I planned the route on the Plugshare app and website, which lays out the bewildering array of different chargers available: Tesla-only fast chargers; public fast chargers maintained by the NRMA, RACV and private operators; slower type-2 destination chargers; and even three-phase power sockets that can be used with the correct adapter in remote Australia.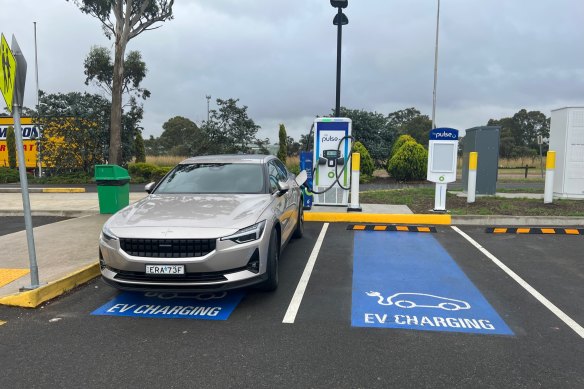 The route took shape over months.
It would take seven days to get to Perth, going the long way via Albany and Esperance. We would have to make 21 stops. This is about two days slower than the same route in a petrol-fuelled car.
Now I had to find co-drivers.
---
Vaz and I met 20 years ago when I was working late nights in a London jazz club as a waiter.
He was planning a trip to Australia and once I pointed out the drive was roughly the same distance as London to Baghdad, he was in.
But the born and bred Londoner had never gotten his licence.
So I invited my dad, who jumped at the chance to cross the Nullarbor again, 51 years later. It was a chance for us to spend more time together than we had for 25 years.
---
We began the big drive on January 5. It had very few buttons. Most of its functions were controlled by a tablet sitting between the front seats, though an automatic-style shifter was still used to change gears and there were steering-wheel-mounted stalks to turn on the lights, indicate and clean the windscreen.
The car rode higher than a typical sedan, a modernist Swedish marvel made in China. It had a tick over 4000 kilometres on the clock, adaptive cruise control and other mod-cons you'd expect for about $68,000 in a base model, single motor front-wheel drive.
The company claims a driving range of about 450 kilometres from the 78-kilowatt battery. On the highway it would be more like 400 kilometres because the air-con would be on, and we wouldn't be using the regenerative braking much to give the battery a little boost. EVs tend to give better range in stop-start city driving.
As we climbed into the car at 5am at the start of our journey, I couldn't resist asking a question. "Hey Google, navigate to Perth".
Ding. "There aren't enough compatible charging stations to get to your destination."
So I set course for Hay, about 715 kilometres away and arrived by 4pm, full of the excitement of the first day.
As we charged, we decided to head on to Mildura. We'd arrive by 8pm or so, the restaurants were good and it would make the next day's trip through South Australia to Port Augusta less arduous.
We left our car to charge and went to eat. Then the Plugshare app pinged on my phone. A Tesla was waiting to charge.
What was the etiquette here? We needed another hour or so of charging – or so we thought.
When we got there, a man name Scott Reardon was waiting to plug in. Scott is a three-time Australian paralympian who had won silver in the 100-metre sprint in London, gold in Rio, and competed in Tokyo.
He was also a mad enthusiast for EVs – specifically Teslas – and was on his way back to Canberra from Kangaroo Island. As we waited for the Polestar to charge, we got a lesson in EV etiquette when Reardon asked where we were going.
"Mildura, we're charging up to 100 per cent and it's 290 kilometres. We should be charged in about an hour," I told Reardon.
"And what's the range of the car?" he asked.
"Theoretically about 450 kilometres but about 400 kilometres on the highway."
"So you only need to charge to about 80 per cent to get to Mildura. And if you're nervous, you can also stop in Balranald to top it up again," Reardon observed.
The drive became a fight to stay focused and Dad and I swapped seats regularly to combat the fatigue.
This was the first time I'd realised just how different charging an EV was different to filling up a petrol tank in five minutes.
The car company had told me that charging the battery from 10 to 80 per cent was the quick part of charging (perhaps an hour on a 50kw fast charger) while the last 20 per cent, to a 100 per cent battery, could take two more hours.
In an EV, it is much more efficient to stop at fast chargers for shorter periods and boost the battery back up to 70 or 80 per cent, rather than slowly going all the way to 100 per cent.
Reardon had stopped to do just that and we had delayed him an hour (there was only one fast charger).
So we hit the road and stopped in Balranald for quick top up from 44 per cent to 80 per cent and arrived in Mildura just in time for dinner.
Our 1003-kilometre drive had taken about 14 hours. We were slower than a petrol car, but ahead of schedule already.
---
Watching the battery became an obsession. Driving an EV meant stopping more frequently, taking time to stroll around quiet country towns, having lunch and meeting people.
We made a brief stop at Paulett Wines in South Australia's Clare Valley, where Vaz and Carlo did a tasting and I plugged in for a quick charge, and then we stopped to have lunch at the winery of federal Trade Minister Don Farrell and his wife Nimfa.
The Farrells bought the winery about a decade ago.
Until recently, the only accommodation at Farrell Wines was a large tin shed that Don had built by hand, though they now had a small house on his five acres of vineyards.
Over two hours of cold cuts, cheese, negronis and a couple of bottles of estate wine, the Farrells opened up about juggling two careers in politics with three children, the thaw in relations with China, the Rudd and Gillard governments and what that experience would teach the Albanese government.
All too quickly, lunch was done. We were watching the battery percentage yet again as the navigation warned we would arrive in Port Augusta with 1 per cent left. We made another 20-minute charging stop and then hit the Augusta Highway.
There was no margin for error on the Nullarbor: a broken charging socket or a range miscalculation would mean hours stranded roadside with nothing but a treeless moonscape to look at.
It was well over thirty degrees after 6pm and we experimented with turning off the air-conditioning. That gave the car about an extra 6 per cent of battery range.
On a two-lane section of the highway, a black Audi RS8 that had earlier seen me gun past three road trains zoomed up and pulled alongside, the driver indicating he wanted to see who could accelerate faster from 110km/h.
Vaz was asleep in the back and Dad's eyes were closed. I looked to my left, grinned and gave a thumbs up, turned off the cruise control and threw open my shoulders. This was going to be fun.
"Don't even think about it, James," Dad boomed. "I'm not asleep."
After all the range angst, we arrived with 15 per cent left in the battery, plugged in and watched the sun set over the water from the Port Augusta hotel.
---
Now we were deep in South Australia where big plans to upgrade its charging network remains just that: plans.
Our first stop was Kimba, 156 kilometres past Port Augusta, where the Milton family unlocked the yard at their tyre centre and let us slow-charge at 11-kilowatts per hour on the three-phase power socket in their workshop for close to three hours.
A few hours later we were in Poochera (don't pronounce it POO-chera, the locals don't like it) for another three-phase charge at Jeff's hotel.
Vaz and I wandered around the town in the near 40-degree heat, visited Dusty's art gallery and sweated bullets while checking the charge on the car's app.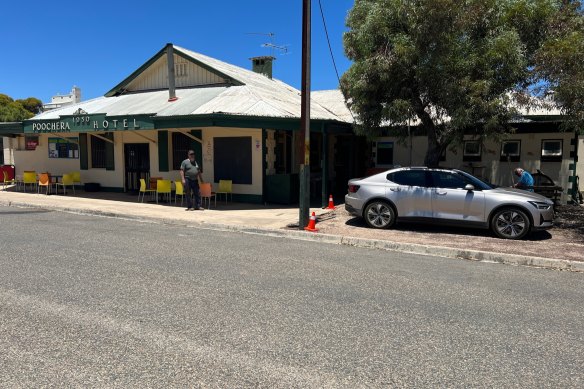 At 46 per cent, we had just enough range to drive the 62 kilometres to Streaky Bay and 130 kilometres on to Ceduna.
The navigation anticipated we'd arrive with zero per cent left on the battery but after a couple of days' driving, we were confident those regenerative break energy boosts would extend the battery life just enough.
We made it to Ceduna in slow-mo "turtle" mode with 3 per cent battery left.
---
Day four was the one I had been anticipating – and dreading – the most. We would take the Eyre Highway to the cliffs at the head of the Great Australian Bight and then stop to charge 25 kilometres up the road at the famed Nullarbor Roadhouse.
There was no margin for error: a broken charging socket or a range miscalculation would mean hours stranded roadside with nothing but a treeless moonscape to look at.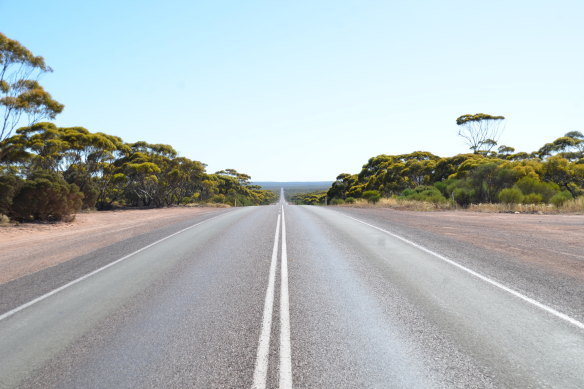 The landscape was so vast and flat you could just about see the curvature of the earth. The car's satellite navigation still worked but had long lost its 4G connection.
The drive became a fight to stay focused and Dad and I swapped seats regularly to combat the fatigue.
Finally, we reached the bight and walked down the sandy path to the bottom of Australia.
The wind howled as we reached the viewing platform and took in the unending ocean. No photo can do those ancient cliffs justice.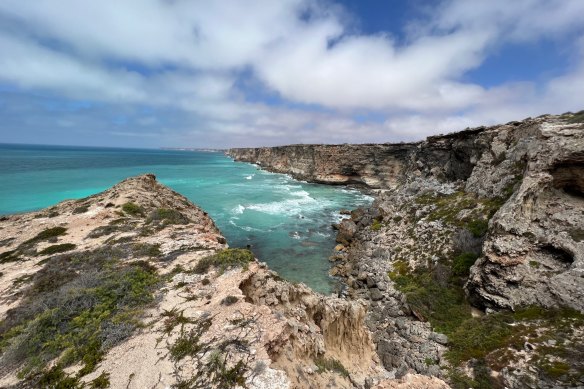 It was time to drive the 25 kilometres to the roadhouse where a three-hour charge, a hamburger and a beer waited.
Vaz and I played pool, Dad napped and we checked out the jars of preserved snakes, the airfield out back and the never-ending stream of B-double and B-triple trucks pulling up out front.
---
At Madura's roadhouse, belatedly, we discovered the Nullarbor Links, a 1385-kilometre golf course that stretches from Ceduna to Kalgoorlie with single holes at truck stops along the way.
We played the 125-metre hole with loaned clubs under assault by march flies and laughed like idiots. How had we not noticed the golf course until now?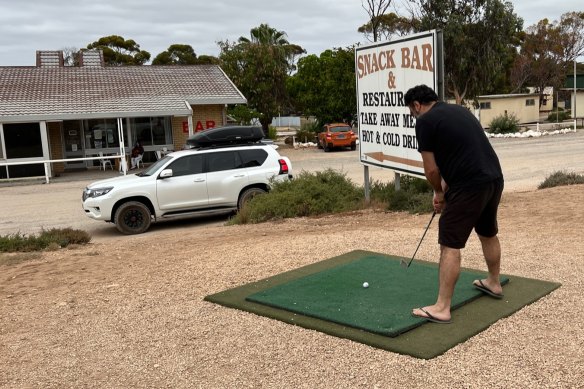 Then back on the road. Caiguna, Balladonia and on to Norseman, where we would tangle with the troopy.
As the gum trees threw long shadows down Prinsep street, Vaz and I drove to the Norseman oval to plug in overnight.
It didn't work. We called Lee from the local council and even after he'd had a tinker with it, it remained unresponsive.
Vaz asked if he knew anyone with a troop carrier.
"Oh that's Mad Ted!" Lee laughed.
"Why is he called Mad Ted?" Vaz asked in his plummy accent.
"He cut his wedding cake with a chainsaw. But he's harmless, he just likes to talk a lot."
Lee gave up and we walked back to the motel, pondering chainsaws and wedding cakes, rushing our order in before the motel kitchen closed.
We were charging from a regular power point, a process we'd avoided as it takes up to 30 hours to charge the battery to 100 per cent.
We needed about 50 per cent in the battery to last the 203 kilometres to Esperance, where we would find a faster charger.
---
We left Norseman at 8am and made it to Esperance three hours later with 14 per cent left, rather than the six predicted at the start of the day. After three hours charging and a swim, we drove 188 kilometres to Ravensthorpe where we charged the car until 7pm, and then drove another 300 kilometres to Albany, crawling in at 10.30pm.
It was easily the worst day of the trip thanks to the charging problems in Norseman. I was over EVs. I just wanted to stop for petrol.
We now understood the precariousness of charging on long road trips. There was nothing much we could have done differently. WA had much better charging points than SA but that one busted charger drained the joy from the road.
---
Day seven started late after a sleep in and a trip to a quietly gruesome whaling museum in Albany. At the front counter, after taking my entry fee, the woman behind the counter asked my postcode.
I told her I was over from Canberra; she immediately pulled on an N95 face mask that hung around her neck.
"I hope you enjoy the museum."
It was only 464 kilometres to Margaret River, where we enjoyed fine wineries and fast-charger access for a couple of days, and then another 250 kilometres to Perth.
We kept finding reasons to stop.
The Valley of the Giants treetop walk near Denmark; a roadside diner; a charge in Pemberton that we didn't really need but the pub looked nice, so why not?
The trip was coming to an end but I didn't want it to be over.
I ran through all the places we had been in my mind, wondering if we should have made a detour here, added another there. Why hadn't we stayed at the Nullarbor Roadhouse?
According to Rob Dean from Perth's Tesla owners club, ours was just the second Polestar to make it across from the east coast, though he estimated 100 or so of Elon Musk's chariots had achieved it.
Officially we'd driven 4692.2 kilometres, though there were a couple of hundred kilometres more I hadn't tracked. We spent $497 on electricity – a pittance compared to petrol prices, though the figure was skewed by free charging in NSW, and the many truck stops that asked only for a $30 donation to the Royal Flying Doctors.
Driving an electric vehicle wasn't as easy as doing it in a petrol car: the spontaneity was lost to the need to plan charging stops. But those waits allowed for serendipitous discoveries.
In years to come, drivers will be able to look up from the battery icon on the dashboard. The charging network will expand and three-phase and wall socket type 2 adapters will be mostly irrelevant.
The internal combustion engine, which revolutionised civilisation more than a hundred years ago and brought my family to Australia, will fade into history too.
What will remain the same are the people you meet and the time you take and the vast horizon of the mighty Nullarbor plain.
Polestar provided the vehicle for this story.
( Information from politico.com was used in this report. Also if you have any problem of this article or if you need to remove this articles, please email here and we will delete this immediately. [email protected] )