---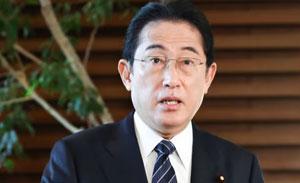 PinJapanese Prime Minister Fumio Kishida on Friday said he has directed his cabinet to reclassify COVID-19, putting it in the same category as seasonal flu, as the government looks to focus on economic recovery. The change will take place in spring.
Kishida told reporters the government will move forward with its "life with-COVID" initiatives and "gradually transition its policies to restore Japan to a state of normalcy."
COVID-19 is currently in Japan's second-highest disease category. It is classified along with such diseases as tuberculosis and severe acute respiratory syndrome, or SARS.
The downgrade will bring COVID-19 to rank in category five, meaning state of emergency declarations will not be declared. Those who become infected or come into close contact with the infected will not be required to quarantine either. Public funding of medical expenses will be phased out and the government is also looking to scrap its indoor mask recommendation.
COVID vaccinations are currently offered to all residents of Japan free of charge. How the vaccine will be administered after the downgrade will also be taken up by the government.
Although the number of new COVID-19 cases in Japan has recently been on the decline, the country still faces around 100,000 cases per day. The virus is still considered highly infectious, and the number of deaths from the virus remains near record levels. The government is expected to monitor the situation closely before making a final decision. 
Kishida added: "Regarding the current infection situation in the country, we will do our utmost to overcome the so-called eighth wave by working to ensure infection prevention measures and medical systems are in place."
In a similar move, South Korea said on Friday that it will drop its indoor mask mandate later this month, with the exception of transport and medical facilities. (asia.nikkei.com)
( Information from dailymirror.lk was used in this report. ALL RESPECT GOES TO ORIGINAL WRITER OF THIS ARTICLE. | Also if you have any problem of this article or if you need to remove this articles, please email here and we will delete this immediately. [email protected] )