---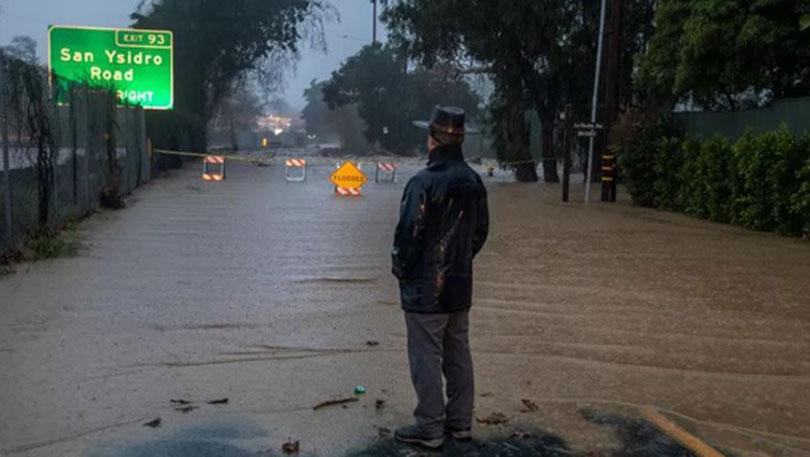 Pin
A five-year-old has been swept away by floodwaters in California as the state's death toll from a series of storms rises to 14.
The boy and his mother were reportedly in a truck taking him to school when the vehicle was overcome by water.
Tens of thousands remain without power and mass evacuations are under way, with more cyclones to come.
People living in the elite coastal enclave of Montecito are among those ordered to leave their homes.
The neighbourhood near Santa Barbara is home to several celebrities including the Duke and Duchess of Sussex – Harry and Meghan – and Oprah Winfrey.
It is unclear if Prince Harry, who is currently promoting his memoir Spare, or his wife and children are currently in Montecito.
The boy swept away in floodwaters sparked a seven-hour search that was called off when it became too dangerous for divers, said local officials.
Bystanders pulled the mother out of the truck but saw the boy being swept out of the vehicle. His shoe was later found by rescuers.
The boy was said by his father to have been on his way to school, according to local media.
More than 200,000 people were without power as of early Tuesday and state officials said the death toll had risen from 12 to 14.
Around 90% of Californians – some 34 million people in the most-populous US state – were under flood watch, according to the National Oceanic and Atmospheric Administration.
"We expect to see the worst of it still ahead of us," Governor Gavin Newsom said at a news conference. "Don't test fate."
An order issued on Monday afternoon by the Montecito Fire Department directed residents of the town and nearby canyons: "Leave now!"
Residents unable to flee were told to move to their innermost room or high ground.
The US National Weather Service (NWS) reported that up to 14in (35.5cm) of rain was dumped in the last 24 hours in the region.
Across the state, average rainfall totals have hit between 400% and 600% above average values, the NWS said on Tuesday.
Montecito is home to many Hollywood stars, including actor Rob Lowe, and comedian Ellen DeGeneres, who posted a video from the banks of a flooded creek on Monday.
"This is crazy!" DeGeneres said. "This creek next to our house never flows, ever. It's probably about nine feet up and is going to go another two feet up."
The evacuation comes on the fifth anniversary of a mudslide in Montecito that killed 23 people and destroyed more than 100 homes.
This new round of severe weather will bring heavy rain on already flooded rivers, damaging winds that are expected to topple trees and power lines, and heavy snow in the California mountains.
The NWS forecasts the heaviest and most widespread rain to hit early Tuesday and into theafternoon. The agency has issued a flood warning in areas around Los Angeles, including Orange County and the San Bernardino County Mountains.
Other evacuations have been ordered by officials, including in areas downstream of reservoirs that could overflow.
US President Joe Biden declared a state of emergency for California on Monday, which allows the Federal Emergency Management Agency (Fema) to provide disaster relief. 
A woman who lived in a homeless encampment along the Sacramento River also died on Saturday when a tree branch fell on her tent.
Much of the area hit by heavy rain has been under extreme drought conditions. Last year, California capped how much water residents can use in an effort to conserve its depleting supply.
Despite the rain, much of the state remains under moderate to extreme drought warnings, according to the US Drought Monitor.
Experts have said that it would take many years of rain to reverse the two-decade drought that has hit the western US. (BBC)
( Information from dailymirror.lk was used in this report. ALL RESPECT GOES TO ORIGINAL WRITER OF THIS ARTICLE. | Also if you have any problem of this article or if you need to remove this articles, please email here and we will delete this immediately. [email protected] )