---
Sri Pada pilgrim season 2022/23 commenced last morning with the dawn of Unduwap full moon Poya.
Four processions carrying the caskets of sacred relics, the statues of the God and regalia which left Galpottawala Sri Pada Rajamaha Vihara in Pelmadulla on the previous day arrived at Sri Padastana in the early hours of last morning through Ratnapura-Awissawella- Hatton, Balangoda-Bagawantalawa, Ratnapura- Palabathgala and Kuruvita-Erathna Raja Mawatha routes
Thousands of devotees lined the streets to pay homage to the processions.
The pilgrim season commenced after placing the caskets of relics, and the statues in the upper compound of the Sri Padasthana and performing the traditional customs and rituals under the guidance of Chief Sanghanayake of Sabaragamuwa Disawa, Chancellor of the Uva- Wellassa University and Chief Incumbent of Sri Padasthana Ven. Bengamuwe Dhammadinna Thera.
Meanwhile state institutions and private sector individuals had arranged to provide free food and refreshments to pilgrims along the pilgrim route from Nallathanniiya to the upper compound.
Ven. Thera requested pilgrims to uphold the sanctity of the Sri Padasthana and refrain from environmental pollution. (Ranjith Rajapakse and Gamini Ilangatilleka)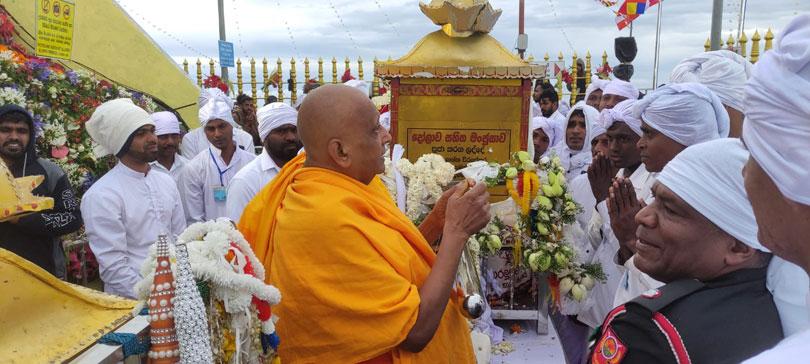 Pin
( Information from dailymirror.lk was used in this report. ALL RESPECT GOES TO ORIGINAL WRITER OF THIS ARTICLE. | Also if you have any problem of this article or if you need to remove this articles, please email here and we will delete this immediately. [email protected] )