---
IPS Chief calls for meaningful reforms to upskill and reskill people
Says Budget 2023 failed to adequately address factor endowment issues and labour market woes
SL's labour shortage compounded by mass exodus of people fleeing economic crisis
It is high time that Sri Lanka started debating whether the tertiary education must be charged and should the private sector be allowed to get engaged more actively in this sector, through facilitating investments for meaningful reforms in higher education, in order to produce the skills needed for high-paying jobs in a growing economy, a senior economic opined.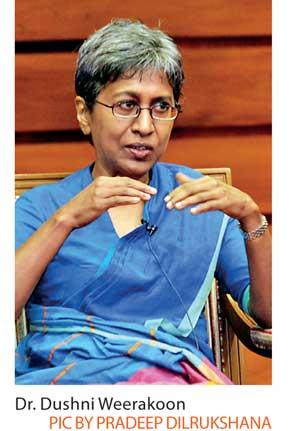 PinDr. Dushni Weerakoon, Executive Director at the Institute of Policy Studies, an independent think tank in Colombo, called for reforms amid other things needed to strengthen Sri Lanka's factor endowment, a term used in economic parlance to identify the amount of resources such as labour, land, money and entrepreneurship available for a country to be utilised in manufacturing.
Speaking at a recent post-budget forum she said she was disappointed at seeing the scant measures proposed in Budget 2023 in strengthening factor endowment by way of adding more capital per worker. It is absolutely critical for Sri Lanka to continue to ensure that its labour force is skilled and reskilled sufficient enough to keep pace with the technological, digital and scientific advances that are happening so fast around the world to stay relevant and competitive. 
  Dr. Weerakoon particularly pointed at the need for technology uptake by the Sri Lankan workforce. 
However, Sri Lankans are still stuck in a debate whether the country's female educators in schools should be wearing the saree and what colour saree they should be wearing. 
Given the skill gap plaguing the country's economy and fiscal woes, which have put limits on what the government could actually spend on education, Dr. Weerakoon said the time is ripe for engaging in meaningful debate over whether Sri Lanka should start charging for tertiary education.  
"We need to look at the entire tertiary education system and those kinds of reforms only come if there is a different funding mix," she noted.
"The public sector can't and they don't have the money to keep funding higher education. We are still providing subsidised, free education at tertiary level. All these things, I think we need to put up for debate and discussion – should we start charging at tertiary education level being tested? Should we allow private sector investments in tertiary education?" she asked.
"I think this is absolutely critical because this is where the young people will be able to get the kind of education they want, instead of always looking outside. And once they do go outside, they don't return," Dr. Weerakoon pointed out.
However, Sri Lanka's leftist political parties and student organisations affiliated to them vehemently oppose to any kind of education reform, alleging that authorities are trying to privatise the country's free education system.
Speaking further, Dr. Weerakoon said Sri Lanka is experiencing a shrinking labour force and thus, it is crucial to improve productivity to achieve desired growth outcomes.
However, she said the restrictive labour laws prevent people from entering and engaging in formal employment, depriving them of on-the-job training required to improve crucial skills and receiving social protection.   
Adding further to the shrinking labour force, Sri Lanka is currently seeing its largest drain of talent in all walks of life, as people are fleeing the crisis-stricken economy, after the prices reached hyperinflationary levels, with rolling power cuts and commodities shortages. Dr. Weerakoon said what she found on the budget on labour market reforms falls well short of what is required to draw these people onto the labour force and lacks execution to make meaningful change.
Acknowledging the long overdue labour reforms, President Ranil Wickremesinghe, in his capacity as the Finance Minister, in November proposed to enact a new, updated and a unified labour law in a manner to benefit both the employers and employees.
( Information from dailymirror.lk was used in this report. ALL RESPECT GOES TO ORIGINAL WRITER OF THIS ARTICLE. | Also if you have any problem of this article or if you need to remove this articles, please email here and we will delete this immediately. [email protected] )