---
The CEB had estimated that a single unit of electricity would cost Rs 56.90 if the country were to have an uninterrupted power supply in 2023, Power and Energy Minister Kanchana Wijesekera said.
"My opinion there should be a uniform Rs 56.90 per unit across the board and a direct cash allowance be provided to low income families," he said.
He said there were 6,709,574 domestic consumers according to CEB billing data and the current average tariff for a unit is Rs 29.14 and the deficit is estimated to be Rs 423.5 Billion.
"0-30 unit-block has 1,460,828 consumers and pays Rs. 8 per unit. 30-60 unit-block has 1,683,172 consumers and pay Rs 10 per unit. 60-90 unit-block has 1,702,515 consumers and pay Rs. 16 per unit. 90-180 unit-block has 1,559,131 consumers and pay Rs.50 per unit. 180+ unit-block has 303,928 consumers paying Rs.75 per unit," the Minister said.
He said the lower layers are heavily subsidized and the top layer pays over the average cost of a unit to compensate for a part of the subsidy.
The balance subsidy is borne by the Treasury, he said. (Chaturanga Samarawickrama)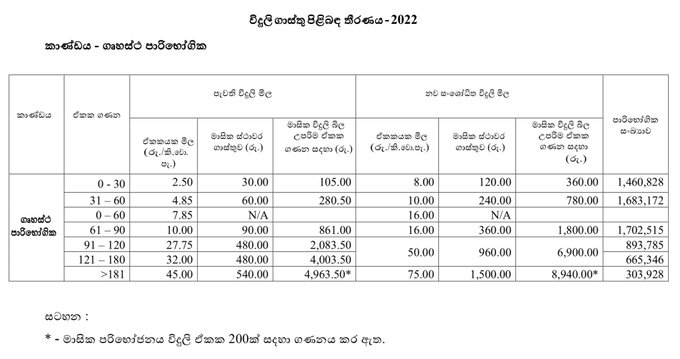 ( Information from dailymirror.lk was used in this report. ALL RESPECT GOES TO ORIGINAL WRITER OF THIS ARTICLE. | Also if you have any problem of this article or if you need to remove this articles, please email here and we will delete this immediately. [email protected] )