---
CB Governor says missing December target is no big deal as IMF Board meets every week  
If Sri Lanka misses the December target, which now appears to be bit of a stretch, the country could still activate the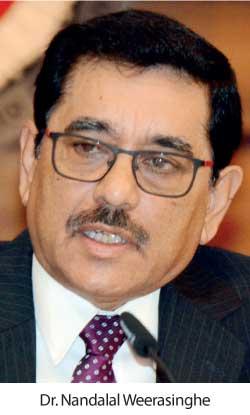 Pin International Monetary Fund (IMF) rescue package to unlock US$ 2.9 billion over a four-year span as very good progress is being made in the debt restructuring front,  particularly with the country's bilateral lenders.   
Speaking to media last week, Central Bank Governor Dr. Nandalal Weerasinghe shrugged off certain reports which claimed that Sri Lanka could not activate the deal till next March if the December target is missed.
"The December target appears a bit optimistic as of now. But if we miss that, we still have time until January," he said.
Dr. Weerasinghe said that IMF Board meetings happen at least three days a week with many items in their agenda and thus missing the December target is not a big deal. 
In a presentation made to creditors in September, the timelines drawn up by the Sri Lankan authorities showed that they expected to receive IMF Board approval for the staff-level agreement reached in early September by mid-December or early January 2023 after obtaining financing assurances from the bilateral creditors by mid-November. 
To expedite the process, the authorities are promoting an adhoc bilateral platform for the Paris Club and non-Paris Club creditors to come together to give their financing assurances to the IMF, having debated among themselves.
The majority of Sri Lanka's bilateral credit is held by the two non-Paris Club countries China and India. 
"We are very confident in the way the discussions are going ahead in getting their assurances. So, the IMF can submit the proposal to the Board sooner,"said Dr. Weerasinghe, expecting the assurances to be forthcoming in the next couple of weeks.
Meanwhile, the financing assurances from private creditors would mean Sri Lanka is making a 'good faith' effort to reach a collaborative agreement with them which includes engaging in early dialogue and sharing relevant information on a timely basis.
They have formed two creditor committees – one consisting of 100 members of international investors and another consisting of eight local private banks holding slightly in excess of a billion dollars worth ISBs. 
Besides obtaining creditor assurances, Sri Lanka also has to make good on some prior actions such  as raising taxes, as part of its revenue-based fiscal consolidation efforts, raise interest rates to contain consumption and investments and end monetary financing, allow greater foreign exchange rate flexibility, strengthen Central Bank independence, and embark on reforming state-owned enterprises.
( Information from dailymirror.lk was used in this report. ALL RESPECT GOES TO ORIGINAL WRITER OF THIS ARTICLE. | Also if you have any problem of this article or if you need to remove this articles, please email here and we will delete this immediately. [email protected] )