---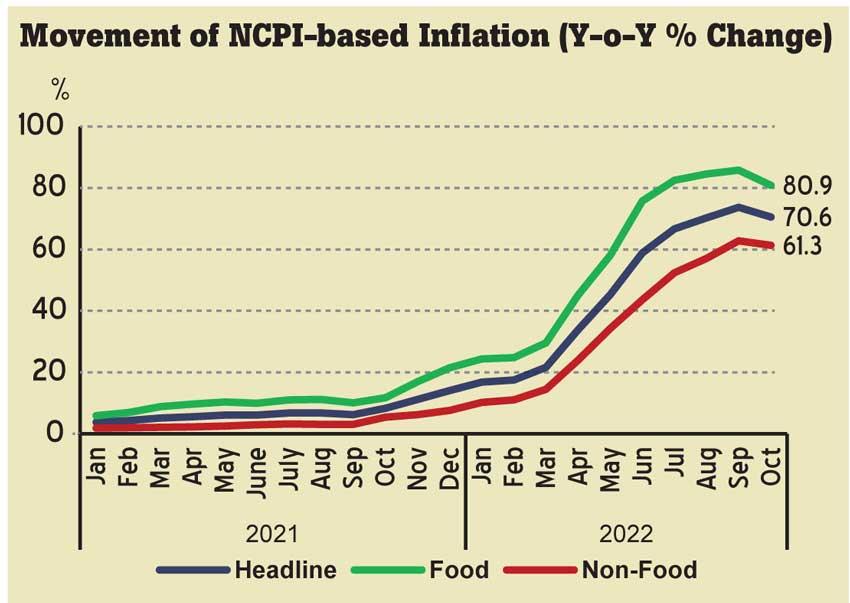 Pin
Food inflation down to 80.9%, from 85.8% in Sept.
Non-food inflation down to 61.3%, from 62.8% in Sept.
Sri Lanka's national consumer prices eased in October, signalling that the relentless increase in consumer inflation may have finally turned a corner after climbing for 14 consecutive months.
Runaway inflation threw many people into poverty, malnutrition and hunger, after the botched rupee float in March sent the prices of everything soaring.
The consumer prices, measured by the National Consumer Price Index (NCPI), rose 70.6 percent in October from a year ago, slowing down from the 73.7 percent increase through September, as the prices of both food and non-food items decelerated albeit they still remain at astronomical levels from a year earlier. 
The prices measured on a monthly basis rose by 0.3 percent in October over September levels, significantly slowing from 2.3 percent between August and September. 
Inflation measured by the Colombo Consumer Price Index, the authorities' preferred inflation gauge, eased to 66 percent in October, from a peak of 69.8 percent in September. The annual food prices rose by 80.9 percent in October, easing from 85.8 percent a month earlier while the monthly food prices fell by 0.8 percent, the first time in many months after rising 0.7 percent in September. 
The annual non-food prices eased to 61.3 percent, from 62.8 percent a month ago while the prices measured on a monthly basis too decelerated substantially to 1.4 percent, from 4.0 percent in September, predominantly due to the downward price revision in petrol. 
This deceleration in prices may provide some sense of relief for the people that the worst is behind them though the acute economic hardships still remain with a large majority of low- and middle-income earners having to significantly upend their lifestyles just to survive. As the country is believed to have moved past the peak inflation, the Central Bank appears to have applied brakes on policy rate hikes and last week signalled its desire to see some decline in short-term rates and said it would intervene to ease liquidity in the interbank money market.
The Central Bank in total raised the key policy rates by 950 basis points from January through July this year, including the bumper 700-basis-point hike in April, to tamp down runaway inflation, which was looking to surpass 100 percent. 
The current bout of decades-high inflation around the world with the exception of China is a result of strong consumer demand caused by the record-high pandemic stimulus, colliding with disruptions to supplies and supply chains. These conditions have been further exacerbated by Russia's war against Ukraine, threatening global energy and food security. What makes Sri Lanka's situation a bit more different is the free fall in the rupee after the currency was floated in early March, causing the rupee to shed 80 percent of its value, the commodities shortages and tax hikes, which sent the prices higher. 
( Information from dailymirror.lk was used in this report. ALL RESPECT GOES TO ORIGINAL WRITER OF THIS ARTICLE. | Also if you have any problem of this article or if you need to remove this articles, please email here and we will delete this immediately. [email protected] )