---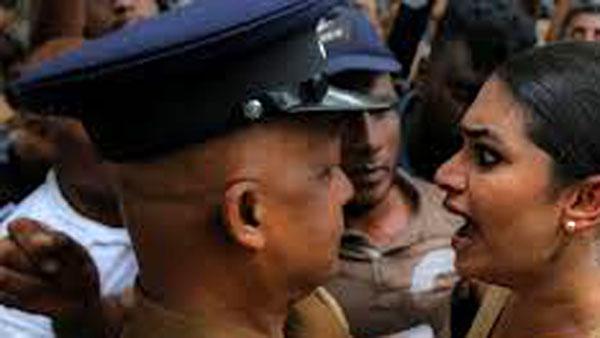 Pin
Former MP and the national organizer of Samagi Vanitha Balavegaya (SVB), Hirunika Premachandra, lodged a complaint with the Sri Lanka Human Rights Commission (SLHRC) that several women in SVB, including her, had been abused during last Wednesday's protest.
She said it had been mentioned in the complaint that when she participated in the protest as the national organizer of SVB, the police officers verbally abused two women who came with her.
"Usually in such protests, there is some pushing and jostling, and it doesn't matter whether you are a man or a woman, they accidentally or unintentionally touch each other. We have our own self-control in such situations, but the policemen behaved the other way," she alleged.
Premachandra also said that she had the video footage as well as the names and numbers of those policemen.
In footage that was released on social media soon after the protest, footage however showed it was Hirunika chasing behind some policemen in an aggressive manner, while the policemen moved away from her. (Indika Sri Aravinda)
( Information from dailymirror.lk was used in this report. ALL RESPECT GOES TO ORIGINAL WRITER OF THIS ARTICLE. To Read More, click here | Also if you have any problem of this article or if you need to remove this articles, please email here and we will delete this immediately. [email protected] or [email protected] )