---
Sri Lanka has raised fuel price at the pump to at least thrice the level it was a few months ago
Prof. Kumarage urges authorities to get transport sector pricing right to eliminate subsidies and economic imbalances 
Says subsidised fuel prices gave people false sense of artificial affordability at the pump and as a result private vehicle usage shot up
Points out unrevised expressway tolls despite general surge in transport costs is a good example of wrong transport sector policies
Even after the jumbo hikes in the fuel prices a couple of months ago to bring energy prices to cover full cost and to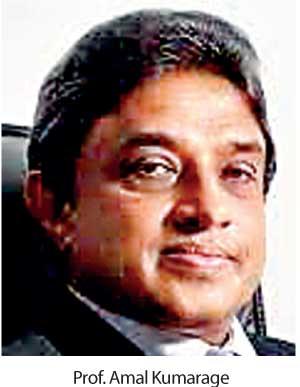 Pin cut losses at the Ceylon Petroleum Corporation (CPC), Sri Lanka's prices at the pump still remain the lowest for a non-oil producing country in the world, according to a transport sector expert. 
Sri Lanka raised its fuel price at the pump to at least thrice the level it was, in a matter of months as it became impossible to continue to subsidise the prices following the Russia-Ukraine war sending global energy prices soaring, bringing the Sri Lankan economy crashing down after exhausting its foreign currency reserves.  
"I am not exactly sure what the situation is now, but two months ago even after the increase in fuel prices, Sri Lanka's pump price was one of the lowest in the world for a non-oil producing country," said University of Moratuwa Senior Professor Amal Kumarage.
Speaking at a webinar organised by the Centre for Banking Studies of the Central Bank last week, the academic put the blame for the current sorry state of the energy and transport sector on the Treasury for its wrong pricing policies adopted for decades where it continued to subsidise the true cost of energy, giving the people a false sense of artificial affordability at the pump. 
He said these wrong pricing policies had made private vehicles use in Sri Lanka excessively subsidised, effectively incentivising it, while allowing the public transport system to decay. 
While the transport cost has soared manyfold since the economy's crash in March, he said the expressway tolls still remain unrevised. "So we have actually subsidised what other countries tax," Prof. Kumarage added. 
He said Sri Lanka's highly lopsided transport sector policies and wrong pricing have caused huge imbalances in both the economy and the demography as seen at present. 
The ongoing crisis, the worst since the country's independence, has sparked the interest among many across ideological and political spectrums about the need for a sustainable transport sector, which had been long neglected.   
Prof. Kumarage said the Treasury is more obsessed with short-term taxes it collects from vehicle imports and the fuel sales, but more damage had been caused under its nose as it no longer can provide fuel to the colossal amount of vehicles it allowed coming into the country.
" So, we have been going on with this very mythical belief of a short term tax revenue but actually you are burning the candle at the other end and finally the economics have caught up with us," he said. 
He recalled a case where a proposal was made a few years ago to modernise the entire bus transport system by bringing in 25,000 new buses with modern features, costing only a billion dollars the most. 
But, it never took off and instead Sri Lanka has been spending over US$ 3.0 billion annually for fuel while at least US$ 15 billion remains locked in, in the country's private vehicle stock.
( Information from dailymirror.lk was used in this report. ALL RESPECT GOES TO ORIGINAL WRITER OF THIS ARTICLE. To Read More, click here | Also if you have any problem of this article or if you need to remove this articles, please email here and we will delete this immediately. [email protected] or [email protected] )