---
If a general election is not held within the the next six months after the formation of an all-party government, a revolt by public could become inevitable, Mihintale Rajamaha Viharaya head Ven.  Valahangunawewe Dhammarathana Thera said.
He made this comment when Prime Minister Dinesh Gunawardena visited the temple yesterday.
Everyone, including the prime minister and other people who are in the government, should be held responsible for this pathetic situation in the country.
"Everyone in the parliament raised their hands when every proposal was made, and now they are trying to go for a party re-organisation. Re-organising parties are not that vital at this juncture.  Working for the welfare of the people to be given top priority. The politicians are busy setting the stage to nominate the sons and other relatives of former leaders and presidents to take the president's chair and take over the government once again," the prelate said.
"If we do not give them a chance, they will not get the chance to take the presidency. As President Ranil Wickremesinghe rightly said our cricket team's triumph was mainly because of the  unity among the team members. The 255 members in parliament will never unite to take this country ahead," he said.
"We went for a while with the myth, but could not do anything, and the prelate requested not to visit temples." 
Former president Gorabaya Rajapaksa did not do anything to the country. Had former Premier Mahinda Rajapaksa had given up politics decently in 2015, people would worship him by erecting statues of him. But they did not do it for the greediness of power. The karma was fulfilled. Even though they came to power, they had to go without anything but with the curse by their own people. Those who were around the former President were pulling his feet and did not let him do anything, and the result he was being chased out power and from the country.
Therefore, if the current rulers have any affection towards the country, they should consider conducting a general election within the coming six months to save this country from its present precarious situation, the senior Buddhist priest added. (Chaturanga Samarawickrama)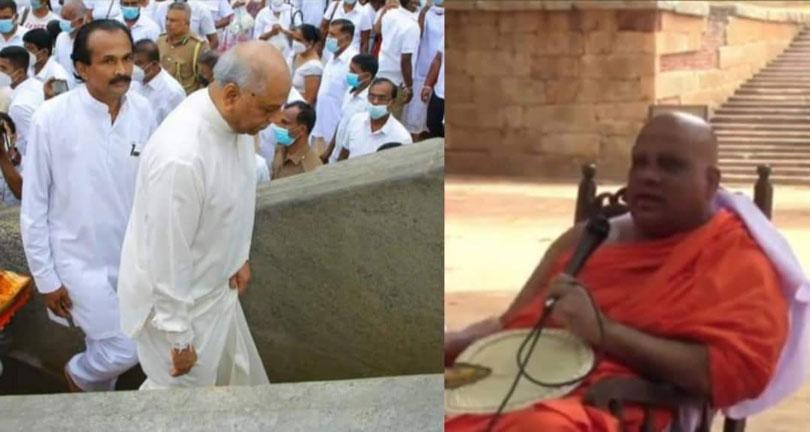 Pin
( Information from dailymirror.lk was used in this report. ALL RESPECT GOES TO ORIGINAL WRITER OF THIS ARTICLE. To Read More, click here | Also if you have any problem of this article or if you need to remove this articles, please email here and we will delete this immediately. [email protected] or [email protected] )