---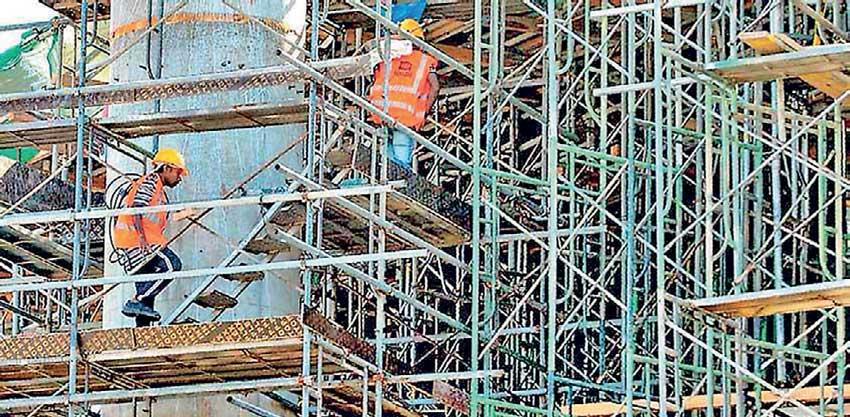 Pin
Construction activities decline by 16.2% in April-June quarter
Sheds 8.9% of value with its share in GDP coming down to 8.7%
Contributes 31.5% to GDP in 1H, which is a 7.1% decline YoY 
Pain could prolong for industry as restrictive policies, Fx shortage keep a lid on sector revival 
While the broader economy contracted by 8.4 percent in the second quarter ended in June, the construction activities, which contributed an outsize 9.5 percent to the overall economic output, shrank by nearly twice as much as in the same period, indicating its importance to the Sri Lankan economy, specially in the post-war era. 
According to the data released by the Census and Statistics Department, construction activities declined by a significant 16.2 percent in the April-June quarter, as the economic crisis sent ripple effects across multiple sectors. 
The sputtering economy came to a near standstill in the second quarter, after the foreign exchange crisis unravelled in proportions and magnitudes, which nobody had anticipated, forcing the government to suspend almost all its big infrastructure projects. 
Meanwhile, private developers scrambled to source materials such as cement and others amid their inability to find dollars to import them and soaring prices, which sent the cost of construction through the roof. 
The cement imports plummeted 84 percent to 35,000 metric tonnes in June, bringing the first six-month slump to 26.2 percent to just over a million metric tonnes over the same period last year. 
In the first half, the broader construction sector shed 8.9 percent of its value with its share in the total gross domestic product (GDP) coming down to 8.7 percent.  
In the first half, the industry sector, with construction being part of, contributed 31.5 percent to the GDP, recording a decline of 7.1 percent over the same period, last year, compared to the 7.6 percent and 0.6 percent contractions recorded by the agriculture and services sectors, respectively.  As the government has suspended its major infrastructure projects, private developers have either followed suit or scaled down their projects and home building has significantly slowed down, due to the soaring construction cost. 
It is unlikely that the industry could see any revival any time soon, given the acute shortage of foreign currency and the tight fiscal and monetary policies, which could stay for some time. 
The depth of the construction sector's decline and how long it continues will determine the fate of hundreds of thousands of people, who made a living out of the industry, which accounted for nearly one-tenth of the total economy.
( Information from dailymirror.lk was used in this report. ALL RESPECT GOES TO ORIGINAL WRITER OF THIS ARTICLE. To Read More, click here | Also if you have any problem of this article or if you need to remove this articles, please email here and we will delete this immediately. [email protected] or [email protected] )