---
 Moves up two places from 2020 though a dip in HDI growth rate observed
 Continues to move along positive growth trajectory achieving human development goals
 By Shabiya Ali Ahlam
Sri Lanka scored 0.782 points in the latest Human Development Index (HDI), ra​n​king 73 out of 191 countries.
The HDI 2021 released by the United Nations Development Programme (UNDP) recently showed that Sri Lanka has​​ improved its ranking by two places since 2020. For the year of the pandemic, Sri Lanka had an HDI score of 0.780.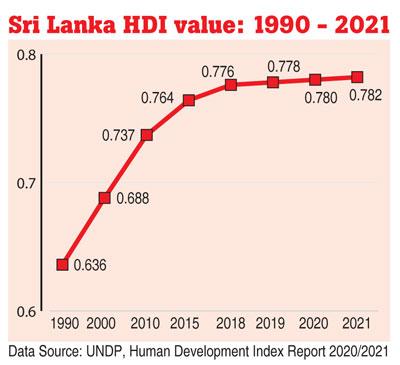 PinAccording to the report, Sri Lanka ranks below Seychelles (72), and above Bosnia and Herzegovina (74). The island nation is listed under the 'High Development' category.
The top three rankers of the HDI are Switzerland, Norway, and Iceland. 
Since the year 2015, Sri Lanka moved nine places up in the HDI. For the 2010 – 2021 decade, Sri Lanka has seen its HDI value grow by 0.54 per cent, whereas for the decade 2000 -2010, and 1990 – 2000 decade, the value grew by 0.69 per cent and 0.79 per cent, respectively.
Analysis of the annual HDI values made available by the UNDO shows that Sri Lanka continues to move along the positive growth trajectory in achieving human development goals. However, a dip in the HDI rate of growth is observed.
For the year under review, Sri Lanka has a coefficient ​of inequality​ of 13.2, while the inequality of life expectancy is 5.2 per cent. Regarding education, the inequality is 12 per cent, and with regard to income, the inequality is 22.4 per cent.
Breaking the HDI according to gender, in Sri Lanka, it is observed that the Human Development for males is higher than for females, where the HDI value for males is 0.795, while for females it is 0.755. 
Under the Gender Inequality Index (GII), Sri Lanka ranks 91 from the list of 191 countries and secures a value of 0.383.  The GII takes into account the maternal mortality ratio, which is 36 for the nation, the adolescent birth rate (15.7), the share of seats in parliament (5.4 per cent), the population with at least some secondary school education (female – 84 per cent, male – 84.2 per cent), and the labour force participation rate (female – 30.9 per cent, male – 68.5 per cent).