---
Senior banker cautions haircut on rupee debt will hurt entire economy
Says nobody in a position to take a haircut
Warns of massive capital adequacy issues for banks
Says biggest losers will be EPF members
Suggests restructuring of T-bills for the long-term to provide breathing space for govt.
By Shabiya Ali Ahlam
As Sri Lanka is in the midst of securing fund disbursement from the International Monetary Fund (IMF) to bail out the crisis-struck economy, all measures must be taken to avoid a haircut, particularly on the country's domestic debt, so that long-lasting negative impacts on the economy can be evaded.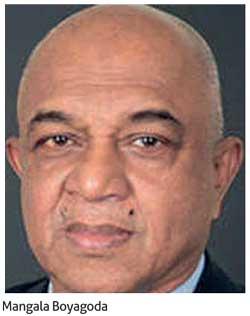 PinFinancial consultant and former senior banker Mangala Boyagoda stressed pertaining to the debt restructuring effort that is underway, it is essential for the government to steer clear of any haircut, especially on the domestic debt front. 
"Without taking a haircut, we must see the possibility of restructuring the domestic debt. Because if we do take a haircut, the entire economy, everybody is going to get hurt. The ground reality is such that nobody is in a position to take a haircut on the domestic debt," asserted Boyagoda while addressing a webinar titled 'Restructuring of Foreign and Local Debt and Impact on the Economy and Society," organized by CMA Sri Lanka.
With regard to the domestic debt front, out of the Rs.3.3 trillion Treasury bills outstanding, the Central Bank holds 61 percent, and commercial banks hold 27 percent. As with Treasury bonds, the outstanding is Rs. 8.2 billion, where the Employees' Provident Fund (EPF) holds 32 percent and banks 24 percent.
Boyagoda pointed out that if there is a haircut of even 20 percent of what the Central Bank currently holds, there will be a flight of Rs. 400 billion. Taking a hit will also be the capital adequacy of commercial banks if they take a haircut on 
their debt.
He also pointed out that another segment of the biggest losers will be the EPF holders whose returns were 9 percent last year.  
Boyagoda further cautioned that the people will also suffer as their domestic savings will have very little or no value, as the inflation is of about 65 percent and the rupee has depreciated by approximately 75 percent since March.
As the CBSL is the trustee of the EPF, where people have invested by placing their trust in a government institution, the former senior banker said it is incorrect to push for a haircut as it is their hard-earned money. 
Instead, he suggested that restructuring the Treasury bills for the long-term will provide the government with much needed breathing space.
There is no clear indication from the authorities yet whether the country's rupee debt will be restructured along with the dollar debt.
In a recent report, Fitch Ratings said its 'CCC' rating on Sri Lanka "reflects a high risk that local-currency debt will be included in debt restructuring, as the stock and interest costs are large and omitting it could increase the restructuring burden on holders of foreign-currency debt".
"The Central Bank Governor in late August affirmed that Sri Lanka would not restructure domestic debt but this was partly in response to comments from President Wickremesinghe that appeared to suggest that this policy option was being examined," it added.