---
Pin
Total amount due from govt. is over Rs.130bn while contractors owe banks around Rs.200bn
Says contractors are being sandwiched by high bank rates and unpaid govt. bills
The government's move to halt the construction projects without settling the bills of the contractors would severely impact those dependent on the sector, a senior representative of the construction industry said.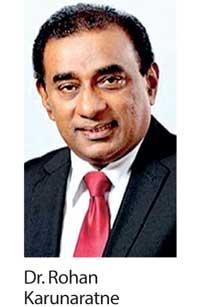 PinDr. Rohan Karunaratne, an industry veteran and President of the South Asian Lean Construction Association, commenting on the recent statement made by Central Bank Governor Dr. Nandalal Weerasinghe, where he stated that hyperinflation may bring people back to the streets, said a similar scenario is possible if the government continues to halt the construction projects and avoid settling the bills, as the livelihoods of thousands are affected.  
"We echo this feeling and agree with the facts and figures presented by the governor in his speech. But what the government has done by stopping the construction projects will also lead to a situation where the people without the means to feed their families flooding the streets, pleading for their livelihood," said Dr. Karunaratne.
As the economic crisis worsened, the government halted the construction projects without settling the contractors' bills. According to the industry stakeholders, the total amount due is over Rs.130 billion, while the contractors owe the banks around Rs.200 billion.
"Interest rates have skyrocketed to 25-28 percent and the temporary overdraft limits are 30 percent, both of which contractors cannot bear," Dr. Karunaratne highlighted.
"The construction companies have been crushed under the boot of high bank rates and unpaid government bills, leaving them unable to take care of their vast workforce and supply chains. Thus, as the governor advised Parliament, the contractors, in turn, advise the governor that the unpaid dues to the contractors may lead to hundreds of thousands of unemployed labourers and workers flooding the streets pleading for their survival. The contractors shall not be held responsible for this crisis," he added 
The local construction sector is a major contributor to the national economy, accounting for about 10 percent of the GDP. In 2020, the sector contributed over Rs.300 billion to the GDP. There are over one million people involved in the construction industry. The construction supply chain is easily one of the largest in Sri Lanka and includes around 4,000 small and medium enterprises, including sand suppliers, rubble suppliers and brick makers.