---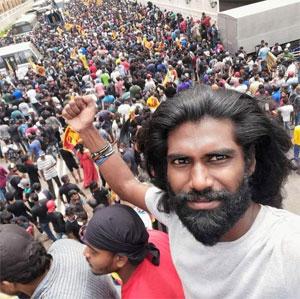 PinA freelance journalist cum 'GotaGoGama' activist Anthony Veranga Pushpika who was returning on a bus after taking part in a demonstration at Fort Railway Station today afternoon had been forcibly taken away by an unidentified group in a blue colour jeep.
Sri Lanka Young Journalists Association said the person who had formerly worked at the 'Anidda' newspaper editorial had got into a bus from the Fort Railway Station to go to education unions' office 'Gurumedura' on Sir Chiththampalam A. Gardiner Mawatha, when he was nabbed.
According to an eyewitness, Veranga had got into the bus from the Fort Railway Station around 1.30pm after taking part in a protest campaign organised by the trade union collective against the present suppression by the government.
The bus could move only about 50 yards when a dark blue jeep had overtaken it and had stopped blocking the bus. Six persons in civils had rushed out of the vehicle and had entered the bus. They had then taken Veranga by force and when an associate of the latter who was in the same bus after attending the demonstration had asked the group where they were taking him, the group had responded that he was arrested over some weapons.
The incident has been reported to the Human Rights Commission of Sri Lanka and the HRCSL had inquired from the police about such arrest to learn that the person had been taken into custody by the Colombo South Divisional Crime Detective Bureau (DCDB).
However, attempts made to contact either the police or Police Spokesman to know about the abducted youth was futile until this edition went to press last evening.
Veranga Pushpika had also been active as a member of the Inter University Students Federation and also the former President of the Ruhunu Maha Shishya Sangamaya.
This arrest comes following the arrest of GGG activist Daniz Ali from a Dubai bound flight at the Bandaranaike International Airport on Tuesday evening. (Kurulu Koojana Kariyakarawana)