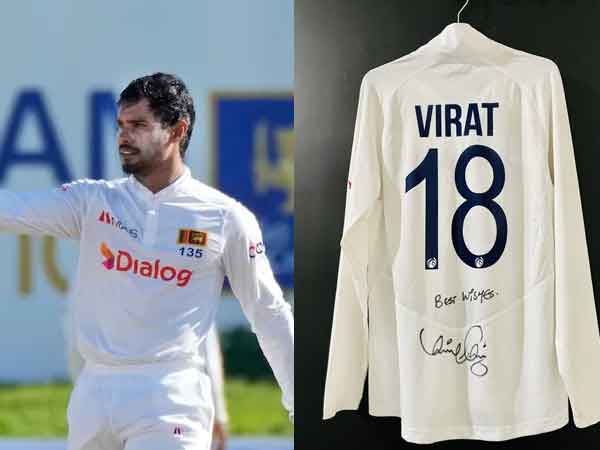 Pin
Virat Kohli is a modern-day legend. The Delhi-born cricketer has established himself as one of the best in the world. People from across the globe admire Kohli for his commitment to the game he plays. He has also become an inspiration for many aspiring as well as young cricketers, not only in India but across the globe.
Many young players have confessed that they want to emulate Virat Kohli on the field. Sri Lanka cricketer Dhananjaya de Silva is also among those cricketers. And now he has got a gift from his idol. Virat Kohli has gifted his Test signed jersey to de Silva. The Sri Lankan shared the picture of the jersey he received from Kohli on his social media accounts.
"𝚓𝚞𝚜𝚝 𝚍𝚘𝚗𝚝 𝚐𝚒𝚟𝚎 𝚞𝚙 𝚝𝚛𝚢𝚒𝚗𝚐 𝚝𝚘 𝚍𝚘 𝚍𝚘 𝚠𝚑𝚊𝚝 𝚢𝚘𝚞 𝚛𝚎𝚊𝚕𝚕𝚢 𝚠𝚊𝚗𝚝 𝚝𝚘 𝚍𝚘. 𝚠𝚑𝚎𝚛𝚎 𝚝𝚑𝚎𝚛𝚎 𝚒𝚜 𝚕𝚘𝚟𝚎 𝚊𝚗𝚍 𝗶𝗻𝘀𝗽𝗶𝗿𝗮𝘁𝗶𝗼𝗻, I 𝚍𝚘𝚗𝚝 𝚝𝚑𝚒𝚗𝚔 𝚢𝚘𝚞 𝚌𝚊𝚗 𝚐𝚘 𝚠𝚛𝚘𝚗𝚐 .. thank you for this gift @virat.kohli you are an amazing ambassador for cricket. Keep inspiring more generations," wrote de Silva in the caption of the picture.
Notably, Dhananjaya de Silva has emerged as one of the top players in the current Sri Lankan team. He has played 40 Tests, 56 ODIs, and 23 T20Is so far. For his prolific performances, he was also awarded a top central contract along with Test captain Dimuth Karunaratne and Wanindu Hasaranga.(Sportstiger)
( Information from cricwire.lk was used in this report. To Read More, click here )